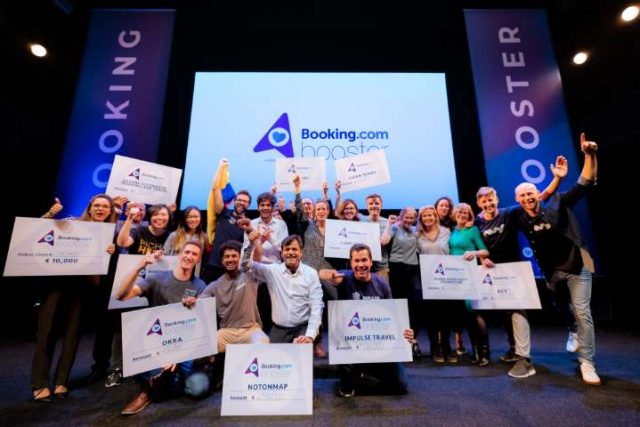 With a mission to make it easier for everyone to experience the world, Booking.com, one of the world's leading digital travel companies, today announced the opening of applications for its 2020 Booking Booster program to support solutions in sustainable travel. Following on the success of the previous three years, the fourth iteration of the program in 2020 will focus exclusively on the topic of sustainable accommodation. The 2020 Booking Booster will bring startups, social enterprises, non-profit organizations and accommodations of all kinds together directly to explore solutions to become more sustainable. Through the 2020 program, participants with innovative products and services, including accommodations themselves, will have the opportunity to secure grants from the company's more than $3.7 million CAD fund.
The accommodation focus for the 2020 Booking Booster program is underpinned by Booking.com research, which shows that 82% of Booking.com's accommodation partners want to collaborate on sustainability* and that 87% of global travellers think it's important to consider sustainable properties when traveling**. Designed to support accommodation partners as they strive to overcome roadblocks to make their properties and operations more sustainable, the 2020 Booking Booster will consist of two complementary 10-day programs exclusively focused on sustainable accommodation: one program in May for organizations with innovative products and services to help accommodations become more sustainable and one in September for accommodations themselves, including those that are just starting their sustainability journey. Participants from both sessions will present live on stage at the Booking Booster finale in September to secure scaling grants.
Both sessions of the 2020 Booking Booster program will consist of a series of hands-on workshops and tailored mentoring sessions to help the participants scale their impact. Participants are paired with the very best mentors from Booking.com to provide guidance and support on specific topics. Regardless of potential funding, mentors continue to support participants even after the program comes to a close, connecting them with access to a pool of additional Booking.com experts to assist throughout their journey.
"With the 2020 Booking Booster program, we're excited to be championing innovative solutions that help our accommodation partners to adopt more sustainable practices. It's not only what our customers want, but our partners, as well," said Rob Ransom, Vice President of Strategy and Corporate Development at Booking.com. "Bringing together products and services developed by startups and organizations from around the world with practical case studies from leading sustainable properties will accelerate our collective efforts to make every stay a sustainable one."
Together with other public initiatives such as Travalyst, the Booking Booster Program sits alongside Booking.com's internal volunteer program, where employees have long partnered with local organizations on projects that help improve destinations worldwide. Together these initiatives make up and further expand Booking.com's commitment to create a positive impact on the global travel industry. For more information about upcoming programs and other opportunities, please visit the Booking Booster website.
Startups, social enterprises, non-profit organizations and sustainable accommodations from all over the world, including previous Booking Booster alumni, are invited to apply for the relevant session of the 2020 Booking Booster Program starting today (January 28, 2020). Interested parties should visit the Booking Booster website for full information and additional details, including application deadlines.