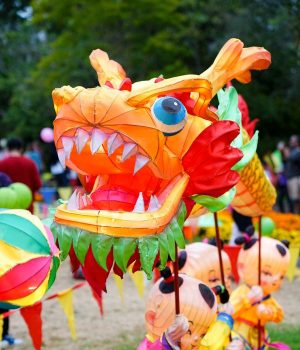 ASB Classic, ASB Tennis Arena, Stanley St – January 1-13. Consistently a player favourite on the international circuit, kick off the year with world-class tennis, food and entertainment nestled at the edge of a stunning heritage park, the Auckland Domain. Check out https://www.aucklandnz.com/visit/events/whats-on/sports/tennis/asb-classic
The Art of Banksy, Aotea Centre – January 4 – February 6. An exclusive exhibition by one of the world's most elusive, provocative and thought-provoking artists of our time – Banksy. The exhibition of around 80 works is here for 33 days only. https://www.aucklandnz.com/visit/events/whats-on/exhibitions/social-political-history/art-banksy
Tāmaki Herenga Waka Festival (and Auckland Anniversary Weekend), Viaduct Events Centre and Viaduct Harbour – January 27-29. Celebrate Auckland's unique Māori heritage and culture on the city's stunning waterfront, with live traditional and contemporary music and kapa haka; authentic crafts and delicious kai (food); traditional healing and tattooing; and paddled and sailing waka. https://www.aucklandnz.com/tamaki-herenga-waka-festival. This is one of a host of exciting events happening on Auckland's waterfront and harbour over Auckland Anniversary Weekend, including Ports of Auckland SeePort Festival, Sunset Symphony & Fireworks and the Ports of Auckland Anniversary Day Regatta.
Vector Lights, Auckland Harbour Bridge – January 27 onwards. On Auckland Anniversary Weekend, Auckland Harbour Bridge will be transformed by the launch of Vector Lights. It features a ground-breaking renewable energy technology powered light show that will ignite imaginations and demonstrate a smarter way to power our city. The six minute specially-composed Vector Lights opening show sequence will feature original music and spectacular lighting effects, vividly demonstrating the new lighting capabilities. https://www.vector.co.nz/about-us/sponsorship/lights.
Volvo Ocean Race Auckland Stopover, Viaduct Events Centre and Viaduct Harbour – February 24 – March 18. Auckland – a world-renowned sailing host city – welcomes eight teams competing in the Volvo Ocean Race, the world's toughest sailing challenge that covers four oceans, six continents and eight months of battling the forces of nature. Auckland's Viaduct Harbour is home to the race village, where people can get up close to the teams and their boats, enjoy the best of Auckland hospitality and entertainment, and try their hand a fun, free sailing activities. http://volvooceanraceauckland.com/index.php
Auckland Lantern Festival – 1-4 March. The Auckland Lantern Festival is Auckland's largest cultural festival – and New Zealand's largest Chinese festival – attracting more than 200,000 people to its home at the Auckland Domain. https://www.aucklandnz.com/lantern-festival
Auckland Arts Festival, various venues – March 8-25. A non-stop showcase of New Zealand and international acts, spanning theatre, dance, music, circus and visual arts and ranging from the most gloriously classical to the very edge of contemporary. http://www.aucklandfestival.co.nz/
Pasifika Festival, Western Springs – March 24 & 25. Renowned as the world's largest festival celebrating of Pacific Island culture, featuring 11 villages each showcasing authentic food, crafts and performances from different Pacific Island cultures. Performers and artisans from around the Pacific travel to Auckland every year to take part alongside local Auckland artists. https://www.aucklandnz.com/pasifika
SKYCITY Auckland Double-Header, Mt Smart Stadium – April 7. Auckland's Mt Smart Stadium will be the stage for an NRL doubleheader extravaganza with the Vodafone Warriors and the Wests Tigers hosting their fifth-round games against 2017 premier Melbourne Storm and beaten grand finalist North Queensland Cowboys. https://www.aucklandnz.com/skycity-nrl-double-header
Park Hyatt Auckland, opening April. This will be the first Park Hyatt hotel in New Zealand. This exciting project is an exemplar of what the Wynyard Quarter revitalisation is all about: quality design and build at the highest sustainability standards and a site use that contributes to economic activity on the waterfront. http://www.wsp-pb.com/sv/What-we-do/Property-and-Buildings/Sectors/Hospitality/Park-Hyatt-Hotel-Auckland.
Techweek 2018 – 19-27 May. The focus for Techweek'18 is 'innovation that's good for the world', and within that a celebration of New Zealand's unique, interconnected innovation ecosystem. Techweek provides a week-long opportunity for connection and cross-pollination, and an independent platform through which to amplify New Zealand's unique and inspiring innovation stories to the world https://techweek.co.nz/

Auckland Art Fair, The Cloud, Queens Wharf – May 23-27. New Zealand's premier showcase for contemporary art from the Pacific region. For an art-lover who likes nothing more than looking at paintings, prints, video installations and sculpture, it's quite possibly a dream come true. https://artfair.co.nz/
SO Sofitel Auckland, opening May. The highly anticipated SO Sofitel Auckland strategically located in the heart of central Auckland. Neighbouring the lively Britomart precinct and waterfront, the hotel combines innovation, design and luxury service all delivered in a uniquely playful manner the hotel combines innovation, design and luxury service all delivered. http://www.sofitel.com/gb/hotel-9149-so-sofitel-auckland-opening-may-2018/index.shtml
Auckland Restaurant Month – all of August. Indulge in some of Auckland's best cuisine during Restaurant Month. Try specially created menus at more than 100 central city restaurants and 25+ foodie events on during Auckland Restaurant Month. The line-up of special events is spectacular, from the enormously popular Street Eats and Taste of Federal Street in the first week, to The Big Cheese and Dinner in the Dark wrapping the month up, with new events and menus every year. https://www.aucklandnz.com/restaurant-month
New Zealand Fashion Week – August 27 – September 2. New Zealand and international designers showcase and promote their collections and their brands during this week which includes a trade and industry event for thousands of fashion-focused delegates throughout the week before inviting the style-savvy public to the party during NZ Fashion Weekend. http://www.nzfashionweek.co.nz/
Sculptureum – year-round. Sculptureum is a new world-class sculpture park which has opened up in Matakana, presenting a new destination for art, food and wine. Located an hour north of Auckland city, it has three sculpture-filled gardens, six galleries, a vineyard, an event space, a restaurant and bar. Owners Anthony and Sandra Grant have spent ten years creating a destination that is designed to unlock the imagination, fuel creativity and ignite the mind. They have spent many more years collecting the displayed works, which have been brought together for an art experience that is internationally unique. www.sculptureum.nz
The Hunting Lodge – year-round. A stunning spot to grab a bite and sample some great New Zealand wine, set on 80 acres in the Northwest of Auckland – only a 30 minute drive from the city. The Hunting Lodge provides the opportunity for visitors to get a taste of the region with seasonal locally produced food, wine and crafted beers. There are different tour packages available to choose from, and they have live music playing during summer. www.thehuntinglodge.com
Top international and local live music in Auckland – throughout the year. From international acts, to multi-faceted music festivals and the best of home-grown artists, you can hear the best in Auckland. Check out Splore, St Jerome's Laneway or Auckland City Limits festivals, grab a ticket to The XX, Roger Waters, Mariah Carey, Foo Fighters, Paramore, Macklemore, Robbie Williams, Queen + Adam Lambert, Bruno Mars, Incubus, James Blunt, The National, Pink, Lionel Richie, The Killers, Katy Perry, Fleet Foxes, Ed Sheeran, or home-grown Kiwi music like Fat Freddy's Drop, Neil and Liam Finn, The D4, Marlon Williams, Teeks, Tiki Taane and a celebration of Māori music great, Mahinārangi Tocker.
To learn more about Auckland and all the great things to experience while you visit, check out www.aucklandnz.com