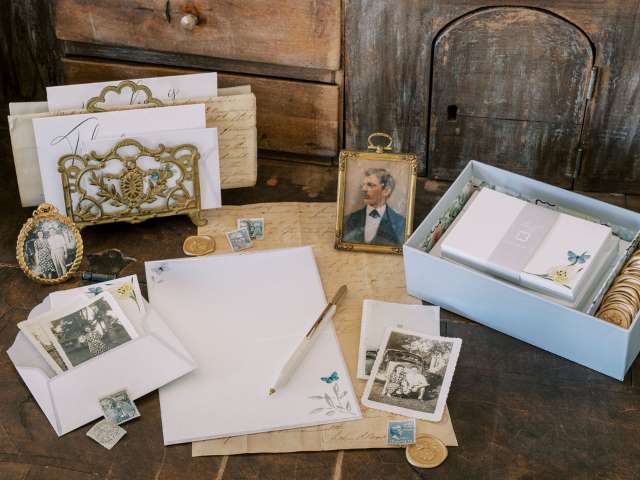 Personalization is the name of the game when it comes to 2023 wedding trends, and the Bella Rosa Collection taps into each of the top five must-haves. Featured in Vogue and as a flawless accessory for discerning brides like Sophia Bush and Micaela Erlanger, each bespoke couture clutch is made by a masterful Italian craftsman as a testament to generations of small-batch, sustainably-tailored luxury fashion. Established in 1919, every heirloom-quality piece carries on a rich family legacy of enduring love throughout the many seasons of life. Next year, this A-list-beloved item will surely play a central role in the planning of an eco-conscious wedding. 
"The Bella Rosa story began with the timeless love of my grandparents, whose romance endured living oceans apart," shares founder Maria Caruso-Martin. "It is my privilege to create heirloom pieces to be treasured by you and your family for decades to come."
The Bella Rosa Collection celebrates the ancient magic of star-crossed love while introducing ultra-mod elements like customized prints, designs, and embellishments.
Similarly, whereas couples chose to get small and intimate post-2020, 2023 promises to marry celebratory flair with more personal aspects, such as:  
A private last dance – Who says you need 200 sets of eyes staring at you as you twirl on the dance floor? Keeping this moment for yourself honors the intimacy of your connection and the very special bond you share.
Personalized guest books – From voice-recorded messages to autographed board game pieces, couples are finding creative, outside-the-box ways to make their guest book their own – including this beautiful watercolor floral Bella Rosa stationery set.
Colorful dresses – Terracotta, rust, copper, and burnt orange hues are topping the trend list for next year, along with black details and pearl accents. The Bella Rosa Collection offers a fully customizable line of clutches and handbags for brides seeking to perfectly match their chosen palette. 
Embroidered fashion – Next year, expect to see couples getting personal with their decor, including embroidered veils, suits, accessories, and more. The Bella Rosa Collection offers custom engraving on their bespoke clutches and handbags to complete the perfect ensemble.
Extravagant anniversary parties – In 2023, the celebration extends beyond the wedding day to include milestone events, such as an anniversary.