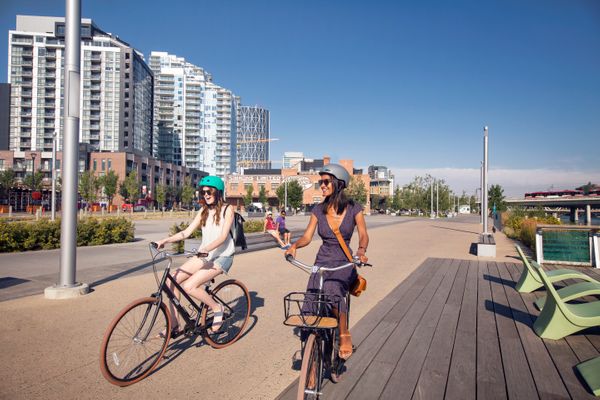 There's a certain awe-inspiring, glittering appeal to Canada's big cities of Vancouver, Toronto, Calgary and Montreal. While guidebooks and blogs direct visitors to iconic attractions, well-trod boulevards and famous vistas, they often miss lesser-known attractions – the residential neighborhoods, under-the-radar eateries and hidden parks that contribute to the unique personality of any great city.
Below are four such Canadian districts, brimming with charm, character and color.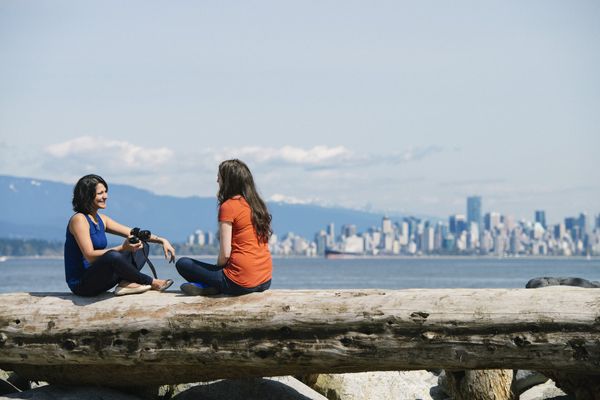 Vancouver, BC
Neighbourhood: Kitsilano
Location within city: 10 minutes' drive from downtown.
What makes it great: Kitsilano (or "Kits" as the locals call it) is the epitome of Vancouver. Equal parts laidback and buzzy, the neighbourhood is populated by organic cafes, sandy beaches, and an endless boulevard of shops. Vanier Park, a tranquil pocket of Kits, is home to three major attractions: the Museum of Vancouver, the R. MacMillan Space Centre, and the Vancouver Maritime Museum. In summer, the Bard on the Beach Shakespeare Festival takes over the park with dramatic marquees and riveting shows played out against a mesmerising backdrop of sun sinking below the water. Kits is also a trend-maker: one shining example is global athleisure brand lululemon, founded here as a small yoga and design studio in 1998.
Slice of history: Kitsilano is named for August Jack Khatsahlano (1877-1971), who served as chief of the Squamish Nation. A medicine man, Chief Khahtsahlano was instrumental in recording his people's oral history, and worked closely with many of Vancouver's first settlers. In the '60s, Kits became known as a hippy beachside hangout. West 4th Avenue was called "Rainbow Road," and local haunts like The Naam were swarmed with vegetarian tree-huggers. Decades later, celebrities like Ryan Reynolds and Joshua Jackson attended Kitsilano Secondary School, before skyrocketing to Hollywood fame.
Local eats: Sample farm-to-fork fare and international influences at The Boathouse Restaurant, AnnaLena, Fable and Maenam.
Cool activity: Kits Beach is a strong magnet for water babies. Join a kayaking or stand-up paddleboard tour with Vancouver Water Adventures, or rent a jet-ski and shoot across the waves.
Local ambassador: Ryan Reynolds (that's Deadpool to you) was born in Kits, and regularly raves about his childhood in Vancouver.
Afternoon itinerary: Fuel up with a coffee and mochi doughnut at Their There before spending leisurely hours browsing the boutiques along West 4th Ave. Afterward, take a dip in Kits Beach's heated saltwater pool (open seasonally in summer), then indulge in a decadent feast at new Persian restaurant Delara.
Montréal, Quebec
Neighbourhood: Verdun
Location within city: Southwest, on the banks of the St. Lawrence River.
What makes it great: Verdun's proximity to the St. Lawrence River has shaped its history – indeed, the lush parks lining the waterfront were originally built to protect the area from flooding. Today, they're populated with locals and visitors cycling riverside bike paths, playing soccer in nearby sports fields, or sunning themselves on grassy banks.
Slice of history: Verdun is one of Canada's oldest settlements, having existed as its own city since 1671 before joining Montréal in 2002.
Local eats: Tuck into flavorful Cambodian street food at Les Street Monkeys, housed in hip, industrial-chic surroundings. Sink your teeth into warm, crispy Montreal bagels fresh out of the wood-burning ovens of St-Viateur Bagel or Fairmount Bagel. Epicureans can't get enough of Joe Beef. The restaurant creates playful but impeccably crafted culinary offerings, all in that signature Montreal style.
Cool activity: Meander over the Champlain Bridge and spend an afternoon at Nun's Island, a leafy suburban area with quiet parks, waterfront paths and the Strøm Nordic Spa.
Afternoon itinerary: Architectural enthusiasts will rejoice in Verdun's architectural marvels. Spend an afternoon drifting among them – the modernist Verdun Auditorium, the four buildings of Nun's Island created by legendary German-American architect Mies Van der Rohe, and the gorgeous interiors of the Notre-Dame-des-Sept-Douleurs church. End the day at Verdun's Natatorium outdoor pool, an art deco gem that can hold 1,500 swimmers.
Calgary, Alberta
Neighbourhood: East Village
Location within city: Eastern part of downtown
What makes it great: East Village is known for riverside pathways that meander along the Bow River, as well as heritage buildings, urban parks, and an innovative public arts program.
Slice of history: The King Edward Hotel ("The King Eddy") was built in the early 1900s on Calgary's Whiskey Row, gradually evolving into the Home of the Blues, where legends like Buddy Guy and Jeff Healey performed.  In 2014, the building was restored as part of Studio Bell. Today, The King Eddy is a live music venue and home to local radio station CKUA.
Local eats: The Simmons Building, formerly a mattress factory, now houses three Calgary-founded eateries – Phil & Sebastian Coffee Roasters, charbar, and Sidewalk Citizen Bakery.
Cool activity: Take a cruise along some of the most extensive urban pathways in North America (stretching 1,000 kilometers) with an e-bike rental from Bow Cycle e-Bikes.
Local ambassador: John Jackson and Connie DeSousa, local restaurateur duo, own two locally loved restaurants in East Village: charbar and CHIX Eggshop.
Afternoon itinerary: Have lunch at the Simmons Building (if visiting in late spring or summer, head straight to the Rooftop Bar). Walk to the Central Library and visit the short story dispenser – a "vending machine" that prints short reads on receipt paper. Pick up a treat from award-winning chocolatier cochu, then continue to Studio Bell and explore five floors of exhibitions that tell the story of music in Canada. End with a stroll over the George C. King pedestrian bridge to Patrick's Island – a hike up the hill rewards with panoramic city views.
Toronto, Ontario
Neighbourhood: Riverside and Leslieville
Location within city: East of the Don River
What makes it great: Riverside and Leslieville retain a distinct character and charm thanks to a healthy array of small businesses, including boutiques, bakeries, retro shops and trendy eateries. Plus, with the Queen Street streetcar located right outside The Broadview Hotel, visitors can zip to downtown in 15 minutes.
Slice of history: Leslieville started as a small village in the 1850s that blossomed around the Toronto Nurseries, owned by George Leslie (after whom the community is named). Most of its residents were gardeners or employed at local brick-making factories. Today, Leslieville's former industrial area is home to Studio City, a new purpose-built film space with over 98,000 square feet of stages.
Local eats: The bright, art-filled Lady Marmalade is a local staple for weekend brunch. Pasaj is another favorite, serving Istanbul-style pastries, breads and brunch in a glass-enclosed space. Cool activity: Local Discoveries Food Tours, part of ArtworxTO, hosts three self-guided food and public art tours, available for free on the Driftscape App. Bring your appetite and prepare to explore Leslieville through food.
Afternoon itinerary: Start with a late brunch, then scour the many vintage stores and independent boutiques along Queen Street East. In summer, make time for events such as Leslieville Beer Fest. Unwind with cocktails and a stunning panorama of the east side from the rooftop of The Broadview Hotel.