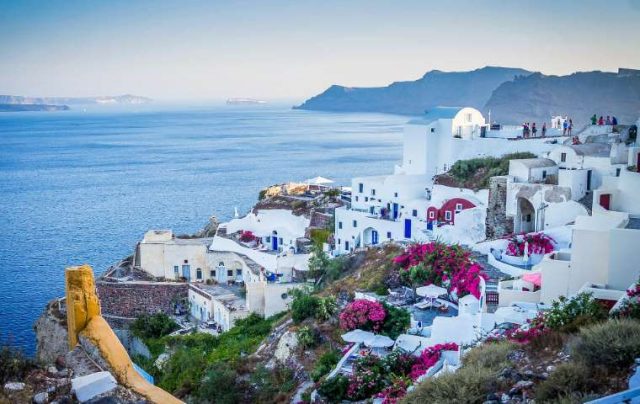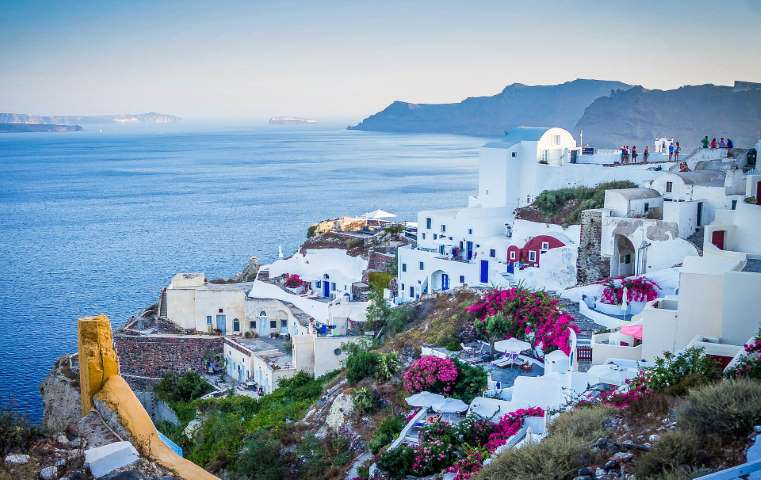 Greece is a chosen holiday destination for many. It is a beautiful country that has something to suit everyone. You will find everything from upmarket Greek Islands, to the mainland that is more secluded places. Some tourists go from island to island, exploring everything that Greece has to offer. Here we have listed what we think are the must-visit destinations in Greece.
Santorini
Santorini is a beautiful place to visit in Greece.  It is probably the most romantic destination that you will find not only in Greece but in the world.  It is also known as Thera the Greek – and is located in the Aegean sea.  It was the location of one of the most significant volcano eruptions we have ever seen – and there is still a submerged volcano when you visit now.  Santorini is a picturesque island with perfect sunsets, and beautiful scenery from the cliff tops.  It's packed with whitewash homes looking on to the sea.  There is so much to enjoy on this island.  There are infinity pools everywhere where you can look at the views at the same time, and it also has unique beaches where you will find red, and black as well as white sand.  Some of the most famous foods at Santorini include fava beans, white eggplant and cherry tomatoes.  They have lots of fantastic restaurants where you can enjoy traditional recipes. 
Mykonos
If you are looking for something cosmopolitan and upmarket – then Mykonos will be right up your street.  Named after the grandson of Apollo – it has a fascinating mythology history.  Mykonos is different from other Cycladic capitals in that it is spread across a wide area.  It has incredible architecture, which is a big attraction for visitors.  There is a beautiful waterfront where you can relax in front of fishing boats, or you can stroll down the shopping district in Matoyanni street where you will find some of the biggest brand names around.  This street is also filled with charming restaurants and cafes.   If you want to enjoy the scenery – then you will love what is known as "Little Venice" where you will find beautiful balconies of all different colours just like the renowned Italian city – and there are quaint windmills that you can also take in while enjoying a bite to eat at the waterfront café.  For those of you who are a little more adventurous – there are lots of watersports available to get the blood pumping – and you could even learn to surf if you wanted to.   As well as luxurious hotels, if you are going with a larger group – you may want to explore the idea of renting one of the villas in Mykonos for a fantastic stay.
Athens
As Athens is the capital of Greece and the historical capital of Europe – there are lots to take in in terms of history. It has been around for over 3,000 years – so is perfect for those of you who like a bit of sightseeing. When you get to Athens, you will want to make sure that you go to the Acropolis and New Acropolis Museum. The Ancient Agora, and the Roman Agora – are also must-see destinations on your list. The sights are all in close proximity to one another, which means it's excellent for walking around with and will make a good family holiday if you are taking the kids. One of the biggest benefits of Athens is that it's also great in terms of transportation to the other islands. You can hop on and off ferries to different destinations as you wish.
Rhodes
If you are looking for some sunshine, Rhodes is the place to find it. It has over 300 days of sunshine a year, so it's a safe bet that you can catch some rays. It boasts a beautiful old own that is romantic and is perfect for those of you who like to frequent the beach with beautiful beach resorts with quaint villages to explore along the way. A good place to visit would be Lindos village which has the Acropolis on top. There is something to cater to every kind of holiday as there are great tourist locations in the centre of town, or you will find more secluded areas around the island. Rhodes is the most famous island of Dodecanese, and we can see why.
Kos
Kos is near the coast of Turkey and is also immensely popular with tourists. Due to its popularity – you might need to do a little research in terms of where you are staying if you are looking for something a little quieter or secluded. There are some fantastic sightseeing spots such as the medieval castle, the Asklepieion, the Roman Odeon and more. Tourists tend to migrate towards places such as Kardamena and Kefalos as there is where the beaches with clear blue water are, and you will also find fantastic eateries there if you want to try the local cuisine. For those of you who are looking for an adrenaline rush – there are water sports available on a lot of their beaches too, which can be a fun activity to enjoy while you are away. If you want a quiet holiday in Kos, then we'd recommend that you chose to go when it isn't high season – as the weather tends to be warm and sunny at most times of the year, this could be the best option.
If you are in the middle of planning your summer holiday and had Greece in mind, these are just some of the fantastic destinations there that you can enjoy. Greece has something for everyone whether you are looking for a family holiday, a romantic getaway – or a break filled with adventure with water sports. Make sure you do your research on what you would like to see and do when you get there before you go, so you don't miss anything off your list.