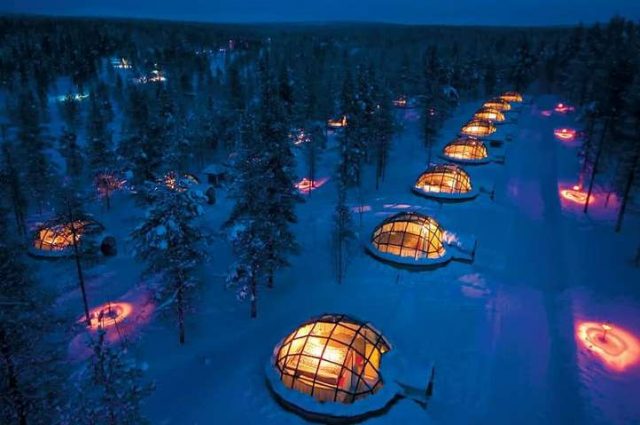 After the stress of wedding planning and the excitement of the big day, you'll no doubt be eager to jet off on your honeymoon. However, not everyone wants to spend their honeymoon sitting on a beach or stuck inside a resort. Here are some ideas for unusual honeymoon destinations for couples who like to do things a little differently.
Kakslauttanen Arctic Resort
If you and your new spouse don't enjoy lazing in the sun, then why not head for Finland and enjoy the snow instead? During the winter months, nowhere on Earth could be more romantic than the Kakslauttanen Arctic Resort, where you and your loved one can cozy up in a glass igloo, enjoying evenings watching the stars. You don't have to visit during winter, however. During the summer months, you can hike in the lush green mountains, or you can visit during the fall, when you may be able to see the Northern lights from your lodge.
Want a honeymoon that's active and full of adventures? Tanzania has you covered. When you stay in this East African country, there is loads to explore, from the desert to the mountains. Many honeymooners book via tanzaniaodyssey.com, where you can choose from activities such as safaris, trekking, and camping under the stars. If you were still hoping for some relaxing beach time, then Tanzania also has some amazing coastline with turquoise seas, so you get the best of both worlds.
The Canary Islands have long been a popular honeymoon destination, thanks to their year-round sunshine and the far-flung feel of their location. Sadly, the unspoiled second-smallest island of El Hierro never really took off as a destination like nearby Tenerife and Gran Canaria, but if you're looking for nature and peace, this may be the place to go. Those who are into eco-travel will be pleased to note it's trying to become the world's first energy self-sufficient island, and it's a World Biosphere Reserve, so buildings are limited to two floors. You can hike lava-sculpted landscapes and craggy mountains, or head for the coast to enjoy quiet, unspoiled beaches or scuba dive.
The Norfolk Islands are also ideal for those who want a romantic break somewhere that feels isolated and unspoiled. Covered in pine trees and with a rocky landscape, Norfolk Island is a less commercial alternative to the Maldives or Seychelles, with tiny lagoons where you can swim or snorkel. Hike the national park where you can see the island's unique plants and animals, such as the colorful parrots.
Portugal has become a must-see destination in recent years, and if you're looking for a city break style destination that also includes stunning coastline, then Porto should be top of the list. Spend your honeymoon enjoying port tastings, hip cafés, and colorful markets. When the sun goes down, enjoy romantic dinners in rustic restaurants overlooking the port, enjoying hearty dishes such as the Francescinha, a sandwich soaked in melted cheese and spicy tomato sauce.