In these days and age, people cannot imagine their lives without traveling. Not only traditionally popular tourist places but also a plethora of unexplored destinations are just a click away, and every year more and more adventurers flock there to discover new cultures, feel the vibes of iconic cities, enjoy the awe-inspiring views, and taste the extravaganza of unfamiliar flavors.
The number of globetrotters is growing at lightning speed, so as the chances that a great bulk of your friends and relatives belong to the army of modern pilgrims. Even though this one is definitely a piece of great news, things are getting really complicated at the very moment when your loved ones have birthdays or celebrate other important events.
Indeed, is it even possible to impress someone who's been everywhere and seen it all? More than that, it is just natural to make a gift related to the person's hobby or something they genuinely like. So, what would be a perfect gift to your friend or family member who enjoys traveling? A spicy-pricey holiday package to their dream destination? Well, they won't say no, that's for sure but wittiness aside, what can you give to a travel lover without going broke?
Luckily for you, there are a lot of beautiful, awesome, and what's most important, useful things able to make the B-day of any passionate voyager regardless of their taste and preferences. Here you have it: 6 amazing ideas for presents every traveler wants to get.
Idea #1: Bring The World To Their Living Room
Sounds great? Have no doubts, it looks great too! Can you think of a better gift for an avid traveler than world map wall stickers to enliven one of the walls in the living room, study, or any other area? Those sticker collections come in a myriad of styles, sizes, and designs, therefore you won't have any problems finding the ideal match to your friend's home. Just make sure, the set you're plotting to buy is complete with a bunch of stylish pinpointers as there is nothing more exciting than to pinpoint a new spot you've just visited.
The best thing about these stickers is that they can fit virtually any space including the office. Many businesses have them to show off their global reach, pinpointing their offices in other countries or clients scattered across the globe. This idea is our #1 choice is also because it's truly versatile, being a suitable option for people of all ages, occupations, and interests. Needless to say, it is a fresh tactic present for a kid or teenager who is only planning to hit the road and travel the world.
Idea #2: A Striking Carry-On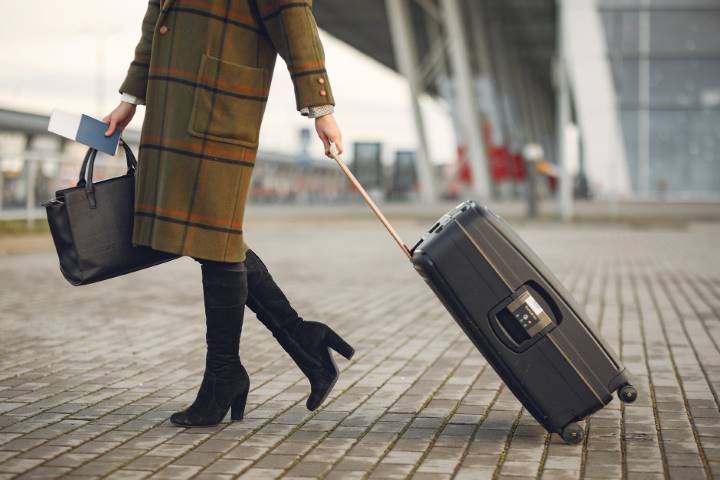 Just to clarify to avoid any confusion – not only eye-catching but also of good quality. Luggage is something that a travel lover just can't have enough, hence every new piece is greeted with open arms. However, large suitcases are not really suitable to be given as a gift since they look terrible already after the very first flight, so it doesn't make sense to spend time and money on something that likely won't be "alive" in a year. On the bright side, carry-ons are another story. These small-sized suitcases are treated as handheld luggage and stick to their owners whatever the circumstances.
By the way, many travelers do not hide the fact that a carry-on is one of the status symbols intended to show whether the proud owner is on a business trip, vacation, or visiting family over the weekend. A quality carry-on, especially the one made by some renowned manufacture is an unforgettable gift that will last for many years to come.
Idea #3: A Travel Power Strip
If you are looking for a really useful but not expensive gift, consider getting a quality travel power strip. No one can argue that this small and lightweight device is a must-have for every serious traveler who visits different countries. The main advantage of strips in comparison to universal power adapters is their ability to power more than one appliance at the same time from just a single power outlet. The most sophisticated products are equipped with multiple USB charge ports and the function of voltage conversion. Rest assured, your gift will be used even more frequently than you can assume, and not only on the go but also at home.
Idea #4: A Classy Toiletry Case
Despite what you may think, an exquisite toiletry case is a great gift not only for women but also for men. Depending on your budget, you can opt for a designer hand-made masterpiece, an old good Samsonite creation, or an item produced by an absolutely unknown brand but that has amazed you with its quality and plenty of extra departments. The point is, it should be a classy and good-looking perk that makes every trip more comfortable and beautiful. It's also a good idea to complement the toiletry case with a travel-size perfume or well, all sorts of toiletries.
Idea #5: A Tiny Drone
This is hardly an inexpensive toy but rest assured, it is worth every penny. We are talking about popular mini drones with incredibly powerful cameras that able to capture all the awe-inspiring landscapes and magnificent places. In contrast to their bigger brothers, these small palm-sized models save travelers the hassle of registration and they are eligible to use in the majority of countries. Plus, they are extremely easy to use and capable of taking high-resolution photos and videos.
Idea #6: A Fancy Expandable Bag
Shopping is a lot of fun, especially when you are visiting another country. If your friend is one of those who love to buy all conceivable and inconceivable stuff to bring home tons of souvenirs, an expandable buyer bag will help them eliminate the unnecessary stress – they won't have to worry about the lack of space for the bargains.
Regardless of whether you need a gift for a newbie or seasoned travel lover, you just can't go wrong with any of the ideas from this list. Do not forget that the most sought-after presents are also useful ones.