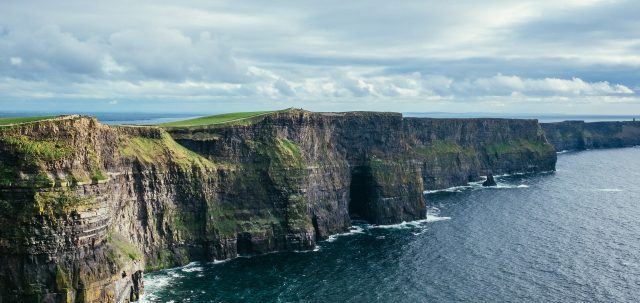 It's that stretch of days near the end of winter when the sun starts shining, the temperature creeps into double digits and trendy city-dwellers begin exposing their ankles again, which signals spring is finally on its way. What better way to celebrate the start of the new season, than with an epic Euro trip.
Our friends over at WOW air have put together a list of top reasons not to miss Europe this year. And if reason #1 doesn't get you across the pond, I don't know what will. Now get ready to gear up for the vacation you know you deserve after this long-drawn out winter.
Reason #7: Dance, like the Irish do!
The country that brought Riverdance—one of the most successful dance productions in history—to the world certainly must know a lot about the art. Their emerging artists' inspiring contemporary choreography definitely would be worth experiencing. Don't miss the Dublin Dance Festival   (May 18-28) which brings the best international dance to audiences of all ages and backgrounds.
Reason #6: Uncover your artistic side in Iceland
The Reykjavik Arts Festival (June 1-17) a multidisciplinary arts event has taken place every other year since 1970 and helped foster a vast international network of artists from all mediums. It's a massive cultural force for the country that, for its comparatively small population, has exported renowned musicians like Bjork, Sigur Ros and late film composer Johan Johannson.
Reason #5: Celebrate with Her Majesty as she turns 92
This year on June 2nd the Queen turns 92! To celebrate, London will be hosting a grand military parade called Trooping the Colour, a tradition for the last two centuries. The Queen, herself, attends this parade in all its historic pomp and pageantry.
Reason #4: Drink your whisky neat or on the rocks in Scotland
Where else would you attend a whisky festival but in the country who's made it their national drink? Every May, Edinburgh hosts a month long celebration of the drink, with events taking place throughout the month.  It's called Scotch for a reason, after all!
Reason #3: Have a jazzy time at the Brussels Jazz Weekend
Take advantage of a marathon weekend (May 25-27) of free international and Belgian jazz concerts in parks and venues across the city of Brussels, the capital of the country where legendary jazz musicians like Django Reinhardt are from.
Reason #2: Take your driving skills to next level in Spain
The Spanish Grand Prix is one of the oldest races in the world, first being held in 1913. Taking place May 11-13, at the Circuit de Barcelona-Catalunya in Barcelona, the race has become a mainstay in the Formula One World Championship.
Reason #1: See the royal couple saying "I Do"
It's all anybody has been talking about for months – Prince Harry will wed North American Suits actress Meghan Markle at Windsor Castle in what is likely to be a historic ceremony on May 19. Why not take this opportunity to be part of history, and be there while it happens?
If these reasons weren't enough WOW Air is now offering 30% off select flights to Europe. So, get your tickets for an adventure across the pond you'll never forget!