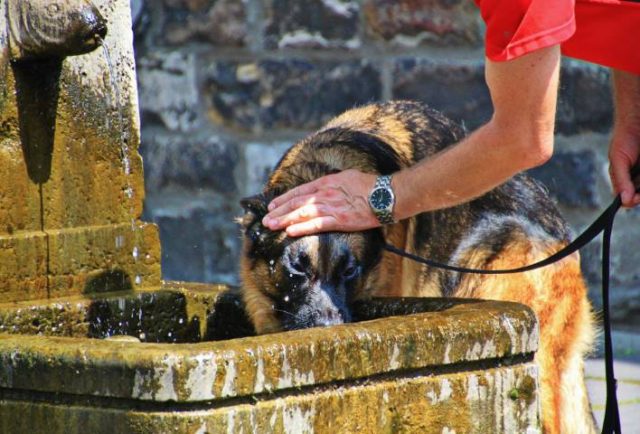 With warmer days ahead, it's important that we are giving the same care to our furry friends as we do the rest of our families.
To help ensure our pooches have a pawsome time, experts at Canine Cottages have pulled together seven top tips to ensure your dog is safe and protected all summer long!
1. Cool down your pooch
As it starts to become hotter, it's really important to make sure you're ensuring your dog doesn't overheat. Whether it's buying a cool mat or allowing them to stretch out on a cold stone or marble floor, it's super important to make sure your dog is keeping cool in the summer.
2. Get their coat correct
Although a clipped coat may be more comfortable for your pooch during summer, our furry friends' coat helps to keep them cool and protected against sunlight and harmful UV rays that can lead to sunburn or skin cancers. Our dogs' coats are designed to protect them, so make sure to ask your vet and groomer about the best option for your dog during summer before getting the clip.
3. Get walkies right
Although we must make sure to walk our pooches year-long, walks in the hot sun can be harmful to our canine friends. They risk overheating, with hot pavements damaging their paw pads. During the summer months, avoid walks between 12-3pm and try walk them in the early morning or evening instead. If your dog does need a little midday stroll, keep the walks short and shaded.
4. Hydrate!
During summer, a constant supply of clean, fresh water is imperative. Keep your dog's water bowl topped up at home, or make sure you have a bowl and water with you for your pooch if you're out and about. Many establishments provide water bowls for passing dogs, but it's important to make sure you always have water with you too.
5. Watch your dog's diet
Like us, dogs tend to eat less in the summer, so don't be alarmed if they don't go for their food bowl as often as they would do in the cooler months. However, if a loss of appetite is accompanied by fatigue or other symptoms, make sure to speak to your vet. And while summer means plenty of treats for us humans (ice creams and BBQ food, anyone?), don't be tempted to treat your dog the same, as certain treat foods can be harmful for dogs and upset their tummies.
6. Never leave a dog in the car
All dog owners should know not to do this, but never leave your dog in a car, even if just for a few minutes. Hot cars are fatal for dogs, even if you park in the shade or have the window open. If you need to pop out, leave your pooch at home, or bring someone with you who can step out of the car with the dog and ensure they are safe while you run errands.
7. Ensure protection against fleas, ticks, and worms
As much as we love our canine chums, we don't want to live with their little, irritating friends! Make sure you regularly treat your dog for fleas, ticks, and worms – there are plenty of spot-on and oral treatments available and you can talk to your vet for the appropriate treatment. When on holiday or walking somewhere new, your dog will be excited to discover new places, especially woodland and fields with livestock and long grasses which can be home to ticks, fleas, and lungworm, so make sure that you keep an eye on them and check them after a walk, especially around the ears, eyes, and legs. Seek treatment immediately if you do suspect any signs of fleas, ticks, or worms.
Commenting, Shannon Keary, Digital PR Manager at Canine Cottages, says: "With warmer days ahead, it's important to know the right steps to take to keep our dogs safe in the hotter months. We ensure our families are protected against the sun with hats and sunscreen, it's important that we take the same care with our furry friends too! We hope these tips help dog owners take the appropriate care, to ensure a safe and sound summer for all!"