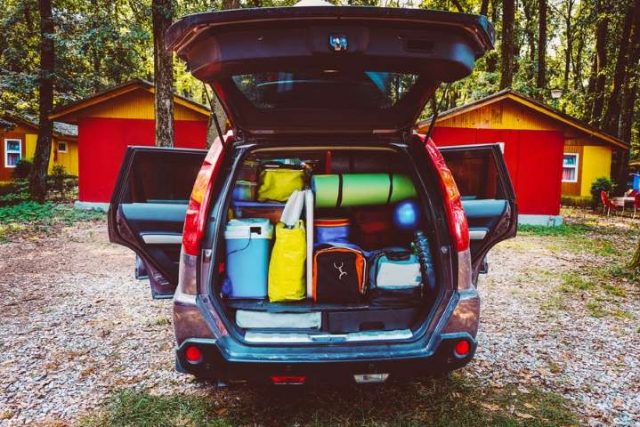 Kids love camping, but you need to make their first trip as smooth and easy as possible. You don't want one bad experience to scare them off the experience forever. There's a lot of things out there you can buy or borrow to help ensure their first trip is a positive one, this is of course pending the weather.

Here are 8 essential camping supplies to take with you if you have kids:
An Appropriate Sleeping Bag
When you were a kid, you may have had a novelty polyester sleeping bag with cartoon characters on it. These were never very warm or appropriate for camping outdoors. These were designed for sleepover parties only. Ensure your child has the same quality of the sleeping bag that you'd want to sleep in. It's still possible to buy novelty kids sleeping bags. They may have improved over the years, but it's still better to buy a proper children's camping sleeping bag from a camping supplies retailer. Depending on the age of the child, you might like to buy them an adult size one. Ensure whatever they are sleeping on, such as an air mattress is of the same quality you would use for yourself.
Good Lighting
Some children are afraid of the dark and camping will inevitably involve some degree of darkness. The technology in flashlights has evolved dramatically since the 80s and 90s. No more battery draining incandescent light bulbs or alkaline batteries. A rechargeable LED torch is the best type of torch for both children or adults. You don't have to buy new batteries for it, which is great when you have kids who might be prone to leaving it switched on. These may cost a bit more than a typical children's flashlight, but it's something they'll never grow out of. You can buy these at camping stores or online retailers such as LED Torches Australia.
A Family-Sized Tent
You might be tempted to put your kids in a tent by themselves, but if they are young or new to camping you should keep them close. Sleeping close to you will make them feel safer and possibly warmer. By sharing a tent, you will be close enough to calm them if they get scared or if they need any assistance. This will definitely help ensure they have a better experience. When they get older, get them their own tent.
Outdoor toys and activities
Depending on where you are camping will dictate what's appropriate to bring. For example, if you're camping by the river, bring appropriate swimming attire, blow up boats, oars, blow up balls, water pistols, fishing supplies, pool noodles and whatever else the kids will like. Other fun outdoor games and activities can include bringing bikes, frisbees and whatever you need for your favourite ball games. Don't forget the sunscreen.
Food & Cooking
Depending on if you're at a powered site, somewhere with barbeque access or you'll be making a campfire will dictate what food and cooking supplies will be required. An esky with some ice is essential for any meats or drinks. Canned food and other long-life food products that don't need to be kept cold are also a good idea when camping. Try and cook things that the kids can help with. Don't forget to bring lots of water, as you might need this for drinking, cooking, cleaning and washing.
Pest Control
There can be a lot of insects when camping. Keep in mind that you're out in nature and this is their territory and ecosystem. It's best to use insect repellants rather than trying to spray everything you see. Be sure to keep all your food and drinks sealed to keep the bugs out.
Appropriate Clothing
You don't want your kids to get too dirty or to get too cold. Bring extra clothes and separate pyjamas. It's important to make sure your children change into their pyjamas to sleep. You don't want dirt getting in the sleeping bag and going to sleep in wet clothes could make them sick.
Toiletries
Don't forget all the bathroom essentials like toothbrushes, toothpaste, shampoo, soap etc. It's best to pack all this on their behalf. Depending on the age of the child, you may also need to bring any extra equipment they may need for going to the potty or toilet, which might include a camping toilet. Don't forget the toilet paper! 
Try and keep all of these in mind when organising your next camping trip with your kids. Making sure that they have a safe and fun time, don't get too bored will ensure they have a nice break from technology and remain enthusiastic for future trips. If your kids are particularly dependent on technology, bring extra power banks to recharge their devices, but let's see if they can survive without them for a few days.