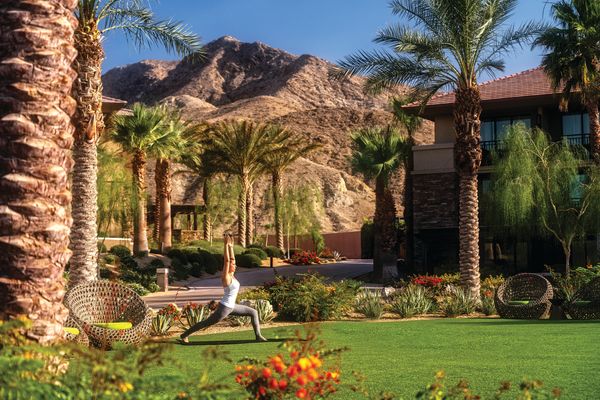 Wellness is an inherent part of Greater Palm Springs ' DNA. The region's original Native American inhabitants, the Cahuilla Indians, were the first to take advantage of the hot, mineral-rich waters that spring from a robust natural underground aquifer. Thousands of years later, stars of Hollywood's Golden Age followed suit when they started retreating to the desert on a regular basis. Today, visitors can enjoy the very same detoxifying hot springs—and so much more—at spas and resorts peppered throughout the nine desert communities. Add to the mix pampering massages, restorative mind-body practices, wholesome nourishing cuisine, mindfulness activities and vast, wide-open spaces, and you'll find all the essential ingredients for a wellness getaway in Greater Palm Springs. An added bonus? The sun shines an average of 300 days a year, so you'll also get a daily dose of organic Vitamin D. Following are eight ways to integrate wellness into your next desert escape.
1. Take the Waters
The region's original settlers, the Cahuilla Indians, were the first to tap into the curative mineral waters, considered some of the purest in the world. The hot springs were such a prominent feature of their daily lives, it inspired the Agua Caliente tribe's name. "Taking the waters," a.k.a. soaking in a mineral bath, is a quintessential desert ritual and the biggest concentration of places to do so can be found in Desert Hot Springs. Two Bunch Palms recently completed extensive renovations of their destination resort and spa. Here, guests have access to soaking tubs fed by their 600-year-old spring along with a full menu of spa treatments and rituals. The new Azure Palm Hot Springs Resort & Day Spa Oasis features indoor and outdoor mineral spring pools as well as soothing 174° private wells for hot soaks. And thanks to a day-pass option, you don't have to be a hotel guest to take advantage of the resort's wellness amenities. Late 2022 will see the opening of The Spa at Séc-he at the new Agua Caliente Cultural Plaza in Palm Springs. In addition to 22 private baths fed by sacred springs, the facility will feature a salt cave, eucalyptus steam rooms, float pods, and traditional treatment rooms for therapeutic massages and scrubs.
2. Treat Yourself to a Spa Day
Traditional and cutting-edge spa therapies are offered at 25+ destination spas throughout the region. Book a deep tissue massage at the Spa Desert Springs at JW Marriott Desert Springs Resort & Spa and take advantage of the steam, sauna, jacuzzi and spa pool amenities to make a full day of it. The Ritz-Carlton Rancho Mirage has a stunning spa facility perched above the valley floor—many of the treatment rooms feature private terraces with breathtaking views and luxurious treatments make effective use of indigenous botanicals. The new island-inspired St. Somewhere Spa at Margaritaville Resort Palm Springs is a serene space for a cleansing facial and soak. Smaller properties like Sparrows Lodge offer a simple menu of basic spa treatments including the Purification Ritual featuring sage smudging, dry brush exfoliation, and massage. At the highest end of the spectrum, the Sensei Porcupine Creek will draw wellness seekers from around the world for their singular, customized approach to wellness upon opening in Fall 2022.
3. Try Animal Therapy
Smoke Tree Stables is renowned for its Equine Facilitated Psychotherapy programs. Healing with horses can help treat anxiety, depression, and other emotional issues. In addition to traditional trail rides, Smoke Tree Stables offers therapeutic group activities that involve various themes including boundaries, self-esteem, relationships, and mindfulness. The therapies focus on what the horse can bring into the process of insight, change and healing. 
4. Get Your Om On Outdoors
There's nothing quite as grounding as practicing yoga outside surrounded by natural beauty. Do sun salutations on a spectacular rooftop setting at Power Yoga Palm Springs, or find your flow at The River in Rancho Mirage along the grassy tiers of the plaza amphitheater hosted by Hot Yoga Plus Palm Springs. Resorts like The Ritz-Carlton, Rancho Mirage; La Quinta Resort & Club; Hotel Paseo and Renaissance Esmeralda Resort & Spa, Indian Wells also offer outdoor yoga and fitness classes for hotel guests.
5. Challenge Your Mind & Body
Learning a new sport is a wonderful way to align mind and body and attune to your senses. Greater Palm Springs is renowned as a destination for golf and tennis—two timeless games anyone of any age can pick up at any point in their life. Book a tennis clinic at the Indian Wells Tennis Garden to learn the basics or brush up on your skills. When it comes to golf, you'll have more than 100 courses to choose from.
6. Go "Forest" Bathing
The Japanese practice of shinrin-yoku, also known as "forest bathing," refers to the scientifically proven restorative benefits of spending time in nature. Given The Greater Palm Springs region is home to more than 100 hiking trails, access to trails offering peace, quiet, fresh desert air and sweeping vistas is relatively easy. Along the trails, spot wildlife and flora and fauna unique to the California desert in their natural habitat. From Indian Canyon to Joshua Tree National Park and the Living Desert, there are so many places to get out and take a meditative walk on the wild side.
7. Feel the Good Vibrations
Wellness seekers in the know make the pilgrimage to The Integratron, where transformative sound baths are offered in a distinctive multi-wave sound chamber that looks like a big white dome (or spaceship!) from the outside. During their signature 60-minute sonic healing sessions, guests rest comfortably while a sequence of quartz crystal singing bowls are played. Each bowl is keyed to the body's chakras, creating waves of peace, heightened awareness, and mind-body relaxation. 
8. Eat Clean & Green
For those looking to cleanse, nutritious, wholesome cuisine prepared with produce grown in the surrounding regions is available at restaurants and resorts throughout the oasis. Four certified farmers' markets in Palm Springs, Palm Desert, Indian Wells and Old Town La Quinta also supply local chefs. Establishments ranging from homey cafes to fine dining, gourmet restaurants are well-versed in accommodating a range of dietary restrictions and preferences, be it gluten-free, vegan or paleo. Local health food specialty restaurants include Chef Tanya's Kitchen, Luscious Lorraine's Organic Café, and Nature's Health Food & Café. And natural food stores are stocked with whole foods and every imaginable supplement for meals on the go.