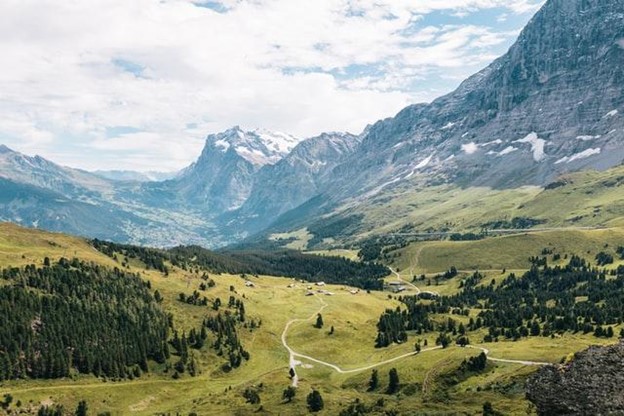 When people think of Switzerland, there are usually two things that come to mind: timepieces and chocolate. In this post we'll be discussing the latter with examples. Numerous chocolate factories dot the Swiss landscape, and some even offer tours to curious consumers.
While it's not possible to tour the factory where the original Toblerone chocolate bar is made, there are plenty of other facilities worth exploring if you happen to be a candy connoisseur. Let's go over three of the best chocolate factory tours in Switzerland, as well as what they include for members of the public.
The Maestrani's Chocolarium
The Maestrani's Chocolarium factory in Flawil offers tours with audio guides. Maestrani's has been in business since 1900 and today is still using traditional methods when producing their chocolates.
The tour starts with a quick video that talks about how they made chocolate in their earlier years, and what it takes to make their chocolates today. Visitors are then led into a big room with pictures explaining the step-by-step process. Next is a room with a long display case filled with chocolate samples, each one with an information card explaining how that particular candy is made. Then visitors are led into a gift shop where they can purchase plain chocolate bars to be used in the next area.
The tour ends with a visit into the heart of the factory where visitors can see the production of chocolate in person. They also meet the talented chocolatiers who work the factory floor, who offer to decorate their plain chocolate bars in any way they please..
The tour guides are very knowledgeable and provide guests with samples at each level of production, while also providing recipes for cooking with chocolate for their sampling experience. The tour is very interesting and makes it very clear that the Maestrani company takes great pride in their business.
The Frey Chocolate Factory
The Frey Chocolate Factory Tour in Buchs begins with a short slide show presentation at the factory's chocolate museum where you learn about the history of chocolate making, how cocoa beans are grown around the world, and how they make their final product. The presentation also includes a walkthrough among the machines they use throughout the process. The museum is like a giant storehouse where the history and machinery are part of what's on display.
After the factory museum visit, visitors can enjoy a tasting session where they can sample multiple truffles, and taste different flavors of chocolate — including Frey's original dark chocolate which has been around since the early 1900's and Neuhaus milk chocolate, a best-seller. Visitors also learn about how each chocolate is made, along with some fun trivia and facts.
After the tour and tasting, visitors enter a room filled with row upon row of M&M candies, bags of chocolate bars and cases full of truffles all waiting to be purchased as souvenirs. Tours can run from one to two hours and only cost around $25 per person.
Maison Cailler
Maison Cailler was founded in 1825 when Jean-Charles Cailler started his own chocolatier business near Vevey. Today, there are still two family members at the top of this famous company. This factory tour stands out from the rest since it allows people to learn about a family business that has been passed down for generations.
Visitors are taken on a tour of the factory, with the help of an audio guide in their headsets. The audio guide is very informative. It explains the process of how cacao plants are grown and how chocolate is made from cocoa beans, before being turned into various products. Many of the displays along the tour are digital and interactive. Visitors are given samples of different Cailler chocolates at various stages in the production process, as well as recipes for cooking with chocolate.
Visitors to Maison Cailler include people of all ages, with the majority being students on school trips or groups visiting from around the world. Their tour experience is arguably the best-attended on our list, and has been ranked by Trip Advisor and Condé Nast Traveler magazines as one of the top ten in Switzerland.