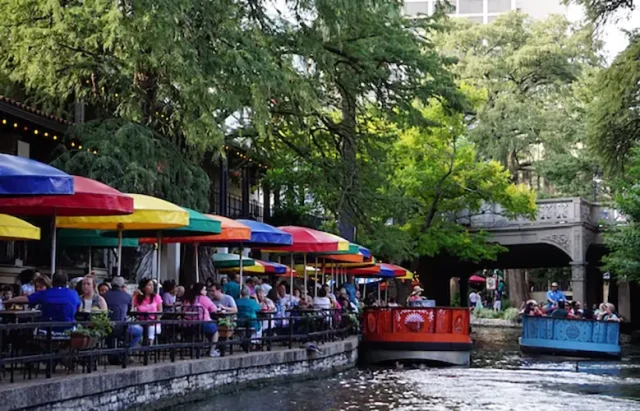 San Antonio, Texas, is renowned for its captivating tourist attractions that draw visitors from far and wide. This vibrant city offers a plethora of top-rated tourist attractions in San Antonio that cater to every interest and preference. From iconic landmarks to natural wonders and cultural gems, there is no shortage of experiences to delight and enthrall visitors. Whether you're an art enthusiast, history buff, nature lover, or thrill seeker, San Antonio has something for everyone.
When it comes to tourist attractions in San Antonio, the city's rich history takes center stage. One of the must-visit sites is the legendary Alamo, a symbol of Texas' struggle for independence. Steeped in history, this iconic landmark stands as a testament to the heroism and sacrifice of its defenders. Another must-see attraction is the San Antonio Missions National Historical Park, a UNESCO World Heritage Site. This collection of well-preserved Spanish colonial missions offers a glimpse into the region's past and cultural heritage. Here are some of the places to visit in San Antonio, Tx:
The Alamo
The Alamo stands as a testament to the heroism and sacrifice of the defenders who fought during the Battle of the Alamo in 1836. Visitors can explore the mission-turned-fortress and learn about its significance through exhibits and guided tours. The Alamo's historic charm and educational value make it a cornerstone attraction in San Antonio.
River Walk
The San Antonio RiverWalk, also known as Paseo del Rio, is a picturesque network of walkways that meanders along the San Antonio River. Lined with shops, restaurants, and vibrant gardens, the River Walk offers a unique blend of natural beauty and urban flair. Visitors can take a leisurely stroll, enjoy a boat ride, or indulge in delicious Tex-Mex cuisine while immersing themselves in the lively atmosphere.
San Antonio Missions National Historical Park
Designated as a UNESCO World Heritage Site, the San Antonio Missions National Historical Park showcases a collection of well-preserved Spanish colonial missions. Each mission tells a story of the city's rich cultural heritage and offers insights into the lives of the indigenous people and early European settlers. Exploring the missions provides a glimpse into the region's past and its enduring cultural legacy.
Natural Bridge Caverns
Nature lovers and adventure seekers will be delighted by the Natural Bridge Caverns, a magnificent underground cave system. Embark on a guided tour and marvel at the awe-inspiring formations, including stalactites and stalagmites. For an adrenaline rush, try the exhilarating canopy zip-line or challenge yourself in the outdoor maze. The Natural Bridge Caverns offer a captivating underground experience like no other.
San Fernando Cathedral
As one of the oldest tourist attractions in San Antonio, the San Fernando Cathedral holds immense historical and religious significance. Its stunning architecture and sacred atmosphere make it a popular attraction for both locals and tourists. Attend a mass or simply admire the beauty of the cathedral's intricate stained glass windows and ornate decorations. A visit to San Antonio would be incomplete without experiencing the tranquility and spirituality of the San Fernando Cathedral.
San Antonio Botanical Garden
Escape the hustle and bustle of the city and immerse yourself in the natural beauty of the San Antonio Botanical Garden. Spanning 38 acres, this oasis showcases a diverse range of plant species, including indigenous Texas plants and exotic flora from around the world. Take a leisurely walk through themed gardens, marvel at the vibrant blooms, and find serenity in the peaceful surroundings. The San Antonio Botanical Garden offers a rejuvenating retreat for nature enthusiasts and those seeking moments of tranquility.
Pearl District
Once a historic brewery, the Pearl District has transformed into a vibrant neighborhood that seamlessly blends the old with the new. Here, you'll find an array of upscale boutiques, trendy restaurants, and lively entertainment venues. Explore the weekend farmers market, sample local delicacies, or attend a live performance at the amphitheater. The Pearl District exudes a unique charm that attracts locals and visitors alike, making it a hub of creativity and urban sophistication.
Tower of the Americas
Rising 750 feet above the city skyline, the Tower of the Americas offers breathtaking panoramic views of San Antonio. Take an elevator ride to the observation deck and marvel at the stunning vistas stretching as far as the eye can see. Enjoy a delicious meal at the revolving Chart House restaurant, which allows you to dine while slowly rotating for a truly memorable experience. The Tower of the Americas provides a bird's-eye perspective of the city and is a must-visit attraction for those seeking a memorable and picturesque view.
Six Flags Fiesta Texas
For adrenaline junkies and thrill seekers, Six Flags Fiesta Texas is the ultimate attraction in San Antonio for excitement and amusement. This sprawling theme park boasts a wide array of exhilarating roller coasters, entertaining shows, and water rides. Experience the thrill of heart-pounding attractions, enjoy live performances, and create lasting memories with family and friends. Six Flags Fiesta Texas guarantees an action-packed day filled with laughter, screams, and endless fun.
SeaWorld San Antonio
Dive into an aquatic adventure at SeaWorld San Antonio. Home to an array of marine life, including majestic dolphins, playful sea lions, and magnificent orcas, this marine park offers an immersive experience like no other. Enjoy thrilling rides, watch captivating shows, and learn about marine conservation efforts. Interact with animals, embark on a behind-the-scenes tour, and witness the beauty of these incredible creatures up close. SeaWorld San Antonio promises a day of entertainment, education, and unforgettable encounters with marine life.
Japanese Tea Garden
Step into a tranquil haven at the Japanese Tea Garden, a hidden gem nestled within Brackenridge Park. This enchanting garden features lush landscapes, serene ponds, and traditional Japanese structures, creating a serene atmosphere perfect for relaxation and contemplation. Enjoy a traditional tea ceremony, stroll through the winding paths adorned with vibrant flowers, and appreciate the harmony of nature and architecture. The Japanese Tea Garden offers a serene escape from the hustle and bustle of city life, allowing visitors to find inner peace and rejuvenation.
Conclusion
In conclusion, San Antonio stands as a remarkable destination that leaves a lasting impression on visitors seeking unforgettable experiences. The abundance of tourist attractions in San Antonio makes it a true paradise for travelers. When planning your visit to the charming city of San Antonio, it's essential to consider the logistics of your trip as well.
Whether you're relocating to San Antonio or moving within the city, it's worth seeking the assistance of professional San Antonio movers. These expert movers can ensure a seamless and stress-free transition, allowing you to focus on enjoying the plethora of tourist attractions in San Antonio without the hassle of managing the logistics of your move. By entrusting your relocation to San Antonio movers, you can fully immerse yourself in the city's vibrant energy and create lasting memories. So, pack your bags, embrace the spirit of adventure, and get ready to be captivated by the enchanting tourist attractions in San Antonio. And if you're planning a move to or within the city, don't forget to enlist the services of professional San Antonio movers to ensure a seamless and hassle-free transition.