If you're in Tokyo and looking to explore the city's rich cultural traditions, we recommend that you visit the Taito City area. As the stage of some of Tokyo's most well-known tourist attractions and beautiful neighborhoods, Taito-ku is an excellent choice for experiencing some of the many unique aspects of Japanese culture. Take in the atmosphere of Tokyo's oldest temple and the surrounding alleys oozing with Japanese traditional history and enjoy life as a local by staying at a traditional ryokan inn, where you'll have the chance to enjoy a typical, delicious multi-course meal served in Japanese style, and end the day with a soothing bath.
Dive into Japanese History at Sensoji Temple
Sensoji Temple, in the Asakusa area, is the perfect spot to take in Japan's history and traditions. Founded in 645, the temple is the oldest in Tokyo and now attracts millions of visitors all year round. As you reach its grounds, you'll be greeted by the monumental Kaminarimon gate marking the entrance to Nakamise-dori, a colorful shopping street lined with stalls selling all kinds of traditional souvenirs and Japanese delicacies, including the popular ningyo yaki, small cakes with a red bean paste filling that come in various shapes including lanterns, dolls, and birds.
At the end of Nakamise-dori is the Hozomon, another big gate welcoming you to Sensoji's main temple grounds. From here, you can take a tour around the main hall and take some breathtaking shots of the vermillion five-story pagoda, overlooking a pond brimming with lively koi fish.
For an even more memorable experience, you can rent a traditional Japanese kimono or yukata at one of the many stores around the area and enjoy taking beautiful photos that will double as a treasured memento of your trip.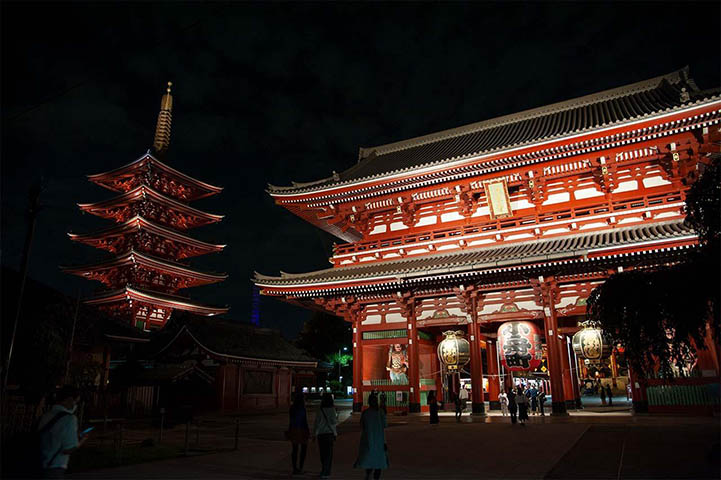 After a day of sightseeing, we recommend heading back to the temple at nighttime to experience a completely different atmosphere: as the day draws to a close, the crowds thin out, and the temple buildings are beautifully illuminated, creating a dreamlike setting.
Explore the Traditional History of Miyamoto Unosuke Shoten
Miyamoto Unosuke Shoten is just a short walk away from Sensoji Temple. Miyamoto Unosuke, founded in 1861, is well-known throughout Japan for manufacturing high-quality taiko drums and portable shrines (known as mikoshi), both commonly employed in many key traditional events and festivals in Japan. Miyamoto Unosuke Shoten drums have even been utilized in Japanese emperors' funerals and enthronement ceremonies, while their mikoshi also make an appearance at the Sanja festival, a three-day event held at Asakusa Shrine, which attracts millions of visitors each year.
At Miyamoto Unosuke Shoten, you can observe firsthand the remarkable craftsmanship that goes into each mikoshi and taiko drum. Today, the company is equally dedicated to sustainability as it is to maintaining the exceptionally high standards of its fine cultural legacy. Both the mikoshi and taiko drums are manufactured from sustainably sourced thinned wood, which helps to preserve the traditional techniques that are still employed in the manufacturing process while minimizing environmental effects.
Miyamoto Unosuke has also been taking on new challenges by launching the KIPPU jewelry line, whose products are inspired by the gold and silver accents found on their mikoshi.
A Stroll Down Yanaka's Shopping District
Yanaka is a lovely neighborhood where you can feel the atmosphere of old Japan. Its winding, tiny alleys are a joy to explore, with cozy cafes and restaurants as well as long-standing specialized shops. As you stroll leisurely down its streets, you may even encounter a few cats hanging around the old temples scattered around the neighborhood.
One of the must-see attractions of the area is Yuyake Dandan, a staircase with a view over the roofs of Yanaka Ginza, one of Yanaka's main shopping avenues. While in the neighborhood, don't miss the traditional Japanese delicacies you can find at its dozens of specialty stores, such as karinto, a deep-fried snack coated in brown sugar, and ichigo daifuku, a chewy mochi stuffed with strawberry and sweet red bean paste.
Enjoy a Meal at Kiri Yanaka
If all the sightseeing and shopping made you hungry, head to Kiri Yanaka for lunch. Once an old Japanese-style house, the restaurant is located in a quiet side alley right off one of Yanaka's busiest commercial areas. The beautiful decor and the view of the restaurant's small but carefully curated traditional Japanese garden will make you forget being in one of Tokyo's liveliest neighborhoods and let you enjoy a relaxing mealtime.
Kiri Yanaka's is popular for its eel courses, served with different side dishes made with fresh, seasonal ingredients. The staff's hospitality and the fine quality Japanese food will guarantee an unforgettable dining experience in a cozy space.
Experience Life as a Local at Ryokan Sawanoya
After a day spent discovering the area's rich cultural history, treat yourself to a relaxing stay at Ryokan Sawanoya, a modest, traditional family-run inn situated in Yanaka's residential area.
In typical Tokyo fashion, the inn's rooms are tiny yet cozy and elegantly take advantage of the limited spaces of the city center. For a relaxing time, two of the rooms come with private baths, while the inn's shared baths are at guests' disposal.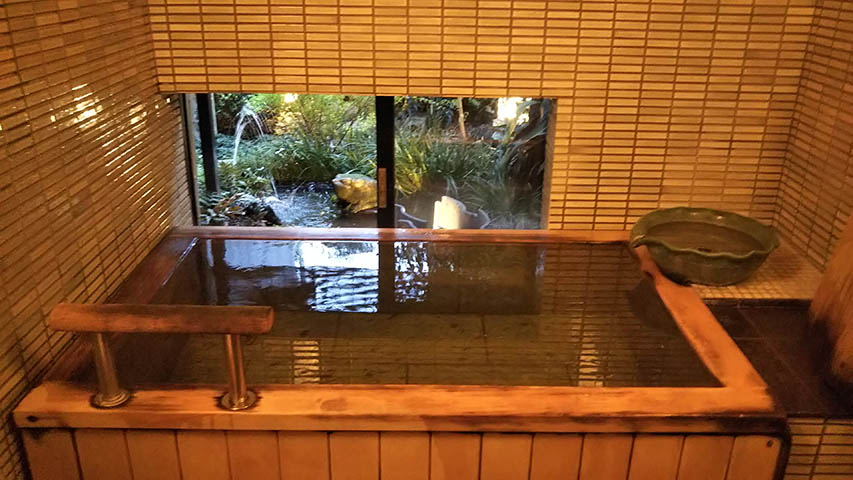 Ryokan Sawanoya is the perfect accommodation for those looking to explore the neighborhood or visit the nearby attractions, including Ueno Park, the Tokyo National Museum, and the Tokyo Metropolitan Art Museum. The personnel at Ryokan Sawanoya go out of their way to make guests feel at ease, almost as if they were part of the family.
Due to the popularity of this accommodation, we recommend making your reservation well in advance.