Italian aerobatic and racing pilot Dario Costa once again proved his precision and skill with a world-record-breaking flight through two auto tunnels near Istanbul. Completely enclosed and in near-darkness, the Hamilton ambassador and Red Bull athlete executed a tricky takeoff in the first tunnel, continued through an open-air gap and then into the second tunnel – all at 245 km/h, flying less than one meter from the ground.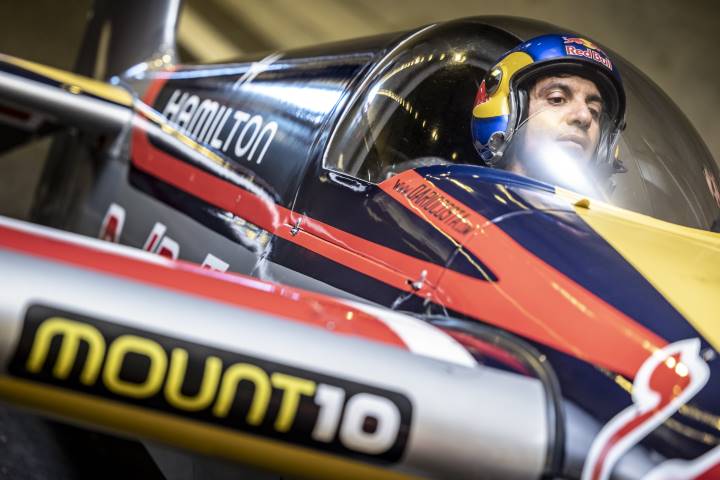 A pilot since age 16, Dario is known for his passion, dedication and perseverance, in 2019 making flying history over the dunes of Namibia in the short film "Dreams of Flight."
"Dario's spirit and determination make the impossible possible," says Hamilton CEO Vivian Stauffer. "In the cockpit, timing is everything and we're incredibly proud to support Dario as he continues to make his dreams a reality with skill and precision."
THE FLIGHT
Even with more than five thousand hours of logged flight time – over half in high-performance aerobatics –diligent preparation, immense skill and the highest level of flying were required of Dario as he wrote a new chapter in aviation history.
After a year of planning and practice, Dario took off in the cockpit of a specially modified Zivko Edge 540 race plane just after dawn. Limited overhead clearance required him to maintain a steady flight path between 30-70 cm from the asphalt, and 3.5 meters from each wingtip to the tunnel's concrete sides. Less than forty-four seconds later, Dario had flown 1,730 m, reaching an average speed of
245 km/h and set a new World Record for the Longest Tunnel Flight.
His incredible accomplishment also set four additional records: first airplane flight through two tunnels, first airplane flight through a tunnel, longest flight under a solid obstacle, and first airplane takeoff from inside a tunnel.
"If you believe it you can do it!" says Dario following this daring maneuver. "I've been making my dreams come true one at a time through hard work and passion, and I can't thank Hamilton enough for being on my wrist – or in this case the dash – through every flight."


THE WATCH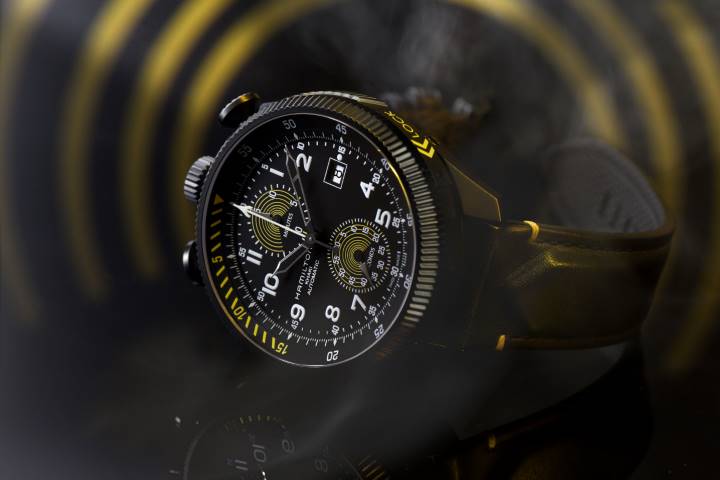 "Hamilton's Takeoff is practical, technical and precise," says Dario. "But it's also just really cool and I love wearing it every day whether I'm in the cockpit, on the road or with my family."
Originally launched in 2014, the Khaki Aviation Takeoff Automatic Chronograph features a unique function created to meet the needs of pilots: a removable case and mount. Wearers can 'takeoff' the case without removing the full watch and attach it to its fixed mount on a cockpit dash.
In celebration of Dario's record-breaking flight, we worked with him to produce a new Khaki Aviation Takeoff Automatic Chronograph – a special edition limited to 100 pieces, the number a reference to the maximum possible flying height of 100cm inside both tunnels.
With a focus on counting every second up to 40 – the length of Dario's tunnel flight – we added extra layers of Super-LumiNova® on the central seconds hand and seconds indicators up to 40. To ensure Dario's focus even in the tunnel's darkness, there is no Super-LumiNova® on the remaining indicators or the hour and minute hands.
Powered by our H-31 automatic chronograph movement, the 46mm Takeoff features two sub dials and a bi-directional turning flange for easy countdowns. As a nod to the dangerous tunnel flight, the limited edition piece features yellow-ringed counters: The 12 o'clock sub dial has been adapted to a 15-minute countdown to correspond with the maximum stunt duration, and at 6 o'clock is a 60-second counter.
Finally, the watch will come with special packaging which can be used as a table clock.