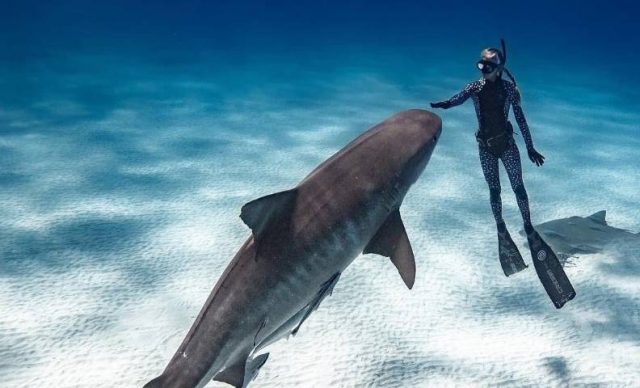 It's about that time to start getting ready for the opening of Tiger Shark season on Grand Bahama Island. Tiger Beach in the Bahamas is known as one of, if not, the best Tiger Shark diving locations in the world – and for good reason! The waters are clear, calm, and there's a large population of sharks of all species, making it a shark lover's dream destination!
If you're ready to dive into adventure alongside these fascinating predators in their natural habitat, check out the following excursion provider!
Viva Wyndham Fortuna Beach: Looking for good prices for accommodation & would like to do some dives? Dive with the Viva Wyndham Fortuna Beach Resort on Grand Bahama Island and their exclusive dive operator in the Bahamas.
Tiger Shark diving trips are normally available between November 15th and April 15th, start planning your trip now to secure your spot!
If you're looking for other shark diving excursions, UNEXSO Grand Bahama has vacation packages to satisfy every diving appetite. Deciding which ones to take advantage of is the question. Whether you're an experienced scuba diver or just now looking to start diving, UNEXSO offers dive vacation packages that are sure to please.
Don't forget your scuba gear!