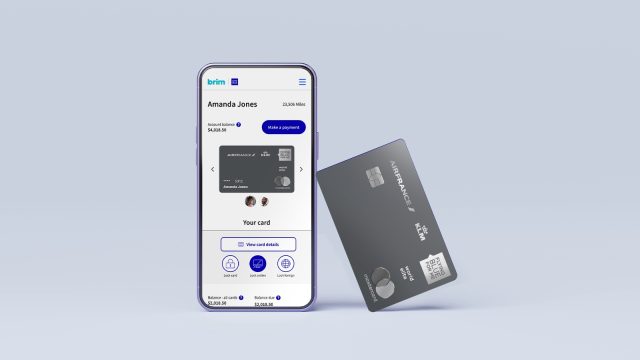 Air France and KLM are launching their first credit card in Canada – Air France KLM World Elite Mastercard® – with partner Brim Financial. Issued and managed on Brim's state-of-the-art digital platform, the card will provide Canadians with the ability to earn Flying Blue Miles with their everyday purchases.
The new Air France KLM World Elite Mastercard® enables customers to earn Experience Points (XPs) faster and level up their Flying Blue experience, helping them achieve or maintain status even more quickly. Cardholders will earn Miles each time they use their card, which can be redeemed by booking tickets, upgrades, and ancillary travel options, in addition to shopping at partners or even donating Miles to a charitable or sustainable cause.
"We are excited to launch this new Air France KLM World Elite Mastercard," said Benjamin Lipsey, Senior Vice President, Customer Loyalty at Air France-KLM, "offering our Canadian customers exponential value and program enhancements that will enable them to upgrade their Flying Blue status faster and provide opportunities to earn additional Flying Blue Miles on their everyday purchases. We are proud of this partnership with Brim. Their state-of-the-art platform will provide a seamless experience for our customers.''
The Brim ecosystem grants cardholders access to Brim's feature-rich platform, including instant approvals, virtual cards, family card functionality, spend monitoring, pay-in-instalments (BNPL), full mobile wallet compatibility, and robust loyalty and rewards.
The new Air France KLM World Elite Mastercard® enables cardholders to earn more Miles and Experience Points (XPs) and up to 5X the Miles when they travel with Air France and KLM:
1 Cardholders earn more Miles:
5 extra Miles per Euro (€1)* spent on Air France and KLM tickets, on top of the regular Flying Blue Miles earned
up to 30 Miles per $1 at selected merchants
2 Miles per $1 at restaurants
1 Mile per $1 for any other purchase
2 Cardholders earn more Experience Points (XPs):
Flying Blue Members receive a welcome bonus of 60 Experience Points (XPs), equating to 60% of the XP required for Silver status
Members earn another 30 XP annually at card renewal
XPs are earned on all eligible flights with Air France, KLM and SkyTeam partners, based on flight distance and travel cabin
3 Cardholders receive comprehensive travel insurance coverage and free Boingo wi-fi worldwide. 
4 The card is available with no annual fee ($132) until December 15, 2022. 
"We are pleased with our partnership with Brim, which enables us to offer our loyal members and cardholders more benefits when they fly to over 1,000 destinations within the Air France, KLM and SkyTeam networks," commented Jean-Eudes de La Bretèche, General Manager Air France-KLM Canada. "Moreover, the welcome bonus of 60 Flying Blue Experience Points (XP), and 30 additional XP after each renewal, combined with the program's bonus miles ratio per purchase, will instantly boost benefit opportunities for our customers."
"Brim is thrilled to partner with Air France and KLM, globally trusted and recognized travel brands to offer the all-new Air France KLM Mastercard to Canadians," noted Rasha Katabi, Founder and CEO of Brim Financial. "Cardholders have access to Brim's feature-rich platform with a first of its kind integration with the Flying Blue program. This digital-first approach elevates the customer experience to a whole new level."
The Air France KLM World Elite Mastercard is available in both virtual and traditional plastic versions.  The physical card is made from recyclable, bio-sourced, chlorine-free, degradable, and ocean plastics.  https://brim.flyingblue.ca