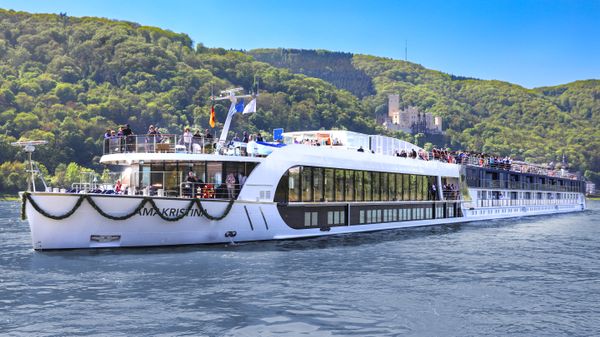 AmaWaterways today announced that its ships have earned six of the top ten positions in the much-anticipated third edition of the Berlitz: River Cruising in Europe& the USA travel guide.  Securing this year's coveted number one spot, due in part to outstanding cuisine and service, is AmaKristina, the namesake of AmaWaterways' Co-Owner and Executive Vice President Kristin Karst.
For the 2018-2019 edition, author Douglas Ward, widely regarded as the world's foremost independent authority on cruising and cruise ships, evaluated 320 river ships. AmaWaterways' ships outranked the competition in total points covering the categories of hardware, accommodation, cuisine, service and miscellaneous, underscoring the company's commitment to delivering the highest quality product and guest service to the market.
"On behalf of our entire AmaWaterways family, we are so incredibly thrilled to be recognised once again as a leader in the river cruise industry by Douglas Ward," said Karst. "It is especially humbling for me as AmaKristina receives the top ranking this year. I am so proud of everything we have accomplished at AmaWaterways over the years, and I look forward to a bright future ahead, as we continue evolving our product and delivering unforgettable holiday memories to travellers from around the world."
In the guide, which goes on sale this week, Ward applauded AmaWaterways for its top-rated cuisine and friendly guest service, stating "AmaWaterways spends considerably more on high quality food ingredients and wine and on hotel crew service training than any other river cruise company. The company is also known to offer the highest levels of customer care and friendliness in the river cruise industry."
Receiving the top four-star plus rating in the book were 11 ships — AmaBella, AmaCerto, AmaKristina, AmaPrima, AmaReina, AmaSerena, AmaSonata, AmaStella, AmaVenita, AmaVerde and AmaViola. AmaLea, AmaWaterways' 20th ship, joined the fleet in March of this year and will be evaluated in the next edition of the guide.
The company's innovative and highly anticipated new ship AmaMagna – set to debut in 2019 – is highlighted in this year's guide as a 'stunning, double-width rivership' having 'oodles of space, comfort and pizzazz.'
Prices for a seven night voyage on AmaKristina currently start from £1,989 for the Christmas Markets on the Rhine itinerary from Basel to Amsterdam on 17 December. Full board accommodation, drinks with meals, flights from London, transfers and a choice of excursions are all included.
For more information visit www.amawaterways.co.uk