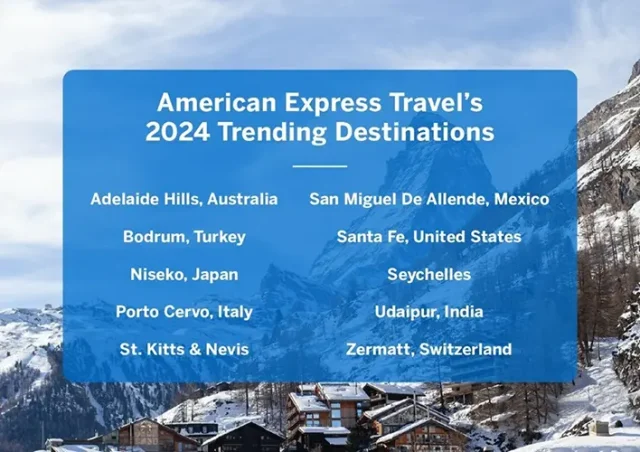 American Express Travel® released its annual Trending Destinations list for 2024 today, featuring the 10 must-visit vacation spots based on global American Express® Cardmember travel bookings and recommendations from Amex Travel's team of 6,000 expert Travel Consultants. This year's list – 2024 Trending Destinations: Off the Beaten Path – goes beyond the traditional, well-known vacation spots to uncover hidden gems and new experiences that travellers, particularly Millennials and Gen-Z, are looking for.
"People are looking for new experiences and to immerse themselves in the local culture when they travel," said Audrey Hendley, President of American Express Travel. "Whether you crave a new adventure or just want to beat the crowds, this list is a great place for every type of traveler to find their next vacation destination. Through our Travel Consultants' expertise and extensive knowledge, we can help find the perfect place to stay, fastest way to get there, and the best local activities to create an incredible trip," she added. 
The Trending Destinations list offers a trip for all kinds of travelers. For example:  
Instead of the popular Blue Mountains of New South Wales, consider the Adelaide Hills with its charming villages and bustling culinary scene for your Australian rural retreat.
If you love the history and energy of Istanbul, Bodrum, Turkey is home to beaches on the sparkling blue Aegean, bustling bazaars, fresh seafood, and active nightlife.
Pastel-hued Porto Cervo, Italy on the island of Sardinia is a more exclusive alternative to the iconic Amalfi Coast that still gives visitors celebrity glamour and mouth-watering cuisine.
The sparkling seas, friendly locals and historic culture of St. Kitts and Nevis in the Caribbean make it the perfect destination for those who love the laid-back vibes and white-sand beaches of St. Thomas and St. John in the U.S. Virgin Islands.
Travellers who love to ski in Sapporo can head farther afield to Niseko, Japan on the northernmost island of Hokkaido, for an equally unforgettable winter-sports experience.
Those who flock to Mexico's Riviera Maya for its beautiful scenery and vibrant food and culture will find a similarly colorful and stimulating urban experience by travelling inland to San Miguel de Allende.
Santa Fe, New Mexico offers a similar blend of American Southwest culture, history, and natural beauty as popular Sedona.
The Maldives have come to symbolize the exclusive end-of-the earth beach vacation. The Seychelles offer a similar paradise, along with expansive biodiversity and multicultural vibrancy.
Udaipur, India, an uber-romantic city of lakes and palaces, is a great alternative to Agra, home to the Taj Mahal.
For those who love skiing the Dolomites, picturesque Zermatt, Switzerland offers a similar, charming feel.
American Express Travel's Travel Consultants have identified the best places to explore, eat, and stay for each destination, so that travelers can get a taste of the local culture, including seeing koalas in the wild in Adelaide Hills; shopping for Turkish towels at the bazaars in Bodrum; and visiting a museum devoted to ceremonial masks in San Miguel de Allende.