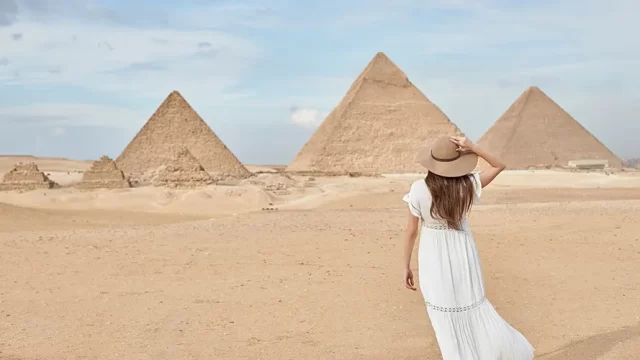 A fixture on any serious traveller's itinerary for centuries thanks to its abundant architectural marvels and important historic sites, Egypt is now a favoured destination for those seeking deep cultural immersion, craving the thrill of adventure, treasure hunting in the markets, thirsting for pan-Arab dining and delighting in Insta-worthy views at every turn. This summer, Four Seasons Hotel Cairo at Nile Plaza, Four Seasons Hotel Alexandria at San Stefano and Four Seasons Resort Sharm El Sheikh invites travellers to discover – and rediscover – it all.
"The incredible thing about Egypt is that there's always more – from exciting archaeological finds and newly restored landmarks to its more recent emergence as a playground for desert and sea adventures, and the many exciting new attractions just waiting to be experienced," says Simon Casson, President, Hotel Operations – Europe, Middle East and Africa.  "With the insider knowledge and genuine care that only Four Seasons can provide, a truly memorable experience will leave guests with only one question: when are we coming back again?"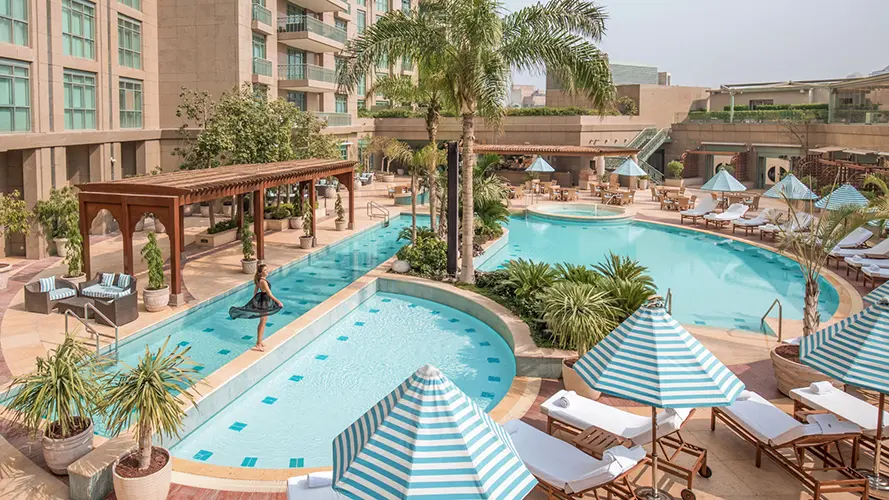 Well-established in Egypt for more than two decades, Four Seasons can customize the perfect holiday for families, couples and friends in one, two or more Egyptian destinations, completely tailored to individual needs and wants. With insider access, trusted local guides and seamless travel arrangements – not to mention the comfort of luxurious accommodations at the end of each adventure-filled day – all that's left to do is enjoy every moment.
Top of the list for any visitor to Egypt is the highly anticipated opening of the Grand Egyptian Museum (GEM) in Cairo. None other than Ramses II (in the form of an 11 metre / 36 foot statue carved 32 centuries ago) welcomes visitors to the largest archaeological museum in the world. The striking contemporary building houses most of the treasures unearthed a century ago in King Tut's tomb, plus more than 100,000 additional artifacts spanning 7,000 years of Egyptian history and culture. GEM is partially open now, with an expected grand opening later this year.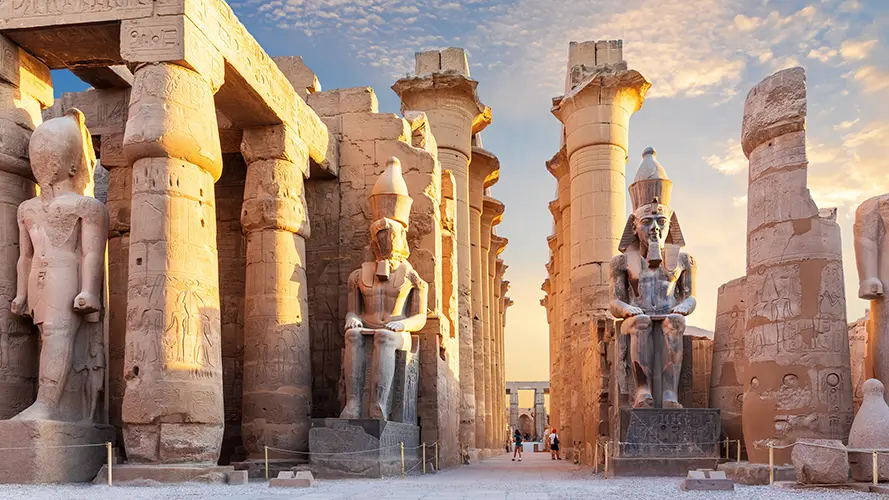 From there, the opportunities are endless. Below is a taste of the possibilities, a few recommendations, and ways to get started on planning an Egyptian adventure this summer.
Cairo: An Ever-Changing City of Secrets
"The Pyramids of Giza are a must of course, and particularly for those who have seen them before, we offer the opportunity to experience their majesty in a new light with a very special private dinner under the stars amid one of the Seven Wonders of the World," says Yves Giacometti, Regional Vice President and General Manager, Four Seasons Hotel Cairo at Nile Plaza.  "And to see something that much fewer have seen until now, we suggest the Step Pyramid at Djoser, recently reopened after a 14 year-restoration and the centre of a tomb complex that is older even than the Pyramids of Giza, by several hundred years."
To journey even deeper into history, a trip to Luxor and the paradise city of Arwan is a day not soon forgotten. Four Seasons offers a door-to-door experience, including limo transfers and a Four Seasons escort through the airport. Then, after a short flight, Four Seasons guests are met with a carefully chosen guide who will be at their side for the entire day before returning to Cairo that evening or the next day. Often called the world's greatest open air museum, treasures are continuing to be discovered. "This is where legends come to life as you walk in the footsteps of the Pharaohs through temples and monuments, visit the famous Valley of the Kings, and tour very interesting museums that tell the stories of ancient Egypt," says Chief Concierge Dalia Khalili. "Our team will ensure you don't miss a thing, and we'll even suggest a few surprises along the way."
Those preferring to stay in the city will be spoiled for choice, from the city's many restored palaces to its performing arts centres, contemporary art galleries (tip: check out the extensive art collection at Four Seasons as an introduction to the city's burgeoning arts scene), numerous museums and the Cairo Opera House, home to international and local musical performances with first class productions of ballet, opera and symphonic works.
No visit to the city is complete without a trip the Moez area, a UNESCO World Heritage Site, and Khan El Khalili, the 1,000-year-old markets, in search of everything from artisan pieces to funky souvenirs. Then as the sun sets, a leisurely cruise on calm waters of the Nile in a traditional felucca takes you past the evening-lit Cairo Opera House, sparkling Cairo Tower, the celebrated Cairo Yacht Club and several palaces as you sip on Bedouin-style mint tea.
To begin planning exploration of the city and its surroundings, book a getaway by the Nile at the riverside Four Seasons Hotel Cairo at Nile Plaza, and contact the Concierge team for personalized recommendations to suit all interests.
Alexandria: The Pearl of the Mediterranean
Relatively youthful in comparison to Cairo, Alexandria was founded by, and named for, Alexander the Great in 331 BC. The arrival of the Macedonians in Egypt was just another moment in a long history of cross-cultural influences that can be seen all over the city.
For example, take Pompey's Pillar, erected to honour the Roman Emperor Diocletian around 300 AD. "Climbing it is forbidden of course, but it's fun to think about those who did in the past, and the stories of its construction and its role in many periods of history are fascinating," says Chief Concierge Shaimaa Youssry, Four Seasons Hotel Alexandria at San Stefano.
A visit to the Roman Amphitheatre takes one through the remains of the ancient city of Alexandria during the Roman Period. Then, venture on a tour of where the legendary Pharos Lighthouse once stood – The Citadel Qaitbay. The 15th-century landmark is now a naval museum with lookout towers and a unique collection of weapons. For a panoramic culinary experience, visit the Greek Club for an authentic experience with picturesque views over the Mediterranean.
"A must-see landmark is the Bibliotheca Alexandrina; one of the major cultural centres in the world with space for eight million books and a massive main reading room," recommends the Hotel's General Manager Nihat Yucel.  The complex houses four museums, 15 permanent art galleries, a planetarium, and a manuscript restoration laboratory.
Another of the many attractions in Alexandria is the Royal Jewelry Museum, set within an opulent palace built about a century ago. Here, Four Seasons can arrange an expert guide through its magnificent rooms and priceless treasures on display including gold objects and jewels once worn by the queens and princesses of Egypt's royal family. For something truly special, Chef Concierge Shaimaa Youssry hints at the possibilities afforded by a private evening tour of the palace, followed by dinner and live music in the Royal Gardens: "Can you imagine a more romantic setting for a proposal, or a celebration of enduring love?"
Those who want to experience modern day Alexandria at its best will enjoy an evening at the beautiful Alexandria Opera House – check in with the concierge team for the tickets to upcoming performances of music, ballet, opera and more.
To begin planning the perfect seaside vacation, book a Mediterranean getaway at the beachfront Four Seasons Hotel Alexandria at San Stefano, and contact the Concierge team for the best ways to experience the city.
Sharm El Sheikh: An Oasis for Adventurers
For those who shun darkened museums, busy markets and crowded tourist sites, Egypt's Peninsula is a vast wilderness for adventurers on land and underwater.  The Red Sea waters surrounding the southern tip of the peninsula are teeming with marine life and intriguing shipwrecks, making it popular with divers and snorkellers of all levels.  First stop: the new dive centre at Four Seasons Resort Sharm El Sheikh, where training and first glimpses of colourful aquatic life can be seen in the Resort's private reef.  From there, escorted trips and yacht charters to the area's 76 recognized dive sites await.  "Try night diving too," says Leo Baum, the Resort's General Manager.  "On a moonlit night you can see as far as 10 metres or 32 feet deep, and witnessing the glittering bioluminescence of tiny particles of glowing plankton is something you'll never forget. Beyond diving and the dramatic reefs, guests will enjoy water activities on a sea kayak and a stand-up paddle boarding."
Recently expanded to double its original size, Four Seasons now offers numerous pools, 12 diverse culinary experiences, a new spa fitness center with floor-to-ceiling windows, tennis and squash courts – but for those who want to expand their horizons, there's as much to do in the desert as at the beach. Quad biking the dunes, a sunset camel safari, or a Bedouin-style dinner under the stars are all easily arranged, and the region's historic sites are worth a look too.
"Said to be the very place where God appeared to Moses in the Burning Bush, Mount Sinai is an overnight climb rewarded by the beauty of sunrise over the shining Red Sea the next morning," says Ahmed Nazmy, Chief Concierge. "The UNESCO World Heritage Site is home to Saint Catherine's Monastery, built in the sixth century and one of the world's oldest working monasteries today."
For a look at modern Sharm El Sheikh, a visit to the Heavenly Cathedral with its elaborately painted ceiling, stained galls windows and Biblical illustrations will have cameras snapping, as will the glorious Al Sahaba Mosque with its striking minarets – both were built in the 21st century, with the latter being close to the Old Market for souvenirs, spices and local handicrafts.
To begin planning the adventure – or simply a few days of sun-soaked relaxation – book a Red Sea getaway at Four Seasons Resort Sharm El Sheikh, and contact the Concierge team to help tailor each fun-filled day at the recently enhanced resort.