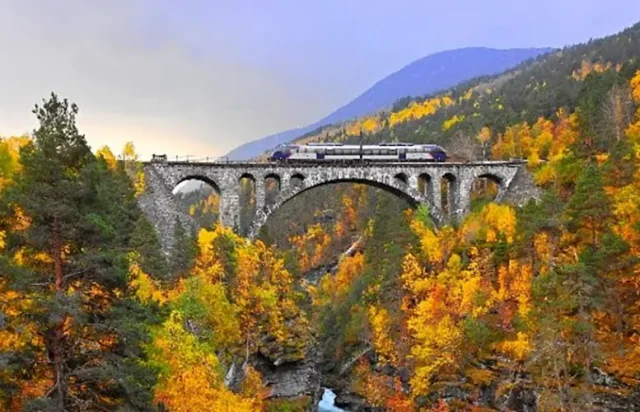 For 2024, Up Norway, the leading curator of sustainable luxury travel experiences in Norway, will be offering a northern extension to its Arctic Circle Express Train Journey with stops in Lofoten and then on to Narvik.
The 15-night rail centric experience begins in Oslo, the vibrant heart of Norway where a bustling metropolitan atmosphere meets pioneering art, architecture, and design. The itinerary continues on from Oslo by train, stopping in Bergen, Ålesund, Trondheim, Bodø, and, with the new extension, Lofoten and Narvik. With Bodø poised to shine as the European Capital of Culture in 2024, an extra layer of cultural enrichment adds to the allure. Along the entire journey, travelers will enjoy personal encounters with locals that offer unique perspectives, a diversity of local sea and farm to table cuisine, and impactful activities from cruising the fjord and kayaking along narrow waterways to the UNESCO protected Bryggen Wharf, hiking the Alnes lighthouse on Godøya island, exploration of both large cities and small town, and more. In Lofoten, with the added trip extension, travelers can enjoy remote villages, a dramatic Scenic Route, adrenaline-pumping arctic surfing, and international art collections. Then, they'll progress on to Narvik where a private guided tour of the War Museum offers insight into the World War II events that shaped the area. Additionally, the Narvikfjellet Cable Car provides panoramic views of the city and its surrounding fjords and mountains.
But perhaps the standout highlight of this itinerary is the journey itself on a trio of Norway's most spectacular railways: Flåm, Rauma, and Ofotbanen. The Flåm Railway, an engineering marvel and Europe's steepest rail line, treats travelers to a descent of 2,828 feet to the fjord below. Meanwhile, the Rauma Railway offers an unrivaled passage through the dramatic Romsdalen valley, and the Ofotbanen Arctic Train is a unique marvel fully above the Arctic Circle presenting panoramic views of towering peaks and cascading waterfalls.
Luxurious and authentic accommodations range from boutique hotels that overlook the commanding Hardangerjøkulen glacier to the cozy embrace of a traditional fisherman's cabin. In 2024, guests can also opt to stay at the brand new Basecamp Narvik in the Narvikfjellet Mountains.
This enhanced 15-night itinerary invites discerning travelers to embark on an immersive adventure through Norway's captivating Northern landscapes, unveiling hidden gems and rich cultural experiences along the way. Up Norway provides effortless travel experiences every step of the journey over dates of one's choosing. Guests are provided with a comprehensive pre-trip digital guide filled with insider tips and recommendations, all travel details, and a 24-hour direct chat to access the Up Norway team with any questions.