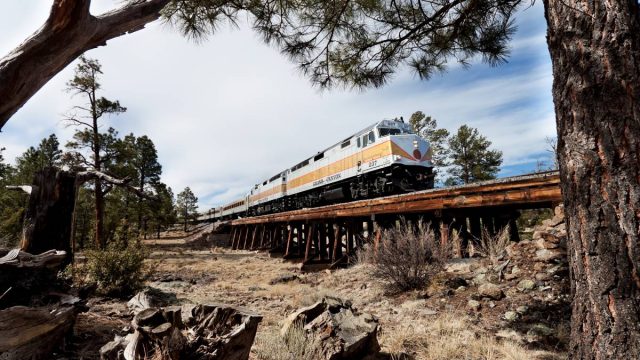 It's the news many are waiting to hear: Spring Train-ing is on track at the Grand Canyon Railway and the famed railway will be up and running every day.
Arizona, California, Nevada, New Mexico and Utah will save 20 percent on train tickets. Enter "SOUTHWEST" in the Booking Code field of the Train Tickets or Hotel Only reservation form at www.thetrain.com/offers-packages/discounts.
Charter Your Own Train, or Private Railway Car
It is also possible to charter an entire luxury private railroad car or even an entire private train complete with chefs, bartenders, entertainers, and staff. These are ideal for "milestone" moments such as graduations, family reunions, anniversaries, weddings, birthdays, etc. For charters call 928-635-5700 or visit www.thetrain.com/charters.
Quick Tips and Information

Where and When:
The Grand Canyon Railway runs daily from Williams, AZ on historic Rt. 66 to within steps of the Grand Canyon South Rim and El Tovar. The pristine train, comprised of railcars from the 1930s, 1940s and 1950s, including luxury dome cars and an open platform observation car, as well as vintage coaches with opening windows, departs at 9:30 a.m. and returns at 5:45 p.m. with a 2.5-hour layover at South Rim of Grand Canyon. Assigned seating enables social distancing.

How far is the Grand Canyon Railway?
Williams is only 2.5 hours, give or take, from Phoenix, 3.5 hours from Las Vegas and 6.5 hours from Los Angeles and the Grand Canyon Railway runs every day to one of the greatest sights and wonders of the natural world.

Information and reservations: Visit www.thetrain.com