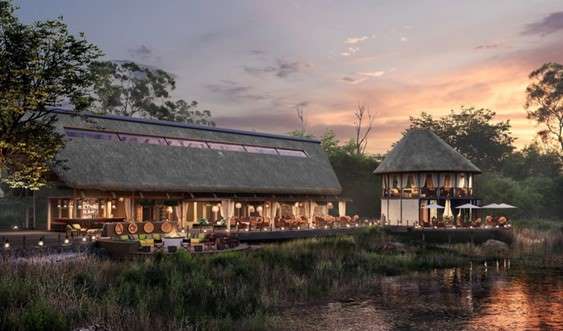 The Atzaró Okavango Camp is set to become one of the world's most remarkable safari lodges. Nestled in the pristine African wilderness of the wildlife-rich Okavango Delta, this ultra-luxury adventure camp is nothing short of magnificent. The latest venture from Ibiza's renowned Atzaró Group, the camp is set within an expansive 1100 hundred square km private concession, providing guests with an exclusive and personalised game viewing experience, free from the overcrowding often found in other safari destinations.
Atzaró Ovakango promises to be an unforgettable journey back in time, blending romantic glamour with unparalleled wildlife encounters and specially curated guest activities. Expect a truly once-in-a-lifetime experience crafted from breathtaking surroundings combined with Atzaró's acclaimed five-star hospitality.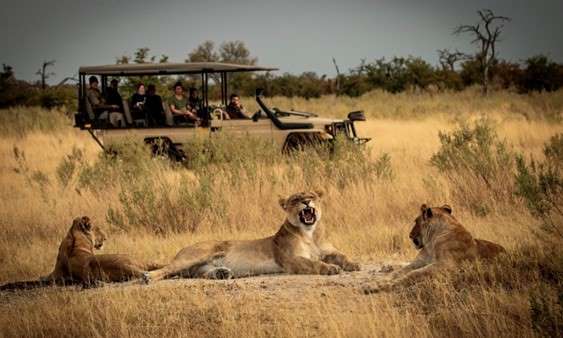 Atzaró Okavango is situated by the Moremi Game Reserve, an area widely recognized as one of the most exclusive and wildlife-rich regions in all of Africa. Atzaró Okavango offers an exclusive and unforgettable safari experience, featuring luxurious accommodation and unrivaled access to nature. Embracing the essence of a bygone era in safari travel, Atzaró Okavango perfectly combines luxury with a deep connection to nature, embodying the expertise and pedigree that defines Atzaró.

The camp boasts twelve magnificent suites, including two private-use villas, each equipped with plunge pools and their own opulent "star beds" for stargazing while the sound of lions fills the night air. The interiors showcase Atzaró's signature design, featuring parquet flooring, French mid-century furnishings, crisp linens, eclectic antiques, and stunning artwork.
Every suite includes a private deck overlooking the majestic lagoon and wildlife-filled waterways. All of the accommodation is equipped with modern amenities of the highest quality, including air conditioning and heating for chilly mornings, high-speed Wi-Fi for connectivity, en-suite bathrooms, outside bath and shower, and beautiful outdoor brass bathtubs.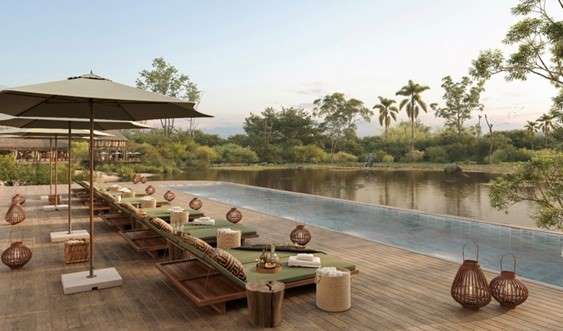 During their stay, guests will enjoy the finest in hospitality, with infused cocktails from the unique Palm Bar, an exquisite fine dining restaurant, a fire-lit boma, an African art gallery, a curated art shop, and a well-stocked wine cellar. The camp's wellness offering includes a state-of-the-art gym and an indulgent spa and rejuvenation treatments. Guests can take part in sommelier-led wine tastings, elevating their dining experience, while the exotic tearoom serves the finest "high tea." Cocktails and champagne can be enjoyed around the 20-meter-long pool adjacent to the lagoon, where hippos and elephants become constant companions.
Private game drives, community visits, guided safari hikes, stargazing, helicopter safaris, candlelit dinners by the lagoon, and dug-out mokoro canoe expeditions are just a taste of the activities available, providing guests with unforgettable and truly unique experiences.

The Okavango Delta's wildlife is diverse and abundant, thanks to its rich ecosystems and the Botswana Government's vigilant efforts against poaching, and the protection provided by the World Heritage Foundation. The Delta sustains large concentrations of animals year-round, with seasonal and migratory variations. Careful management has made it one of the world's most exclusive wildlife destinations. The camp's experienced guides from African Bush Camps offer guests unrivalled sightings of elephants, hippopotamuses, lions, leopards, gazelles, cheetahs, impala and buffalo.
In addition to the captivating wildlife found in the Okavango Delta, the guides from African Bush Camps at Atzaró Okavango Camp offer guests unparalleled opportunities to witness breathtaking sightings of elephants, hippopotamuses, lions, leopards, gazelles, cheetahs, and an array of magnificent birdlife. The camp is situated in an area where a dynamic seasonal shift of animals occurs between the arid and grassy regions surrounding the delta itself. During the wet season, large animals migrate from the delta to the lush grazing plains of its outer regions. As the winter months approach and the grazing fades, the water entices the wildlife back to the delta, and flocks of birds once again making it their home. The emerald season in November brings the birth of herds of new antelope and impala, a favourite time of the Camp's owners when thousands of new foals dot the landscape, attracting large prides of big cats.

Strategically located, the camp offers an ideal vantage point to witness this constant migration of exquisite wildlife in its thousands. At Atzaró Okavango Camp, safari travellers can experience the splendour of African wildlife in its natural habitat, up close and personal. The surrounding lagoons, rivers and plains create a landscape teeming with animals, fulfilling every wildlife enthusiast's dream. Atzaró's Okavango safari guides and staff ensure the utmost guest hospitality and service during the stay in camp.
Encouraging longer stays of 5 days or more, Atzaró Okavango invites guests to fully relax amidst the wildlife and immerse themselves in the soothing sounds of nature. Guests are invited to indulge in the wellness and fitness facilities, rejuvenate, and settle into one of the world's last untouched wildernesses. Each private villa is equipped with its own vehicle and ranger, available for sunrise and sunset game drives. Additionally, a helicopter is permanently stationed at the lodge. Private yoga and gym facilities are included as part of the bespoke safari experience, tailored to personal tastes and schedules.
Embark on a transcendent journey through the heart of Botswana's untamed wilderness with Atzaró Okavango and African Bush Camps. A Botswana Luxury Safari with this exceptional partnership guarantees an unparalleled immersion into the wild beauty of this captivating land. From the moment you step foot in the pristine landscapes, every detail is meticulously orchestrated by the Atzaró team. Indulge in a seamless blend of opulence and nature as you traverse the diverse ecosystems of Botswana, guided by the expert knowledge and unwavering passion of African Bush Camps. Each moment of your safari is carefully tailored to your preferences, whether you're a solo adventurer, a couple seeking romance, or a family yearning for unforgettable memories. Immerse yourself in the purest essence of Africa's bushveld, where thrilling encounters with majestic wildlife and awe-inspiring landscapes become part of your everyday. Your journey with Atzaró Okavango and African Bush Camps promises not only an extraordinary adventure through Botswana's wild heart but also opens doors to further exploration in the enchanting corners of Southern Africa, beckoning you to extend your stay and discover the wonders of Cape Town, Zambia, Zimbabwe, and the iconic Victoria Falls.