As the sun's warmth begins to wane and the leaves transform into a tapestry of fiery hues, there's an undeniable sense of enchantment in the air. What better way to honor the season when nature puts on its most captivating display than by indulging in the art of mixology, conjuring up exquisite concoctions that encapsulate the essence of fall?
Hilton's creative mixologists across the country are creating flavors that reflect the bounties of the harvest season, from spiced apple ciders to cinnamon-kissed cocktails. Here's a sampling of how bartenders reimagined classic cocktails with an autumn twist, with recipes you can create at home.
Savors from the Field from Hilton Cancun, An All-Inclusive Resort
Taste the soft and warm flavors of this cocktail created by bar manager Doriluz Hernández of Hilton Cancun, An All-Inclusive Resort. Available at Azulinda lobby bar, the drink is a shaken, not stirred concoction that embraces the mood of the season.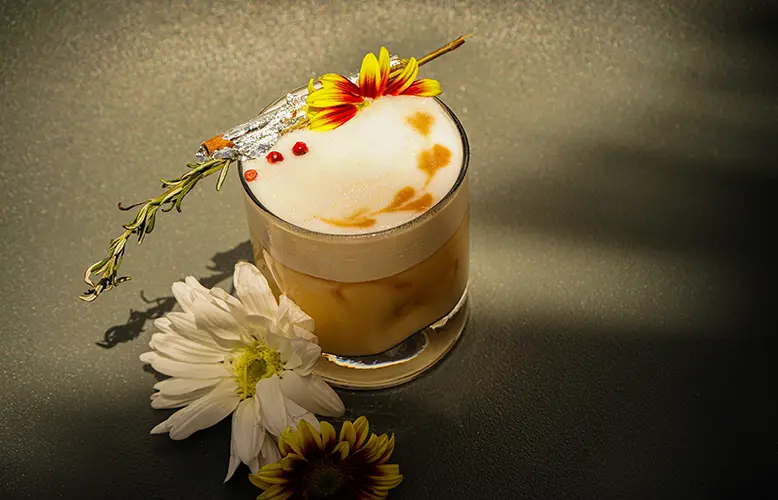 Ingredients
Drink Ingredients
1.5 ounces corn whisky
0.5 ounce Cacao Cream
1.5 ounces Carnation Clavel Evaporated Milk
2 ounces punch
0.5 ounce cinnamon syrup
4 drops of Amargo Angostura bitter liqueur
Flowers for garnish
Punch Ingredients (Makes 1 liter)
0.75 cup grams sugar
2 orange peels
15 Chile de árbol
20 pink peppercorns
20 cinnamon sticks
20 oregano leaves
Directions
Directions for Punch
Boil all ingredients in 4 cups of water for about 30 minutes on low heat.
Let it stand until it is cooled to room temperature.
Directions for Savors from the Field
Dry shake all the ingredients.
Shake with ice.
Serve with ice.
Garnish with flowers.
Butterscotch Apple Cider from The Drake Hotel
Fall in love with the seasonal cocktails at The Drake Hotel. Opened in December 1933, Coq d'Or was the second establishment to receive its liquor license in Chicago following Prohibition. The warm and inviting ambiance is the perfect spot when the chill is in the air during fall, especially with this sparkling Butterscotch Apple Cider.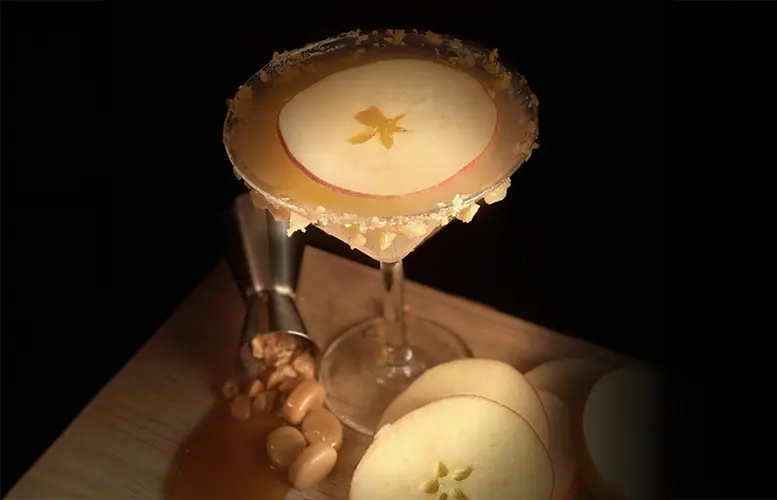 Ingredients
4 ounces Grey Goose Vodka
1 ounce Butterscotch Schnapps
4 ounces apple cider
4-5 ice cubes (enough to fill a shaker)
splash of Champagne (optional)
1 round apple slice for garnish
Butterscotch sauce and crushed butterscotch candies for rim
Directions
Dip martini glass rim in butterscotch sauce.
Roll with crushed butterscotch candies.
Add vodka, schnapps and cider to shaker.
Top with ice and shake hard.
Strain your mix into a martini glass.
Add a splash of Champagne (optional).
Top with a round apple slice garnish.
Maple Ember Old Fashioned from Hilton Americas-Houston
A captivating autumn-inspired twist on a classic favorite, Hilton Americas-Houston Bartender Jason Mayo crafted a cocktail that encapsulates the warmth and comfort of the season. With its harmonious blend of flavors, the Maple Ember Old Fashioned is more than a cocktail, it's a moment suspended in time.
"What truly sets the Maple Ember Old Fashioned apart is the infused maple syrup as the finishing touch. It's what makes its seasonality so relevant and brings nostalgic memories like cozy evenings and bonfires with the ones you love most to mind," said Mayo. Find the drink in the Lobby Bar and R24 Rooftop Lounge all season.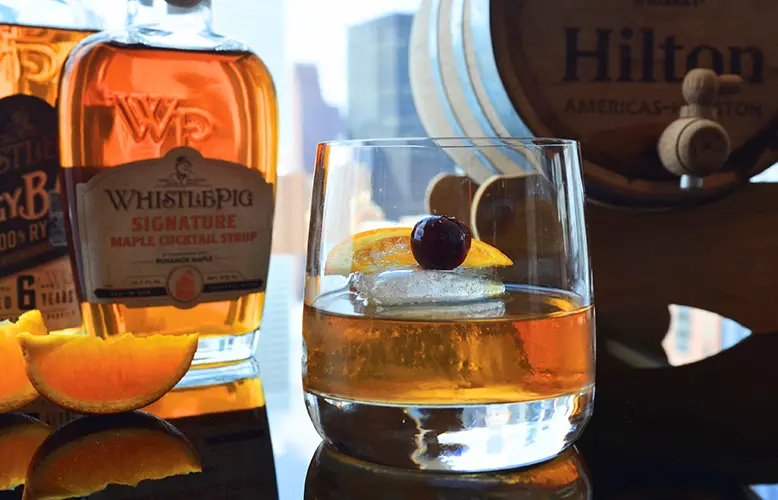 Ingredients
2 ounces WhistlePig Piggyback 6 Year Old 100 Proof Bourbon
½ ounce WhistlePig maple syrup
2 dashes orange bitters
2 dashes Angostura bitters
Thin orange slice for garnish
Filthy cherries for garnish
Directions
Pour all ingredients into a cocktail glass, stir vigorously.
Garnish with large cube, a thin orange slice and filthy cherry on top.
The Fallberry Bush at Hilton Anatole
Since it was a very hot summer in Texas, Lead Mixologist Leonard Madison of SĒR Steak and Spirits on the 27th floor of Hilton Anatole Dallas wanted to create a fall cocktail that would take guests to the cooler parts of autumn. "The Sage and Rosemary are the perfect accompaniment to the slightly tart cranberry flavors," said Madison. The Fallberry Bush drink is available throughout fall.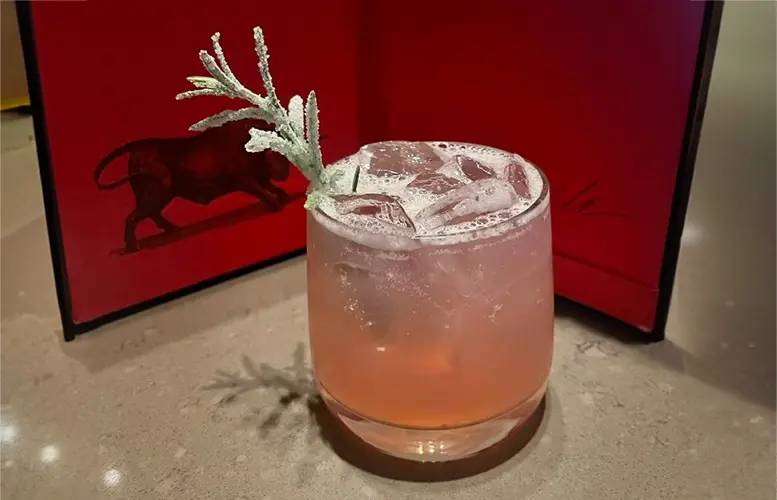 Ingredients
1.5 ounce Dulce Vida Tequila
0.5 ounce Chambord
1 ounce lime juice
0.75 ounce Rosemary and Sage Simple Syrup mix (1 cup of water, 1 cup of sugar, 3 sprigs of rosemary, 4 sage leaves)
Pomegranate seeds for garnish
Directions
To make rosemary and sage simple syrup, combine equal parts hot water and sugar into a pot.
Add rosemary and sage, mix and let it steep for 20 minutes.
Let simple syrup cool.
Grab a rocks glass and pour Chambord in it. Fill with ice.
In a shaker tin add tequila, lime juice and sage simple syrup.
Shake and strain over ice in the rocks glass gently.
Garnish with pomegranate seeds and sugar-coated rosemary.