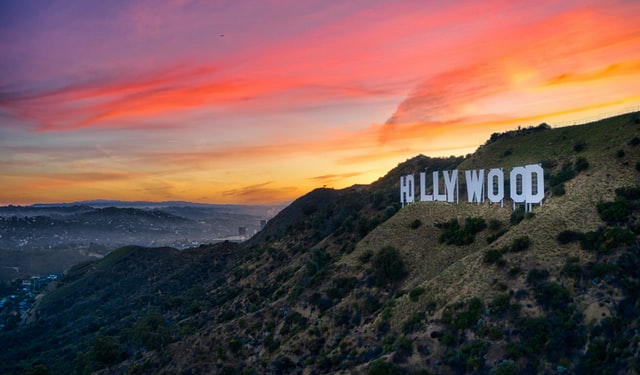 The red carpet is rolling out in Los Angeles as awards season is underway, culminating with the Academy Awards on Sunday and the Emmy Awards in April. Home to Hollywood, major film studios and plenty of star power, you don't have to be a celebrity to get in on the glitz and glamour of the film and music industries in L.A. Exciting experiences for film and music lovers abound including memorabilia exhibits, star-studded events, behind the scenes studio tours and locations from award-winning films. We invite visitors to enjoy in-depth experiences around their favorite award contenders and previous winners for a firsthand look into L.A.'s exciting entertainment landscape.
EXHIBITS & EXPERIENCES
The Academy Museum of Motion Pictures
The Academy Museum is a premier institution dedicated to the art and science of movies. The dynamic space offers unparalleled insights into the people and processes behind renowned films, including state- of-the-art theaters, spectacular views from the rooftop Dolby Family Terrace and a collection of more than 13 million artifacts from the likes of Star Wars, The Wizard of Oz, Black Panther, Jaws and more award winners. Visitors can view several genuine Oscar statues in the Stories of Cinema exhibit for Academy Award wins including Moonlight, Gravity and E.T.: Extra Terrestrial. Guests can also become a Hollywood award-winner at the Oscars Experience where visitors can step on stage at the recreated Dolby Theatre and accept their own Academy Award. https://www.academymuseum.org/en/
Warner Bros. Studio Tour
Warner Bros.' recently revamped Studio Tour is an amazing place for film lovers to visit featuring memorabilia from popular films and award-winning TV shows like Casablanca, Harry Potter, Friends and Wonder Woman. The tour also includes a display of the studio's notable films of the year where visitors can spot their favorite Oscar hopefuls and an interactive sound stage exploring the entire process of making a film from start to finish, giving guests a glimpse of how award-winning movies come to fruition.
https://www.wbstudiotour.com/
The Paley Center for Media: PaleyFest LA
Located in Beverly Hills, The Paley Center for Media is the foremost public archive of television and radio programming, with an international collection of nearly 150,000 programs spanning almost 100 years. Throughout the year, the Paley Center celebrates television with a wide range of events that examine the creative process behind great entertainment.
Produced by The Paley Center for Media, the annual PaleyFest LA is returning in-person from April 2-10 at the world-famous Dolby Theatre in Hollywood. The premier television festival in the country, PaleyFest brings fans together with the hottest stars and creative talents in TV. This year's event includes exciting screenings and Q&As with Emmy Award hopefuls and fan-favorite casts and crews including This Is Us, Black-ish, Better Call Saul and more. https://www.paleycenter.org/events/paleyfest-2022/
FIDM Museum: Art of Costume Design in Film Exhibit
The Fashion Institute of Design & Merchandising (FIDM)'s Art of Costume Design in Film exhibit returns this year from March 15 to June 4 just in time for awards season. The exhibit recognizes outstanding achievement in costume design from 2021 films, celebrating the imagination, tenacity and accomplishments of film costume designers who bring movie characters to life. This year's showcase will include costumes from fan favorite and Academy Award-nominated films from a variety of genres and studios for visitors to enjoy in detail, with previous iterations including pieces from Once Upon a Time in Hollywood, Joker, Little Women and more. https://fidmmuseum.org/exhibits/art-of-costume-design-in-film
The Hollywood Museum
Located in the historic Max Factor Building, the Hollywood Museum boasts the largest collection of memorabilia in the world with over 10,000 items including costumes, props, photographs, scripts, star's personal belongings and other vintage movie memorabilia. Key artifacts on display year-round include Marilyn Monroe's wedding night dress, Elvis' bathrobe, the jail cell from Silence of the Lambs, Rocky's boxing gloves, Indiana Jones' whip and much more. You can also trace the history of Hollywood's Walk of Fame, see the earliest Technicolor film shot and read the messages on the actual bathroom wall taken from actor Roddy McDowall's home, which is covered by notes and photos by famous friends who visited during one of his infamous house parties. http://thehollywoodmuseum.com/
Grammy Museum
Located just steps away from Crypto.com Arena in L.A. Live, the Grammy Museum boasts four floors of exhibits, interactive experience and films celebrating legends and award winners in music history. The Museum also hosts public events and educational programming that explores the enduring legacies of all forms of recorded music. https://grammymuseum.org/