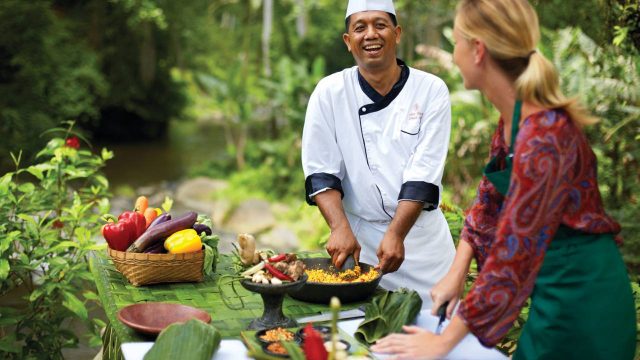 Bali's first custom-designed riverside cooking school that converts into an intimate dinner venue has opened on the banks of the Ayung at Four Seasons Resort Bali at Sayan.
Sokasi, named after a woven bamboo box used to keep steamed rice, features a stunning bamboo design by Elora Hardy on the edge of Bali's longest river – part of its UNESCO Heritage-listed subak irrigation network. Offering daily workshops and exclusive Chef's Table dinners, it is the latest enhancement of the resort's immersive experiences, connecting guests with Bali's cultural and spiritual heart through the local cuisine.
"In Balinese food, the magic is the spice paste," said the resort's senior sous chef, Wayan Sutariawan, who shares family recipes and insights about local herbs, spices and aromatics during the half-day classes. Students join a chef-guided tour of nearby Ubud markets, returning to forage in Sokasi's own vegetable and herb gardens before a hands-on lesson in the state-of-the-art kitchen. Classes are intimate and personalised for a maximum of eight students, who can opt for traditional Balinese cuisine based on old family recipes or a plant-based menu inspired by Ubud's more recent evolution as a wellness mecca for yoga and spa retreats. Workshops culminate in lunch just steps from the flowing river, under a towering banyan tree surrounded by two acres of ricefields within the resort's lush gardens.
Three evenings a week, the Chef's Table experience offers a family-style dinner featuring Ubud's famous babi guling suckling pig marinated with base genep thousand spice paste and spit-roasted for four hours, and bebek betutu whole duck slow-roasted for 12 hours in a traditional under-ground clay pot oven. Sokasi also offers complimentary classes daily for children as part of the resort's Kids Club program.
"You could easily spend all day in Sokasi and some guests do, starting with a cooking class and continuing into the evening with a Chef's Table dinner of slow-cooked dishes normally reserved for ceremonies. It's the kind of place that's hard to leave," said Sean Mosher, Resort Manager of Four Seasons Sayan. "The location, architecture and natural forest symphony create a brand new destination in Bali where students not only learn new kitchen skills and recipes, but also gain deep insights into the culture, daily rituals and traditional health remedies."
Classes are open to the public, while students can stay on-site to further soak up the tranquility and ethereal energy of the valley's serene environment. The award-winning resort's 42 pool villas and 18 suites feature locally-sourced materials such as jati wood, coconut shell, river stones and traditional textiles, in a secluded setting just 10 minutes from Ubud.
Sokasi is the second professional-standard cooking school launched by Four Seasons in Bali, following the success of Jimbaran Bay Cooking Academy at the all-villa beach retreat of Four Seasons Jimbaran Bay.