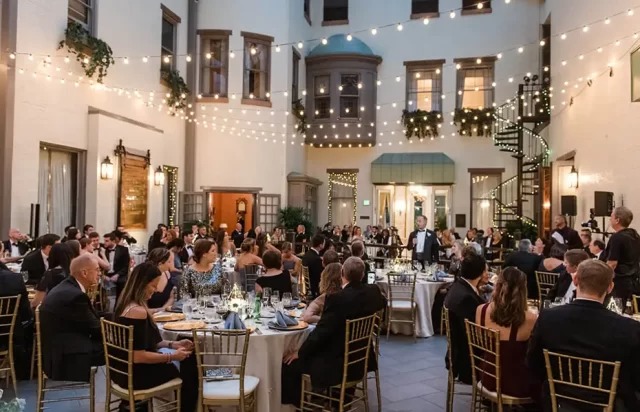 Romance is a state of mind, and in Baltimore, couples can go beyond the expected places to find an alternative wedding venue that matches their personalities. Any destination can offer a pretty church or a basic hotel conference hall jazzed up with some tuile. Baltimore goes beyond basic.
In Baltimore, we embrace our quirky, offbeat vibe, and these six venues showcase how a beautiful, memorable wedding can take place just about anywhere – surrounded by books, in an old industrial setting, and even with a ghost or two!
AHOY THERE: Seafaring couples who love the water are spoilt for choice in Baltimore. Venues like the Royal Sonesta Inner Harbor Court Baltimore Hotel provide stunning options for saying "I do" with a dash of salty sea air wafting about.
BOOK NERDS: Baltimore is known as an American literary capital. Bookworms and their partners can tie the knot at the George Peabody Library, dating back to 1878. Its soaring ceilings and endless stacks of books are a great way for couples to write their own first chapter. 
DITCH TRADITION: For couples who want to skip tradition and maybe channel some steampunk or tech-start-up vibes, the Accelerator Space is an alternative venue to consider. Party Space even named it the best industrial wedding spot in 2021. It's still beautiful, but in the sort of way that someone applying to a job at Google will really appreciate. 
SCARY GUESTS: The Engineering Society of Baltimore doesn't scream "wedding" until you peek inside. This early 1900s private club is romantic, majestic, and utterly old-timey, born from the flames of the Great Baltimore Fire of 1905. It's said to be haunted by a Gilded Age socialite, and one look at this place reveals that's most likely the case – and some couples will love that! 
FRAGILE FESTIVITIES: Keep an eye on Aunt Paula after a few glasses Chardonnay at the Corradetti Glassblowing Studio & Gallery. This unique venue for artsy types features high ceilings and – you guessed it – one of a kind glassworks to decorate its venue for up to 75 dinner guests. 
HISTORICAL VIBES: OK so it's only the third oldest existing cotton mill in the U.S., but Mt. Washington Mill Dye House is still a top pick for history buffs in Baltimore. The early 19th century details, stone walls, and rustic feel will leave couples romanticizing about a bygone era. 
As wedding season approaches, it's the perfect time to drop a few hints to couples looking for unique, intimate, and even quirky wedding inspiration in Baltimore.