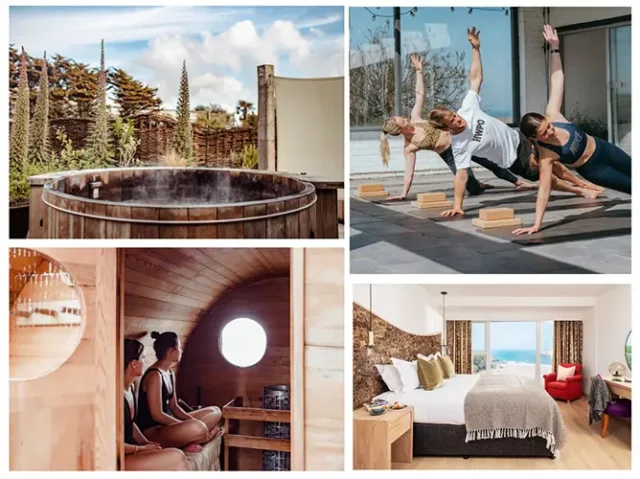 Bedruthan Hotel & Spa, Cornwall, has partnered with London-based wellness consultancy Oyogo to launch three new immersive wellness retreats this summer. Focusing on movement, mindfulness and nature, participants can expect slow-paced days on the Cornish coast to rejuvenate and rebalance. Each of the retreats, available as day tickets or three-night programs, are led by an expert team of practitioners, including leading performance wellbeing coach, podcast host and author, Adrienne Herbert and former Great Britain gymnast Lucy Sesto.   
Each retreat has been carefully curated with the specialists at Oyogo to bring a holistic sense of wellbeing to the unique clifftop setting. Trail running along the coastal path, power Pilates as the sun rises and catching waves at Mawgan Porth beach are among some of the classes in store for participants. All retreats are expert-led, offering participants the chance to learn from well-established trainers in an intimate setting.
August will see Adrienne Herbert, Sophie Hellyer and team Oyogo come together to host a series of events and workshops that challenge the body and mind. From a mobility stretch and trail run on day one, to surf lessons on day two and beach breathwork with cold water immersion on day three.
Kayleigh Jayne and team Oyogo will take the helm at Bedruthan for the last week of August with daily restorative Pilates (and post class snacks), guided coastal hikes, beach swims and sensory spa garden circuits.
Yoga, Breathwork and Surfing with Lucy Sesto (17 – 20 September)
The final retreat will be led by former Great Britain gymnast Lucy Sesto, focusing on yoga, breathwork, cold water exposure and surfing. With spa experiences incorporated into the daily schedule, guests will leave feeling relaxed and invigorated after three days of healthy eating and plentiful stretching. Restorative yoga sessions are followed by post yoga snacks on the beach, and afternoons are left empty so guests can enjoy the wellness facilities at Bedruthan.
The Bedruthan and Oyogo retreats kick off with a welcome drink and introductory class before taking a trip around the hotel's unique Sensory Spa Garden. Slow mornings begin with breakfast at Bedruthan's newly launched artisanal bakery and participants can look forward to a group Fire and Feast dinner in the evenings, followed by hot chocolates around the fire pit. Tickets are available from a half day to three-night packages.
Bedruthan Hotel and Spa's partnership with Oyogo reflects a commitment to provide support and encourage individuals to maintain their wellness goals and compliments the hotel's already comprehensive program of wellbeing and fitness events and classes. From 28 October, former professional rugby player Anthony Mullally will lead a two-night retreat encouraging participants to re-establish their connection to nature and break down stereotypes around mental wellness and from 12 November, Bedruthan will host a four-day retreat providing techniques on managing the transition through menopause.