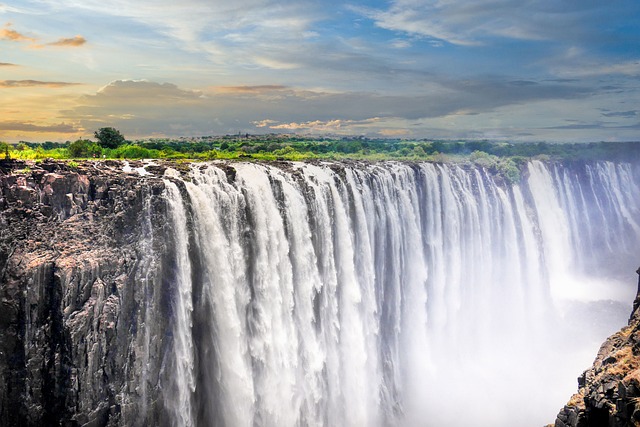 Discover the top adventure travel destinations in Southern Africa for thrill-seekers and outdoor enthusiasts. From safaris to surfing,
If you're looking for an adventure-filled vacation, Southern Africa has plenty to offer. From the lush jungles of Zimbabwe to the towering dunes of Namibia, this region is a playground for thrill-seekers and outdoor enthusiasts. Discover some of the best adventure travel destinations in Southern Africa to add to your bucket list.
Victoria Falls, Zimbabwe and Zambia
Victoria Falls, located between Zimbabwe and Zambia, is a breathtaking destination that offers incredible adventure opportunities for travelers. The falls, known locally as "Mosi-oa-Tunya" or "The Smoke that Thunders," are one of the largest and most majestic waterfalls in the world, with a width of over a mile and a height of 355 feet.
For those seeking adventure there are many of activities to choose from, including taking a dip in the Devil's Pool, a natural rock pool on the edge of the falls, or going bungee jumping from the Victoria Falls Bridge, one of the most exillaring bungee jumps in the world. They also offer white water rafting on the Zambezi River, zip-lining, and helicopter rides over the falls.
With its stunning natural beauty and endless adventure opportunities, Victoria Falls is a must-visit destination for anyone looking to experience the thrill of Southern Africa. Make sure to bring your Globe Skateboards to explore the surrounding areas. 
Kruger National Park, South Africa
Kruger National Park, located in South Africa, is a world-renowned game reserve that offers a unique and unforgettable safari experience. Spanning over 7,500 square miles, Kruger is one of the largest game reserves in Africa, and is home to an incredible array of wildlife, including the Big Five: lion, elephant, buffalo, leopard, and rhino.
Visitors can choose to explore the park on a guided tour or a self-drive safari, both of which offer the opportunity to get up close and personal with some of Africa's most iconic animals. Along with the Big Five, Kruger is home to over 500 bird species, as well as a diverse range of plant life and landscapes.
For those seeking adventure and a deeper connection with nature, Kruger National Park is a must-visit destination in Southern Africa.
Sossusvlei, Namibia
Sossusvlei is a must-visit destination in Namibia for adventure seekers and nature lovers alike. This surreal and otherworldly landscape is characterized by a salt and clay pan surrounded by towering red sand dunes, creating a truly unique and unforgettable experience.
Visitors to Sossusvlei can climb to the top of Dune 45, one of the highest and most popular dunes in the area, for a breathtaking view of the surrounding landscape. The more adventurous can also try their hand at sandboarding or take a hot air balloon ride for a unique perspective of the dunes and surrounding desert.
In addition to the stunning scenery, Sossusvlei is home to a variety of unique desert wildlife, including ostriches, oryx, and desert-adapted beetles. A visit to Sossusvlei is an opportunity to connect with nature and experience the raw beauty of Southern Africa.
Skeleton Coast, Namibia
Skeleton Coast in Namibia is a destination for adventure travelers looking for a truly remote and rugged experience. This barren and windswept coastline stretches for over 500 kilometers and is home to shipwrecks, seal colonies, and unique desert-adapted wildlife.
A 4×4 tour or hike through the dunes for an unforgettable experience is inevitable. The coastline is known for its harsh and unpredictable weather, adding to the sense of adventure and isolation. Along the way, keep an eye out for desert-adapted wildlife, including hyenas, lions, and elephants, as well as rare bird species.
One of the most unique experiences on Skeleton Coast is visiting the Cape Cross Seal Colony, home to over 100,000 Cape Fur Seals. The colony is a noisy and smelly but fascinating spectacle, with playful seal pups and territorial males vying for dominance.
A visit to Skeleton Coast is a true adventure, allowing visitors to disconnect from civilization and connect with the raw and rugged beauty of Southern Africa.
Jeffreys Bay, South Africa
Jeffreys Bay in South Africa is a perfect destination for beach lovers and surfers alike. The place is famous for its consistent waves, attracting surfers from around the world. It also boasts a laid-back atmosphere, making it an ideal spot to relax and soak up the sun on the golden sand beaches. With a range of beachfront accommodations and restaurants, Jeffreys Bay is a great place to spend a few days or a week-long vacation. Don't forget to explore the town's vibrant culture and its many craft markets and boutiques.
6. Okavango Delta, Botswana
The Okavango Delta in Botswana is a unique and diverse destination for adventure travelers. This vast inland river delta is home to a variety of wildlife, including elephants, lions, hippos, and crocodiles. Explore the delta on a mokoro canoe safari, a traditional dugout canoe used by locals for transportation and fishing. Or take a guided walking safari to experience the delta's flora and fauna up close. With a range of eco-friendly lodges and campsites, the Okavango Delta is an ideal destination for nature lovers and those looking to disconnect from the hustle and bustle of everyday life.
Whether you're seeking thrills or just want to get closer to nature, Southern Africa has something for everyone. From safari adventures to surfing the waves.