After a day of exploring and discovering new sights and experiencing new cultures while traveling, what better way to end the day relaxing and unwinding with a good movie at your accommodations, whatever they may be, before an exhausted, restful night of sleep. According to Booking.com research, a third (33%)* of travelers want to enjoy new experiences this year while traveling. So how cool would it be to relax and unwind with a movie in an incredible, rare setting. Booking.com has rounded up six stunning stays with open-air cinemas to make the movie nights on vacation even more special. From a luxurious resort with villas opening to their own stretch of lagoon to a stunning property amid the dunes and plains of the Namib Desert.
Soneva Jani, Noonu, Maldives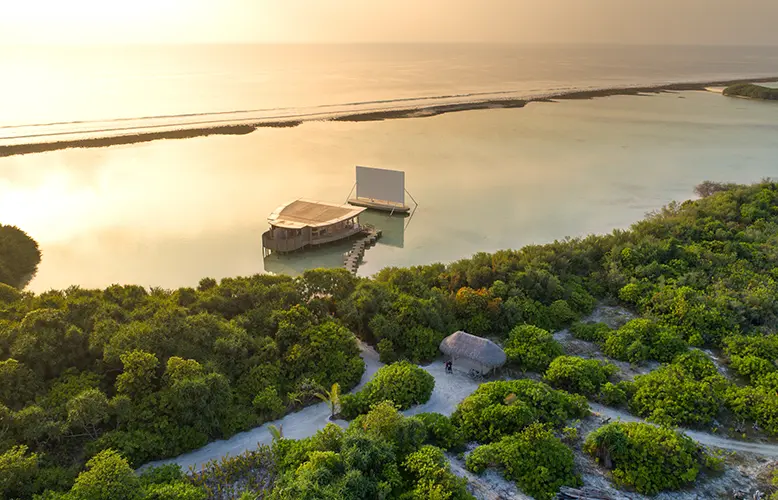 Located on the striking island of Medhufaru in the Maldives, Soneva Jani resort offers guests an abundance of world-class services and experiences, including a stunning overwater silent cinema: Private Cinema Paradiso. Here guests can watch both classic and contemporary favorites using headphones in order to protect the resident nesting turtles. Guests can also enjoy delicious chef-crafted comfort dishes, as well as refreshing cocktails, popcorn and ice cream while watching their favorite movie under the stars. Each villa at this Booking.com Travel Sustainable property has an open-air bathroom with bathtub and beautiful interiors made from sustainable materials. Guests can also relax on the sun loungers on the outdoor deck or take a refreshing dip in the breathtaking lagoon. The property also has its own observatory, where guests can go through a journey of the night sky and beyond using a 16" telescope.
Six Senses Zighy Bay, Dibba, Oman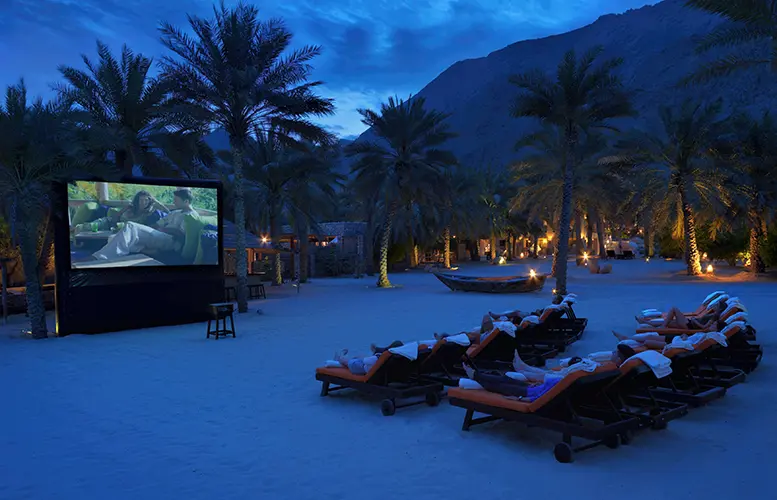 Set between the mountains and more than a mile and a half (2500 meters) of private sandy beach on Zighy Bay, the village-style resort of Six Senses Zighy Bay features luxurious villas that are designed in traditional Omani style with private pools. Situated on Oman's northern Musandam Peninsula, the Booking.com Travel Sustainable accommodation offers a private cinema experience on the beach between the months of September and May. Guests can relax and enjoy a selection of classic movies under the stars in the privacy of their own villa or on the beach. For the 18%* of global travelers planning to take a romantic trip this year, and are looking for even more private moments, the property can also arrange romantic dining experiences on the beach.
Zannier Hotels Sonop, Sonop, Namibia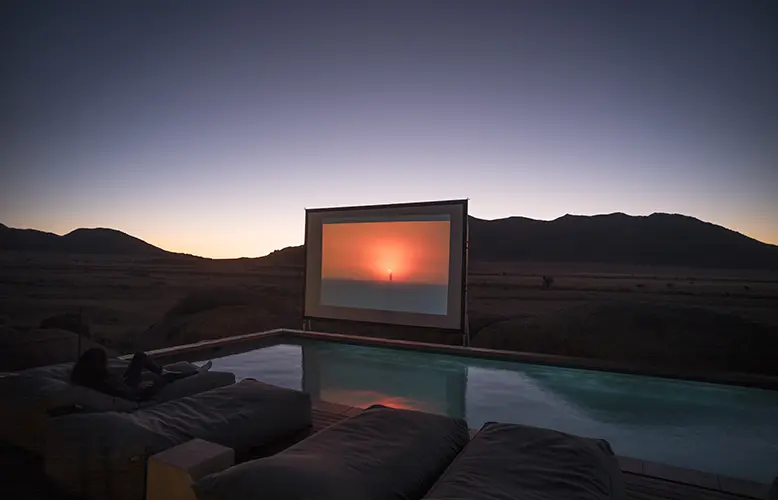 Featuring luxurious tents with a private terrace on top of granite boulders, this 1920's safari lodge is located in an extraordinary Namib Desert landscape, 12 miles (19 km) from Betta and approximately a five hour drive from Windhoek. Set on a private area of 13,800 acres, guests can explore the desert by having a guided tour on foot, electric bike, or horseback. After enjoying the desert sunset, guests can relax and watch a movie at Zannier Hotels Sonop's open-air cinema while sipping on a cocktail under the African night sky. According to a Booking.com guest "the pool spot is really cool and watching a movie there under the stars at night is crazy".
Vineyard Estate, Porto Heli, Greece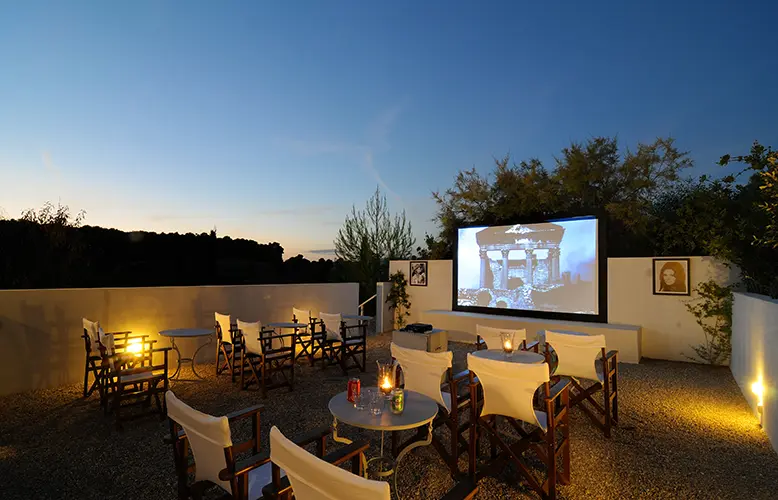 Located in Porto Heli in the Peloponnese region, Vineyard Estate is a Booking.com Travel Sustainable property with beautiful villas less than two miles (2.5 km) away from Agios Emilianos Beach. Offering a unique and enjoyable experience, the villa's open air-cinema is a great spot to enjoy a cozy movie night while being surrounded by nature, fresh air and the beauty of the Greek night sky. While the property is an amazing experience in itself, travelers can also explore the nearby area by renting a car and visit some of Greece's historical landmarks including the Ancient Theatre of Epidaurus and the Mycenae or a wine and vinegar tour in the Nemea region.
Soneva Kiri, Koh Kood, Thailand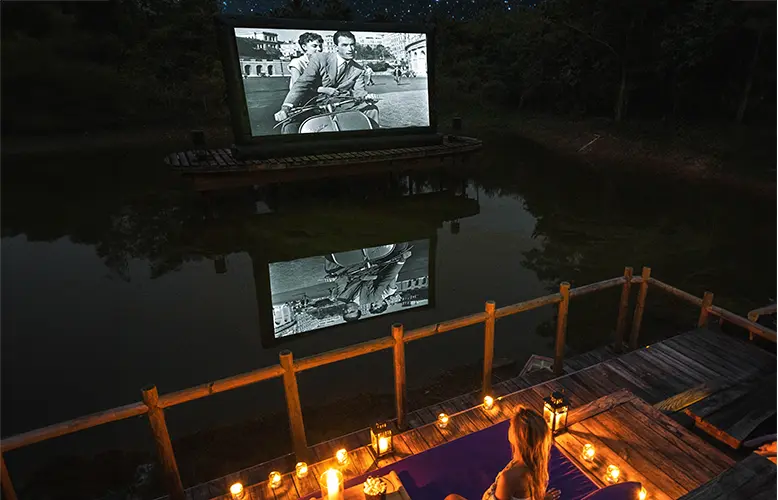 Nestled amid the unspoiled tropical island of Koh Kood, Soneva Kiri offers gorgeous villas with a private pool and private terrace. This luxurious Booking.com Travel Sustainable property features a jungle auditorium in the center of a tropical lagoon, where guests can enjoy a night watching classic movies on comfortable cushions. Soneva Kiri is less than 20 miles (31 km) from the center of Ko Kood, and guests can choose from a variety of activities in the area such as snorkeling, diving and kayaking. The stunning Khlong Chao Waterfall is only about a 30-minute drive away and travelers can enjoy refreshing swims in freshwater natural pools and marvel at the beauty of cascading water.
The Miami Beach EDITION, Miami Beach, United States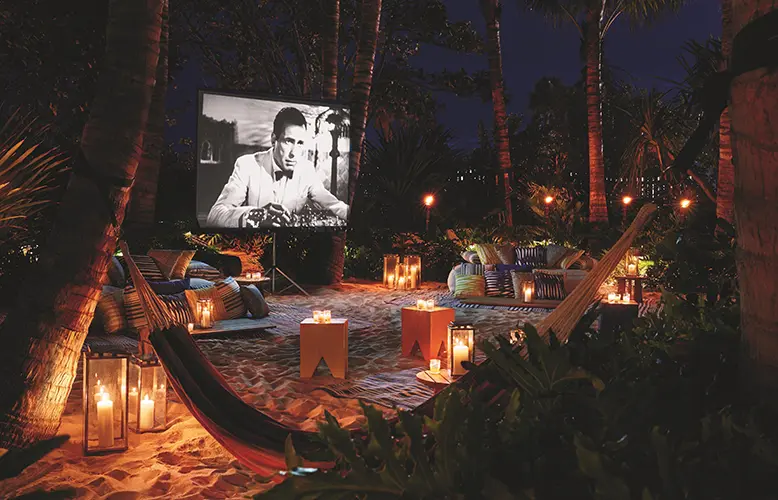 Featuring two ocean-facing pools, the Booking.com Travel Sustainable property Miami Beach EDITION is only two miles (3.3 km) away from the Art Deco District, in the South Beach neighborhood of Miami Beach. Travelers can escape their daily routine and indulge in a special and memorable experience together relaxing at the hammocks and low-lying beds at the hotel's open-air cinema during special hotel events. After a relaxing day by the pool, travelers can head to experience one of Miami's many exciting activities like a speedboat ride across the Miami coast, a jet ski ride in the tropical waters of Miami or an exhilarating small plane flight over Miami's coastline and landmarks.
*Research commissioned by Booking.com and conducted among a sample of adults who plan to travel for business or leisure in the next 12-24 months. In total 24,179 respondents across 32 countries and territories were polled (including 1014 from Argentina, 1006 from Australia, 505 from Austria, 504 from Belgium, 1009 from Brazil, 503 from Canada, 1009 from China, 1010 from Colombia, 505 from Croatia, 505 from Denmark, 1010 from France, 1001 from Germany, 500 from Hong Kong, 1005 from India, 504 from Ireland, 504 from Israel, 1008 from Italy, 1003 from Japan, 504 from Mexico, 502 from The Netherlands, 1007 from New Zealand, 1009 from Portugal, 507 from Singapore, 1008 from South Korea, 1001 from Spain, 505 from Sweden, 508 from Switzerland, 500 from Taiwan, 504 from Thailand, 1006 from the UK, 1009 from the US and 504 from Vietnam). Respondents completed an online survey in August 2022.