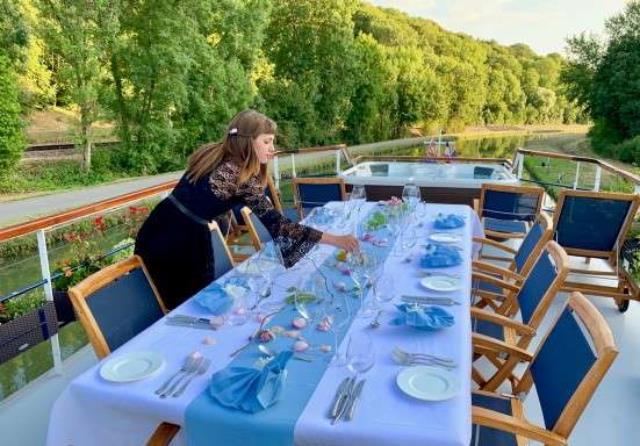 Today's affluent travelers want to enjoy first-class service and accommodations, but in a friendlier, more casual setting without "old-world" pretentions. This "relaxed luxury" trend is helping to fuel the increasing popularity of European Waterways' hotel barge cruises. Available in Europe and the UK, the company's deluxe vessels are often compared to floating boutique hotels. Guests enjoy luxury amenities that include ensuite accommodations, a spa pool, and stylish furnishing. An attentive crew is always ready to satisfy their every wish, and an onboard master chef prepares their gastronomic meals, which are paired with the finest local vintages. Yet, amid all the luxury and special treatment, the atmosphere is always relaxed. Guests don't feel the need to follow a "black tie" or fancy dress code.

Meanwhile, European Waterways' excursions feature private transportation and often exclusive guided tours where guests interact with local personalities. They might even share a private meal with them in their own château!

"European Waterways' guests want unique and memorable experiences that immerse them in the local culture – not as detached observers, but as active participants in ways that enrich their lives," said Derek Banks, European Waterways' managing director. "They return from their excursions to a table that is exquisitely set for dining and worthy of the finest restaurant. They might even be greeted with live jazz onboard. The meals are always lively, entertaining, and often memorable, with conversations that produce long-term friendships beyond the cruise."
Epic Journey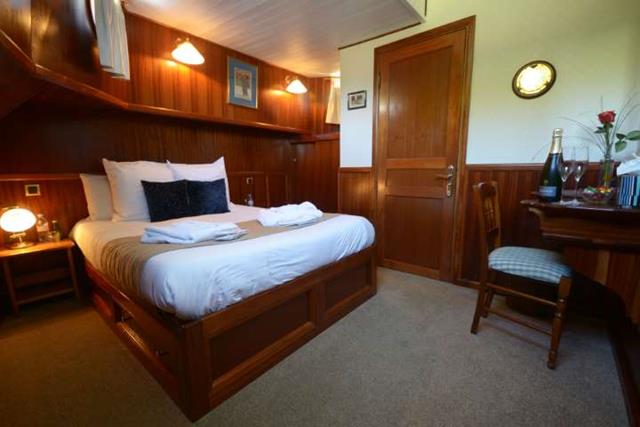 European Waterways' 12-passenger La Belle Epoque deluxe hotel barge is a prime example of the luxury that awaits the company's guests. It features wood-paneling, custom-made seating, a spacious sundeck, and spa pool, as well as marble ensuite junior cabins and staterooms. A six-person crew ensures that every guest receives personalized service throughout the journey.

Cruising the Burgundy Canal, La Belle Epoque takes guests on excursions that include a private champagne tasting at Maison Taisne Riocour Champagne House, as well as dinner with the Baroness Ségolène De Taisne at her Château de Ricey-Bas. Other excursions include a visit to the Abbaye de Fontenay, a UNESCO World Heritage Site.
Doing it With Panache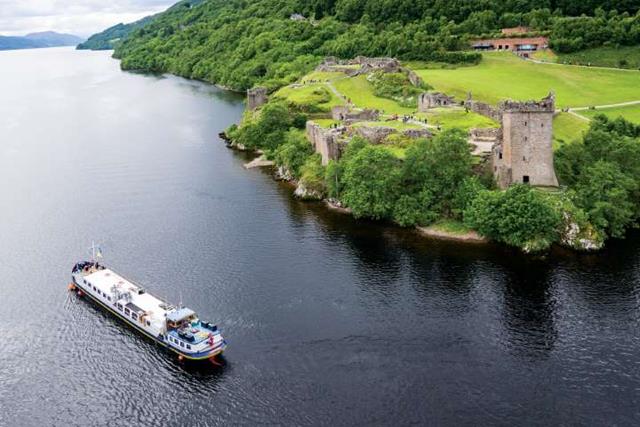 Featuring one of European Waterways' most diverse cruising schedules, the 12-passenger Panache hotel barge cruises Holland in the spring, France's Champagne region in early summer, and Alsace and Lorraine from July to October. The vessel's yacht-like design boasts brass and mahogany fittings, panoramic windows for an unparalleled view of the passing countryside, leather chairs and polished hardwood floors. It also has a spacious sundeck that is perfect for relaxing and alfresco dining.

In Holland, itinerary highlights include a tour of the world famous Keukenhof Gardens. In Champagne, guests are treated to a private tour and tasting at Moët & Chandon. They also visit Epernay, the self-proclaimed capitale du Champagne (capital of Champagne) and home to many Champagne houses. Here, they are treated to a private tour of the cellar of one of its many wine producers. In Alsace and Lorraine, guests watch glassblowers in action, ride a 150-foot-high boat lift and enjoy the famous local flammekueche tart.

Guests will also take a ride along the Route des Vins d'Alsace (the Alsace Wine Route) and savor a private tasting, among other experiences.
The High Life
At 117 feet in length, European Waterways' Scottish Highlander has every comfort needed to enjoy the magnificence of the Scottish Highlands. Its décor evokes a country house atmosphere with subtle tartan furnishing, wooden paneling, and leather Chesterfield sofas. A well-stocked open bar features some of Scotland's finest single malt whiskies.

Among the itinerary highlights are a private tour and tasting at Dalwhinnie whisky distillery. It is one of the few in Scotland that still uses wooden worm tubs, the traditional way of turning spirit vapor back into liquid. Guests also visit Eilean Donan and Urquhart castles, as well as get "up close and personal" to a bird of prey demonstration on the banks of Loch Ness. If they wish, they can take a picture with one of the magnificent birds perched on their arm!


For more information, visit www.europeanwaterways.com.