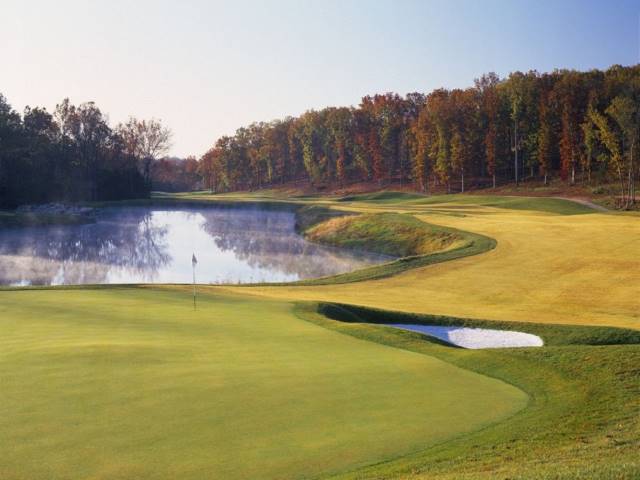 Branson Golf – home to 10 courses in the Southwest Missouri Ozarks – is concluding a banner 2021 season with continued demand, two recent honors, and media coverage citing the destination's must-visit status.
The burgeoning golf travel venue is navigating the pandemic well with care, finesse, and best practices. This, coupled with five of Missouri's top 10 rated courses (and three ranked among the top 100 nationally), has thrust Branson Golf into domestic and international destination travel consciousness.
This was underscored two weeks ago with an award bestowed upon Explore Branson, the area's Destination Marketing Organization, by the International Association of Golf Tour Operators (IAGTO).
Companies from all sectors of the golf tourism industry were nominated for award consideration, with IAGTO dividing these into five categories including tourism organizations. The award winners were nominated by IAGTO members.
"These award winners were nominated by international golf tour operators for delivering an unparalleled service in the face of this unprecedented global crisis," said Peter Walton, IAGTO CEO.
In addition to the IAGTO honor, the golf destination was highlighted in a PGA Magazine article (November 2021; "Golf Travel Makes a Comeback") for its quality, industry-leading practices, and the increasing number of visiting golfers. An excerpt from the article is as follows:
"Big Cedar Lodge in Branson, Missouri, has become the only resort in the world to have all five of its courses designated as Audubon International Signature Sanctuary locations. Tiger Woods' design of Payne's Valley opened last year and is leading a season of strong play at the resort. The Branson area is seeing an influx in vacations and rounds at other area courses, such as Branson Hills and LedgeStone."
The most recent accolade garnered was made public last week, when Golf Digest's "Best New Courses" list was published in the December 2021 issue. Payne's Valley Golf Course earned "Best New Public Course" distinction. Here's an excerpt from the magazine's coverage of the Big Cedar Lodge golf amenity, one of five courses at the astounding property.
"Designed by Tiger Woods . . . Payne's Valley is an intriguing stylistic blend of holes with polished finishes and composed lines juxtaposed against elements that define the most consequential architecture of the 2000s: broad, forgiving fairways, roaming contours and an escapist setting. Many of the holes are set against the low, ruptured terrain of the surrounding Ozarks, providing long vistas and the impression of playing high above a series of finger-like ravines. Artful, large-scale bunkering adds a depth-defying dimension to the play such that greens and backdrops often seem closer or farther than they are."
While golf is thriving in Branson, it is made more appealing thanks to the destination's plethora of complementary other attractions. Three superb lakes offer boating and water sports. Astounding museums – Titanic Branson and Ancient Ozarks Natural History – showcase displays not found anywhere else. Hundreds of restaurants and lodging establishments beckon, along with dozens of live entertainment theaters, outdoor adventures (zip lines, world-class fishing) and award-winning family friendly places (Silver Dollar City theme park).
"Branson has long been a favorite destination of visitors thanks to our wonderful hotels, resorts, restaurants and leisure activities," said Lynn Berry, Director of Communications, Branson Convention & Visitors Bureau. "We look forward to greeting returning guests in 2022 and welcoming new ones."
For more information about Branson Golf, visit www.explorebranson.com/golf or www.facebook.com/bransongolf