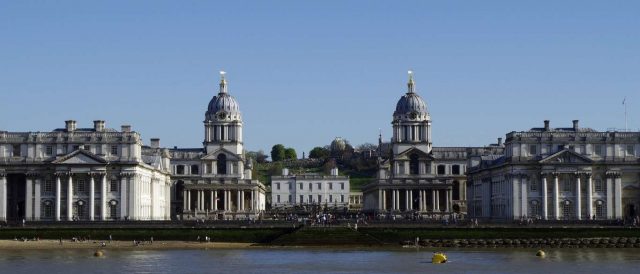 London visitors should put The Old Royal Naval College at the top of their must-see destination list this summer. Referred to as Britain's Sistine Chapel, its newly restored award-winning Painted Hall, interactive exhibits in its welcoming Visitor Centre, and family-friendly activities provide the perfect day out for Londoners and tourists alike.
The Painted Hall at the Old Royal Naval College, Greenwich, reopened earlier this year having had its magnificent painted interior brought vividly back to life. The two-year conservation project, supported by The National Lottery Heritage Fund, reversed years of decay and conserved the Painted Hall for generations to come. Day beds have even been provided to encourage visitors to spend time appreciating the spectacular ceiling and new multi-media guides are available in seven languages, along with expert talks and interactive packs for children. History buffs can explore the room where Admiral Lord Nelson's body lay in state and can see the recently discovered Tudor foundations of Greenwich Palace in the King William Undercroft which also houses a new café, shop and interpretation gallery.
The iconic domes of the Old Royal Naval College are set in stunning grounds with a wonderful view along the River Thames. Open all day every day, the gardens are a beautiful place to come and relax, bring a picnic, or enjoy events like Luna Cinema's open-air movie showings. An extra special pick of the summer is the screening of Les Misérables; watch this tale of love and revolution on the very site where many of the scenes were filmed. There will also be screenings of blockbuster films The Greatest Showman and Bohemian Rhapsody, in the stunning location where Hollywood hits such as Four Weddings and a Funeral and Pirates of the Caribbean: On Stranger Tides chose to film.
From its important beginnings as Henry VIII's Greenwich Palace, to becoming a hospital for retired sailors and then a training facility for Naval Officers, Sir Christopher Wren's iconic twin domes of the Old Royal Naval College are full of fascinating history. The centrepiece is the magnificent Painted Hall, designed by Wren as a dining room and finished in 1705. Its vast decorative scheme by artist Sir James Thornhill took 19 years to complete and tells the story of Britain's triumphant naval power, making the Painted Hall one of the finest Baroque interiors in the UK.
In the opposite dome to the Painted Hall is the grand Chapel of St Paul and Peter. This beautiful and atmospheric part of the Old Royal Naval College was redesigned after a fire in 1779 by famed architect and artist James 'Athenian' Stuart in a stunning example of neoclassic brilliance.
The Painted Hall entry fee is valid for a year for return visits and includes a 45 min – 1 hour guided tour, taking in all aspects of Wren's riverside masterpiece including the famous Water Gates, Grand Square and Chapel. It also includes access into the Skittle Alley and the opportunity to play a game of Victorian skittles with your friends and family. The brand-new multimedia guide provides an informative and playful introduction to the paintings. Visitors looking for a more sensory experience will enjoy a collection of 13 exquisite touch objects inspired by characters and items depicted on the ceiling, such as a replica of Athena's shield with its depiction of Medusa. To ensure the Painted Hall remains accessible to as many people as possible People's Wednesday, on every first Wednesday of the month, is a pay as you wish initiative.
The reopening of The Painted Hall was part of a major transformation project by Hugh Broughton Architects, with Martin Ashley Architects. The incredible work has already been acknowledged through a highly prestigious RIBA National Award 2019 and a RIBA London Conservation Award 2019.
The Painted Hall is now part of The London Pass, cementing it as a must-see destination for anyone visiting London. With so much happening on site why not buy a ticket, visit and then return again and again. Don't miss visiting the Old Royal Naval College and the Painted Hall, an essential destination in Greenwich.