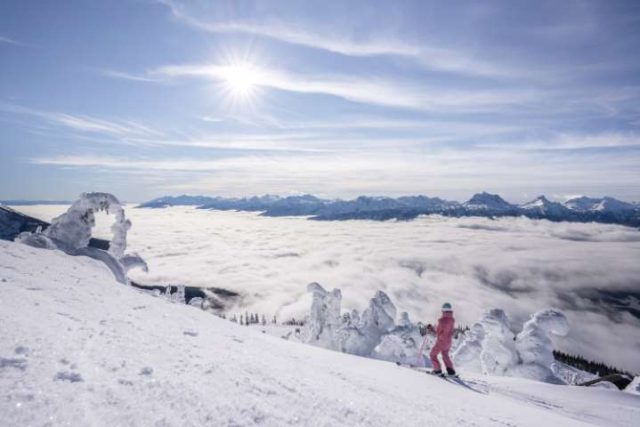 Spring is on the horizon, but BC's skiing experiences are still going strong. Depending on the location, elevation and size of the resort, spring skiing can last into April or as late as mid-May.
"There is no better place to enjoy spring skiing," says Matt Mosteller (also known as "Powder Matt"), senior vice president, Resorts of the Canadian Rockies. "We have all the ingredients you need: goggle tans, good vibes, passion-filled people, big mountains, and a super helping of snow and variety of terrain! Every minute you spend in the mountains here in BC is time well spent."

Other perks of spring skiing include shorter lines at the lift, and longer and sunnier days spent on the ski hill. Plus, the snow is softer, which means more cushion for novices ascending the hills for the first time. Bonus: the latest spring forecast promises below-normal temperatures for BC – including heavy snow in the alpine regions – throughout March and even April. Hello, extended ski season!

Several ski resorts in BC offer special celebrations in the spring, whether to embrace the warmer weather or to send off the season in style. At Whistler Blackcomb, the Whistler Ski & Snowboard Festival (April 10-16 ) exudes spring energy with exciting ski and snowboard competitions, including the Saudan Couloir Race Extreme, the steepest ski and snowboard race in the world; and Slush Cup, a costumed race through snow and a slushy ice pond. Slush Cups are particularly popular this season: Whitewater Ski Resort in Nelson hosts a closing day Beach Party (April 2 ) featuring a Slush Cup and on-the-snow patio fun, and Sun Peaks Resort, near Kamloops, has a Slush Cup during its season-closing Wonder Weekend (April 8-10).

At Fernie Alpine Resort in Fernie, the annual Fernival (April 15-16) commemorates the resort's final weekend of skiing and riding with live rock concerts, wacky contests, and silly costumes, as well as the Raging Elk Powder Pedal Paddle Relay Race, where individuals and teams ski, bike, paddle and run to the finish line. RED Mountain Resort in Rossland hosts a Retro Day Deck Party (April 2) fuelled by live bands, cold beers, and local mountain legends. And at Panorama Mountain Resort, Red Bull Slopesoakers (April 8) sends off the season with a splash – a Slopestyle Rail Jam and Pond Skim, where competitors show off their skills on rails suspended over a series of ponds.