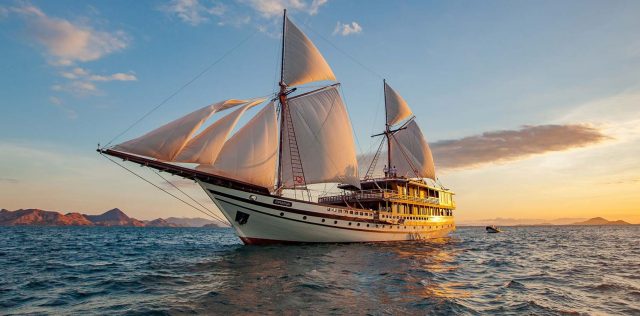 Prana by Atzaró is the world's ultimate luxurious charter. With over 900 sq meters of space to enjoy and nine luxurious suites that sleep up to 18 guests this yacht is a traditional Indonesian Phinisi super-yacht designed with every comfort in mind.  The yacht sails the beautiful unexplored islands of Raja Ampat, KomodoNational Park and the Spice Islands, Indonesia.  Described by Hong Kong Tatler as 'the world's most luxurious liveaboard' and featured in the prestigious 'Gold List Edition' by Condé Nast Traveller magazine, Prana by Atzaró has just announced the following sailing dates for 2022.  
A voyage through Raja Ampat is the ultimate in last-paradise discovery. You won't see a soul as you explore uncharted islands, hike through forests at dawn to discover the rare Birds of Paradise, swim with reef sharks amongst pristine coral and picnic in total seclusion on pristine powder white islands. 
Renowned for the untouched natural beauty of its 1500 islands, cays and shoals, Raja Ampat offers our guests one of the most remote destinations on the planet.  Here you can cross the equator with giant manta rays, explore prehistoric caves, visit primordial tribes, kayak around virgin coastlines and discover dive sites famed for having the most species recorded in one spot. Raja Ampat translates as the 'Four Kings' and is located off the northwest tip of the Bird's Head Peninsula on the island of New Guinea. This region embraces over 1500 small islands surrounding the four main islands of Misool, Salawati, Batanta, and Waigeo.
Prana by Atzaró is a beautiful hand-built boat, the biggest and most luxurious of its kind in the world. At just over 55 meters in length and 11 meters wide, Prana by Atzaró has been crafted in the style of a traditional Indonesian Phinisi, a sailboat with two masts. It is built entirely of ironwood and teak, according to traditional methods and has been created by the founders of Atzaró Group, the famous luxury international hotel, restaurant, residence and hospitality brand. 

Life aboard Prana by Atzaró has something to keep even the most active adventure-seeker happy. Learn to scuba dive with the yacht's resident dive instructor or take a leisurely drift snorkel across volcanic vents. Alternatively, launch sea kayaks and paddle boards to explore the jungle-draped coastlines or get your thrills wakeboarding and water-skiing around the calmest of lagoons. Fishing equipment is also supplied along with tow-able floats for effortless fun.        

For those just looking to relax and recharge, four spacious decks with king size daybeds offer abundant places to retreat. A yoga deck doubles as an open-air cinema and Prana by Atzaró's main deck has both indoor and outdoor living spaces and even luxury wellness room.  Designed with luxury in mind, Prana by Atzaró is fully soundproofed and the suites are decorated with sumptuous fabrics and contemporary linens in a sophisticated natural palette. Prana by Atzaró offers more space and comfort than any other Phinisi, with all the super deluxe mod cons of a lavish five-star hotel. There is one grand master suite and eight further suites.  The 18-man crew includes a Cruise Director, Dive Instructor, several chefs,stewards and expert therapists for treatments; all on hand to deliver a seamless experience and to ensure all needs are met.