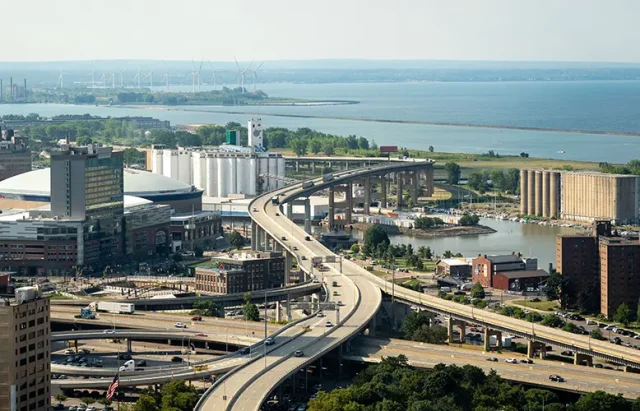 Buffalo, a city brimming with culture, history, and vibrancy, beckons travelers and locals alike to immerse themselves in its eclectic mix of year-round festivities. Festivals in Buffalo not only highlight the city's diverse heritage but also its progressive modern-day arts scene, providing a comprehensive experience of its multifaceted personality.
For the uninitiated, Buffalo's festivals are a sensory delight. From the tantalizing aromas of food fairs to the rhythmic beats of music festivals, and from the visual spectacle of parades to the warm embrace of community gatherings, there's no dearth of experiences waiting to be explored.
Moreover, the city's festivals cater to all age groups, ensuring that everyone from toddlers to seniors has something to look forward to. These celebrations stand as a testament to Buffalo's commitment to nurturing art, culture, and community spirit. It's not just about the events but the stories they tell, the memories they create, and the smiles they bring to faces.
Such is the allure of festivals in Buffalo that many people, captivated by the city's charm, are making a permanent move. It's no wonder that relocating individuals are seeking out services like Wayfinder Moving Services to make their transition to this culturally rich city smoother. With all these festivals and a welcoming atmosphere, Buffalo truly offers a lifestyle that's hard to resist.
Winter Festivities
When the temperature drops, Buffalo's heart only gets warmer with its delightful winter events.
Ice Wine Festival
Did you know Buffalo has a distinctive beverage known as ice wine, made from frozen grapes? Buffalo wine festival 2023 is expected to be grander than ever, featuring top local wineries showcasing their finest ice wines. Not just a wine tasting event, it's an experience capturing the essence of Buffalo's winter spirit. As you wrap yourself in warmth, the sweet, rich taste of this wine feels like an embrace from the inside.
Winter Fair
Buffalo's Winter Fair is an amalgamation of the city's culture and the beauty of winter. Imagine walking amidst ice sculptures, with the scent of roasted marshmallows in the air, as the strains of live music fill the atmosphere. It's not just a fair, it's Buffalo's winter wonderland. And if you're shopping inclined, don't miss out on the Buffalo winter market for some festive deals.
Spring Celebrations
With the melting snow, Buffalo's spirit awakens, bursting with vibrant spring events.
Cherry Blossom Festival
The Cherry Blossom Festival is Buffalo's tribute to nature and beauty. Amidst the breathtaking cherry blossoms, the city gathers for picnics, cultural performances, and more. This event is a testament to the beauty of festivals in Buffalo, marrying nature with cultural festivities seamlessly.
Buffalo Cinco de Mayo
Time for a fiesta! The Buffalo Cinco de Mayo celebrates Mexican heritage with dynamic music, palatable delicacies, and vivacious parades. It's more than just a carnival in Buffalo NY; it's a cultural immersion, offering a slice of Mexico in Buffalo.
Summer Highlights
Buffalo's summer is synonymous with festivals, making it a hotspot for visitors.
Taste of Buffalo
Buffalo summer festivals are gastronomic delights, and Taste of Buffalo tops the list. It's not just about the iconic wings but an array of dishes from renowned Buffalo restaurants. A day here, and your taste buds are in for a roller-coaster ride.
National Garden Festival
When it comes to greenery, Buffalo isn't left behind. The National Garden Festival lets you stroll through resplendent gardens, partake in workshops, and bond with fellow gardening aficionados. And if you're craft-inclined, the Buffalo craft shows during this festival are a must-visit.
Fall Attractions
Buffalo's autumn is a blend of rustic charm and vibrant festivals.
Buffalo Beer Week
Craft beer enthusiasts, this one's for you! Buffalo Beer Week celebrates the city's burgeoning craft beer scene. Sip on some of the finest brews, delve into the art of beer-making, and simply enjoy the ambiance. For the craft lovers, craft fairs in Buffalo NY during this week are a delight.
Lighthouse & Maritime Festival
An ode to Buffalo's maritime heritage, this festival is a blend of history and fun. While you can explore ancient lighthouses and engage in maritime stories, there's also the Buffalo Scottish festival, celebrating Scottish heritage in Buffalo. It's a two-in-one treat for both history buffs and festival lovers.
Why Attend Buffalo's Festivals?
Engaging with the Community
Buffalo's festivals offer more than just entertainment. They're a testament to the city's community spirit. Whether it's the fall festivals in Buffalo NY or any other event, there's always a sense of camaraderie in the air, making visitors feel right at home.
Immersing in Cultural Diversity
Diversity is the hallmark of festivals in Buffalo. Be it the cultural richness of the Buffalo Scottish festival or the vibrant carnival in Buffalo NY, every event offers a unique cultural experience.
Conclusion
Buffalo stands tall, not just as a city of architectural wonders and historical landmarks, but as a thriving hub of culture and festivity. The myriad festivals paint a vivid tapestry of what the city embodies – a harmonious blend of tradition and modernity. Whether you're someone who revels in the culinary delights at food festivals, a craft beer enthusiast eager to taste the finest brews, or a cultural aficionado looking to immerse in diverse experiences, Buffalo extends an invitation like no other place.
Beyond the events and celebrations, it's the spirit of Buffalo that leaves a lasting impression. The sense of community, the warmth of its people, and the shared joy of collective experiences are what make the festivals in Buffalo truly unique. It's not just about the spectacle or the entertainment; it's about being part of a larger narrative, a story that unfolds with every event, drawing people closer together.
For visitors, these festivals offer a window into the heart of Buffalo, providing glimpses of its soul. For locals, it's a reaffirmation of pride, a celebration of identity. In essence, Buffalo's festivals aren't just events; they're experiences, memories, and most importantly, they're a reflection of the city's indomitable spirit. So, when you think of Buffalo, think of it as a canvas painted with the vibrant colors of its festivals, waiting for you to be part of its story.