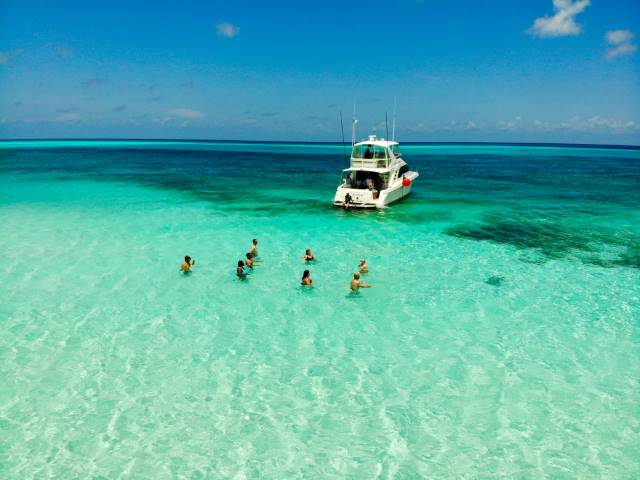 Looking back, the domino effect of 2020's events meant that many people did not take their annual vacations, opting for staycations instead. Whether it is spring break or summer vacation plans, 2021 is the year to jump back out there. Fortunately, the travel and tourism industry is gradually recovering, which means you can enjoy some massive deals all around and stay in some exquisite resorts in awesome destinations. One of the hottest deals at the moment are all-inclusive vacation packages, and here are some of our favorites for vacations in South America.
Sun Palace
If you have a romantic all inclusive Cancun vacation in mind, then you should consider Sun Palace in Cancún.  Detached from the ever-busy Hotel Zone of this resort town, Sun Palace is the perfect getaway for couples. Besides being adults-only, this resort provides an all-inclusive vacation package for couples for accommodation, food, and entertainment. Everything in the Sun Palace is there for couples to enjoy starting with complimentary wine service in the rooms, double Jacuzzis, and private balconies for every suite. Since it is far from the busy hotel zone, the beach is incredibly gorgeous and tranquil, and the turquoise waters of the Caribbean just make it a touch more special. The beachside concierge will pamper you at the beach while, in the rooms, the 24-hour room service means you won't have to lift a finger (or toe) if you want to enjoy a day in.  
Excellence Playa Mujeres
North of Cancun is the laid back coastal area of Playa Mujeres. It mostly attracts people looking to wind down in relatively tranquil surroundings. Your Excellence Playa Mujeres all-inclusive vacation begins right when you check-in. You are treated to a glass of champagne. As an adults-only resort, this resort can afford to be intimate and treat each of the guests with everything from hydrotherapy sessions, aromatic baths, stocked minibars, and swim-up suites—all with an all-inclusive package. You can have lavish dinners and premium drinks at its many restaurants and bars. Tripsupport can set up your playa Mujeres all-inclusive vacation if you select an Air Canada all-inclusive vacation package.
Hyatt Ziva Cancun
Even after changing from being a Dreams Hotel, Hyatt Ziva's position as the Family-friendly place to be has been unassailable. Having three infinity pools, a kids club, eight restaurants, and a prime position surrounded by the Caribbean on three sides give it an edge over the other resorts. With an all-inclusive package, you can even get a swim-up suite on top of other daily activities like water sports, theatre, or yoga. Most of the restaurants come with plenty of bars too, where drinks are not restricted, and you can have your taste of both local and international liquors. On the off chance you get tired of kids rollicking the hotel, there is an adult-only side to the Hyatt Ziva Cancun called Turquoise, which you can opt for instead.
Pueblo Bonito Emerald Bay Resort & Spa
If your all-inclusive Mazatlán vacations began at the Pueblo Bonito Emerald Bay Resort & Spa, you are guaranteed a secluded resort away from the rollicking downtown Mazatlán. Mazatlán is known as a place of culture with a vibrant sport fishing scene, delicious seafood, authentic Mexican culture, and some of the most beautiful views of the Sierra Madre mountain range. At this all-inclusive resort, you have access to a long, secluded beach, three massive pools, and swim-up bars. All the spacious suites have upscale furnishing, with private ocean views. If you have allergies, you will love the fact that all the water is purified. The beach was recently eroded but there is a regular shuttle service to the sister Pueblo Bonito Mazatlán where you can continue your relaxation. The resort has three restaurants, bars, and even a snack bar. Your all-inclusive package covers everything, so all you have to do is enjoy.
Tripsupport can finance your air Canada all-inclusive package to Hyatt Ziva Cancun, and other pre-bundled all-inclusive Cancun resort packages or all-inclusive Mazatlán vacations with Book your vacation to Cancun pay later. Get in touch to learn more today. 
Manchebo Beach Resort
If you are searching for Aruba all-inclusive packages, the Manchebo Beach Resort is an excellent place to start. With a heritage going back to the 1960s, Manchebo Beach resort has established itself in one of the most gorgeous and widest strips of sand in the whole Caribbean—Eagle Beach. Since it predates most resorts on the strip, it has a prime position on Eagle Beach, and the developer's idea to leave the beach largely untouched gives it a charm not many resorts will match. All its 72 rooms have a contemporary look and private outdoor spaces with an ocean view. There are four restaurants and bars within the Manchebo's premises and a gym, pool, car rental services, and mini market too. From the moment you check in with your all-inclusive package, you are welcomed with a free mojito with the herbs coming from the hotel garden—what a lovely welcome!
Divi Village Golf & Beach Resort
It may not be a beachfront property, but it shares the beach with the sister resort Tamatijn. The 'small' inconvenience of not having a beach is made up for by having fantastic golf facilities making it an exclusive club of resorts with lush greens in Aruba. The rooms here are large enough, with even the smallest one being able to accommodate four people comfortably. Besides, the golf course has tennis courts, a large playground, four freshwater swimming pools, ten restaurants, and 8 bars. The location also gives you convenient access to water sports and other Aruba attractions. You can opt between an all-inclusive package and paying for services separately. Still, since the all-inclusive packages are so reasonably priced, there is frankly no reason to go any other way.
If you are interested in the Manchebo Resort, Divi Village Golf & Beach Resort, and any other Aruba all-inclusive packages, get in touch with Trip support to find out how you can book now and travel later for your vacation.