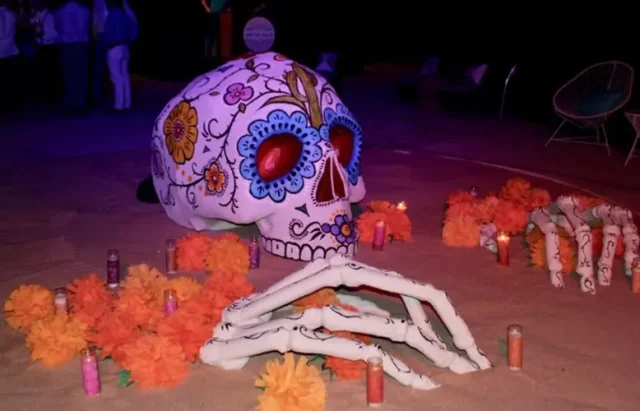 As the vibrant autumn leaves begin to fall, you are invited to fully embrace the "spooky season" and join the people of Los Cabos in celebrating the rich traditions of Mexico's Dia de los Muertos. While "The Day of The Dead" may seem like a grim moniker for a celebration, Dia de los Muertos is far from a somber occasion. This lively festival, held on November 1st and 2nd, is traditionally a time when the Mexican people come together to pay homage to their ancestors, turning grief into a colorful and joyous celebration of life. The distinctive art and makeup associated with the festival are famous around the world, extending far beyond the picturesque borders of the Baja Peninsula.
As the boundaries between the realm of the living and the dead momentarily blur, Los Cabos comes alive in a flurry of festive activity. Indeed, the window of Dia de Los Muertos may just be one of the very best times to plan a trip to the destination. Below, we explore a bit of the history and much of the fanfare that accompanies Dia de Los Muertos – as well as highlight a few specific ways its tourism industry is celebrating.
Embracing Tradition: A Brief History of Dia de los Muertos in Los Cabos
Los Cabos' unique contribution to the history of Dia de los Muertos is one that spans a period of over 500 years! The funeral ritual of the Las Palmas Culture thrived in the Baja California Peninsula from 1200 to 1700 A.D. This captivating tradition involved the intricate use of braided palm leaves to enshroud the skeletal remnants of the departed. These remains, often infused with red ochre and bearing traces of exposure to fire, were carefully bundled. Subsequently, these bundles found their resting place in coastal caves, considered as mystical portals to the underworld. While this ancient practice has faded into the annals of history, it firmly enshrined the importance of honoring the dead in the culture of the peninsula.
Today in Los Cabos, every altar tells a story. Ofrendas, adorned with cherished photographs and mementos, come to life with the flicker of candles, the sweetness of sugar skulls, and the vibrant orange hues of marigold flowers. These carefully crafted altars serve as a bridge between the living and the departed, inviting spirits back for feasts and festivities. It's a beautiful reminder that, for two days, the boundaries between worlds are softened and those who have left us are never truly gone.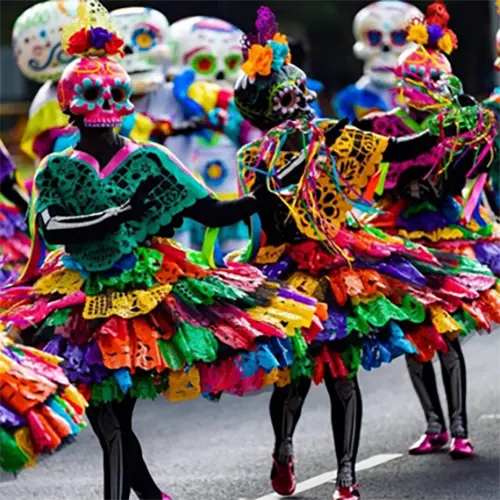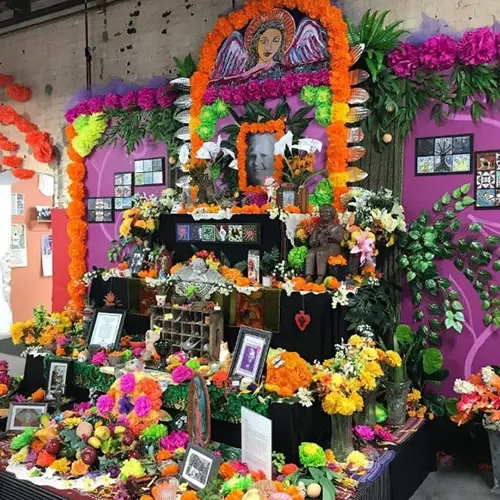 How Los Cabos Marks Dia de los Muertos
For every ceremony, a celebration! Los Cabos has a number of annual attractions that accompany Dia de los Muertos. We explore three of the most popular ones below.
Sail into Tradition: Altares en el Mar Festival
In Cabo San Lucas, the Altares en el Mar Festival takes Dia de los Muertos to the sea. The marina becomes a canvas for illuminated boat parades, reflecting the rich maritime culture of the region. Join the festivities with musical shows, folk storytelling, and gastronomic experiences along the marina's edge, creating an enchanting celebration that seamlessly blends tradition with the allure of the sea.
Artistry in Every Step: San Jose del Cabo Art Walk
Explore the San Jose Art Walk, a weekly Thursday evening spectacle that coincides with Dia de los Muertos. As the main roads close, the city welcomes local artisans showcasing their paintings, jewelry, crafts, and culinary delights. Wander through renowned art galleries that stay open late, offering a unique opportunity to take home one-of-a-kind treasures like sugar skulls, hand-painted mezcal jicaras, and folk art figurines to honor your own ancestors.
Special Offers for a Special Day
Beyond the biggest celebrations, many of Los Cabos luxury properties, farm-to-table restaurants, and tourism industry partners offer bespoke seasonal activities of their own. Here are three of the most compelling for Dia de los Muertos, 2023.
Day of the Dead at Corazón
Los Cabos' newest and luxury retreat, Corazón Cabo Resort & Spa, will be supplementing its offering of infinity pools and panoramic ocean views with a four-course dinner at its Aleta Restaurant in honor of Dia de los Muertos. Indulge in culinary delights such as the 'Amuse-Bouche' featuring a tantalizing blend of bean and lobster tamalito with a luscious chile de arbol sauce, a rich black bean soup, picaña beef marinated in black garlic and chili powder served alongside mashed sweet potatoes and beet, a delectable goat fillet paired with ricotta cheese and grilled vegetables, and conclude the evening with a tempting amarena agave cherry crème brulée for dessert.
Day of the Dead aboard Cabo Mar
If you'd prefer to celebrate at sea this year, why not do so on a luxury Catamaran? Cabo Mar's traditional Day of the Dead tour offers just that: an opportunity to sample a delicious taco menu and a premium open bar on a double-decked cruiser, creating the perfect party atmosphere. This three-hour trip departs on Thursday, November 2, and culminates in the presentation of an altar laden with sweets.
Day of the Dead, courtesy of Chef Roberto Solís
Masterful chef Roberto Solís – owner of Nectar restaurant – is leading a kitchen takeover of Zadún, a Ritz-Carlton restaurant in San José, to present his own interpretation of Yucetan cuisine in honor of Dia de los Muertos, 2023. Flowers, altars, music, and more ceremonial trappings will surround you as you try chef's innovative take on pan de muerto in what promises to be the destination's tastiest celebration.
Learn more about Los Cabos and Dia de los Muertos at https://www.visitloscabos.travel/.