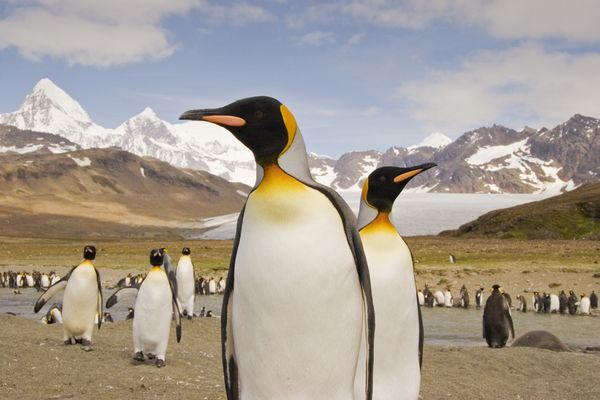 To coincide with World Oceans Day when the planet celebrates the entity that connects all, Australia's largest polar experts, Chimu Adventures, will have launched their most recent Chimu Exclusive Cruise to Antarctica. This is their ninth departure between late 2018 and early 2020. In Shackleton's Wake, aboard the small and newly refurbished Ocean Atlantic, will depart from Ushuaia, Argentina on 1 March 2020 returning to Puerto Madryn, Argentina three weeks later. It will sail in the wake of polar explorer, Sir Ernest Shackleton, who led three expeditions to the white continent and is famed for his valiant effort so save his crew after they lost their ship to the Antarctic sea ice and became stranded on Elephant Island in 1917. The cruise will explore the Falkland Islands and South Georgia; the location of his quest to find help and his final resting place in 1922.
Chimu Exclusive Cruises carry less than 200 passengers at any one time to Antarctica and the Arctic. The limited capacity results in an intimate experience and greater appreciation of these remote oceans and landscapes while minimising impact on the delicate environment.  Running their own charter cruises gives Chimu more power to control their impact; they work with their trusted suppliers and select ships that comply with the highest environmental standards. The onboard experience educates travellers about the fragility of the area through expert lectures and rigid passenger regulation.
Chimu are also an associate member of IAATO, the International Association of Antarctic Tour Operators, which has stringent guidelines and rigorous operational protocols to ensure travel to this region is not only safe, but also minimally invasive to the environment and its wildlife. Annual visitor numbers to Antarctica are relatively low and shore landings are restricted to 100 passengers at a time. While Santorini in Greece received 5.5 million overnight visitors on an island just 76km² in 2017 (Greek National Tourism Organisation); according to IAATO, Antarctica, with an area of 14 million km², saw just over 45000 tourists (land and cruise only) in the 2016/2017 season. Scientists believe that carefully monitored tourism can be advantageous to Antarctica as visitors become advocates for its protection. Experiencing this immaculate destination can spark an urgency to preserve it for future generations, igniting a change in behaviour on return.
Chimu's co-founder and one of the pioneers behind their increased departures, Greg Carter, is excited about these voyages: "I love taking Chimu passengers down to Antarctica and can't wait to see their reaction on our first cruise to the Arctic in 2019. The best part of any trip to Antarctica is seeing people's faces when they set foot on the white continent for the very first time. For us to be able to show people these destinations in true Chimu style and encourage them to become polar ambassadors is fantastic."
World Oceans Day shines a light on the lifeblood of planet Earth and humankind. Chimu's Destination Specialists, all of whom have witnessed the power and beauty of the Antarctic or Arctic oceans, will be able to talk potential travellers through the various options. Contact Chimu Adventures here.