With Earth Day coming up on April 22nd, Natural Habitat Adventures, a leader in sustainable and conservation-focused travel, has unveiled a brand-new short film showcasing the brown bears of Alaska.
Entitled The Bear Coast: An Alaska Conservation Story, the film focuses on a large swath of coastal land on the north end of the Alaska Peninsula, comprised of the coastlines of Katmai National Park, Lake Clark National Park (the location of Nat Hab's Bear Camp), and McNeil River State Game Sanctuary — an area also known as "the best bear habitat in the world."
Directed by Andrew Ackerman, the film features interviews with a group of passionate Alaskans, including Steve MacLean, Managing Director, WWF US Arctic Program; AlexAnna Salmon, Bristol Bay Program Director, Alaska Venture Fund; Sue Mauger, Science & Executive Director, Cook Inletkeeper; and  Drew Hamilton, a longtime, well-known Alaska bear viewing guide (who has worked with Nat Hab for many years), who is also board president of Friends of McNeil River, an important conservation organization on the Bear Coast. In this role, Drew was instrumental in leading much of the successful opposition to the Pebble Mine project proposed for this region that would have had a devastating impact on the bears and their habitat, especially the Bristol Bay watershed, the location of the world's largest sockeye salmon run.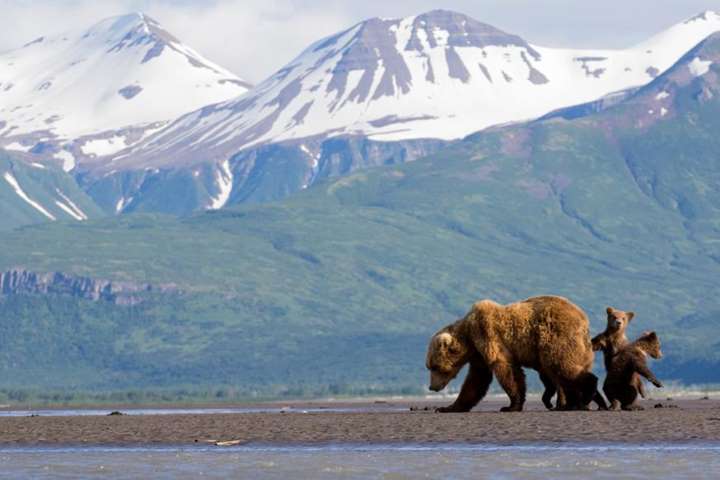 Ninety-five percent of brown bears in the United States live in Alaska, and the area known as the Bear Coast – a truly wild place without roads, towns, campgrounds, or large populations of people living nearby – supports a healthy and stable population of coastal brown bears thanks to the tremendous salmon runs of the Bristol Bay watershed and the various estuaries, sedges, and tidal flats found here that provide everything a bear needs to eat in one place.
But the fate of that habitat rests in human hands. "We have an incredible power, whether we recognize it or not," said Hamilton in the film. "In order to have a world where bears exist, we need to make a conscious decision to have bears in the world."
"Storytelling is an important piece of natural history travel," continued MacLean. "The more people who come and see a wild place, and see an intact place, the more advocates we have for protecting these places."