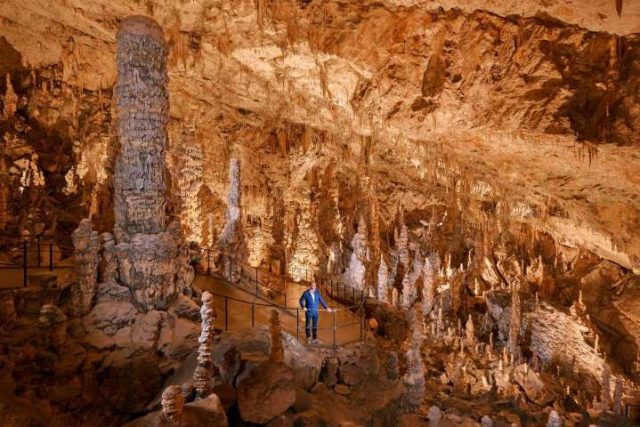 Slovenia celebrated the 200th anniversary of the discovery Postojna Cave. Some of Slovenia's most distinguished artists, researchers, scientists, and politicians paid tribute to the Postojna's natural splendor with a spectacular gala in the cave. The evening featured a performance by Matteo Bocelli, son of the world-renowned singer Andrea Bocelli, and a keynote speech from the President of the Republic of Slovenia, Borut Pahor.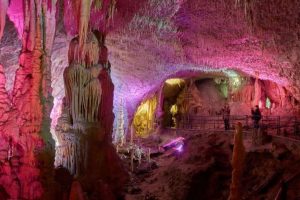 Postojna Cave features 14 miles of subterranean passages, corridors, and massive halls underneath the region of Karst. The cave is revered for its spellbinding beauty, giant stalagmites, and its 150 unique cave-dwelling animals, like the olm, or "cave dragon", a rare species of salamander. Only a small portion had been explored until in 1818 when, Luka Čeč, a cave lamplighter, uncovered 12 miles of cave systems while preparing for a grand visit from Austrian Emperor Francis I and Empress Caroline Augusta.
Two centuries later, Postojna Cave has been visited by 150 emperors, kings, presidents, prime ministers, and more than 38 million tourists.  The cave features countless attractions, tours, and events for all guests to enjoy, including a family-friendly tour, which takes guests on a three-mile train ride on a 146-year-old railroad system, followed by a mile-long walk along the caves easily accessible trail. Postonja Cave also offers several Adventure Tours to visitors looking for an adrenaline-filled spelunking experience, such as a three to four-hour trek through the cave's more challenging lower Tartar and Colored Passages.  Every December, Postojna Cave transforms into a winter wonderland, adorned with festive decorations and more than 2,100 colorful lights for its annual Christmas experience, a live performance featuring 16 biblical nativity scenes played out by more than 150 amateur and professional performers along the cave's one-of-a-kind railway system.