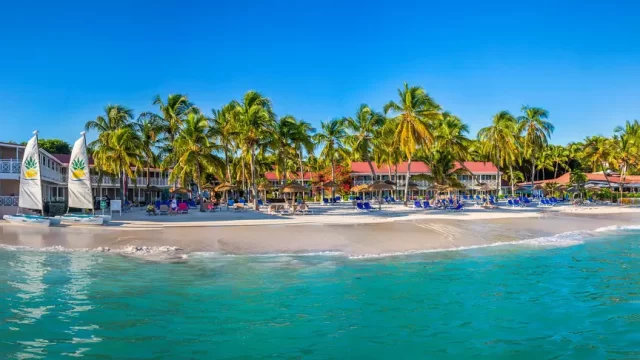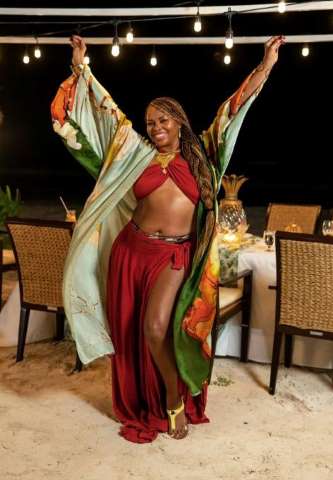 When celebrity chef Ameera Muhammed—the food alchemist, private chef, and winner of The Food Network's Cutthroat Kitchen—visited the luxe, all-inclusive Pineapple Beach Club Antigua, she had two revelations. First, Chef Ameera was blown away by the freshness and diversity of the food. For example, "Antiguan eggs, they're not from a factory, the chickens are out, free-ranging, and you can taste the difference in the food," she says. "That's part of why I love the Caribbean so much."
Second, having just come from West Africa, she noticed "there were certain things in the markets there that I couldn't find when I returned home to California, where our food is more processed, but that I started seeing again in Antigua." She recalls, "My mind was blown. Halfway across the world, I'm finding the same ingredients, and I could see the cultural connections across the diaspora."
At Pineapple Beach Club, Chef Ameera was inspired to celebrate both the freshness of Caribbean produce and the cultural richness of the African diaspora. "I decided to create a meal that encompassed West Africa with the Caribbean, with a little sprinkle of Los Angeles, because that is my home," she explains. "I wanted to tell the story of how we're connected through food."
After visiting local farms, she designed a six-course immersive dining experience starting with an amuse-bouche of butter poached lobster, followed by a plant-based conch salad made with hearts of palm, an arugula salad, and a soursop sorbet intermezzo. Then came the main event: an entrée of grilled spiced fish in a blend of Ghanian red pepper and local Antiguan jerk sauces, and, for dessert, a raw key lime coconut cream mousse that, she says, "is vegan, sugar-free, raw, it's good for you, and it's a flavor bomb!"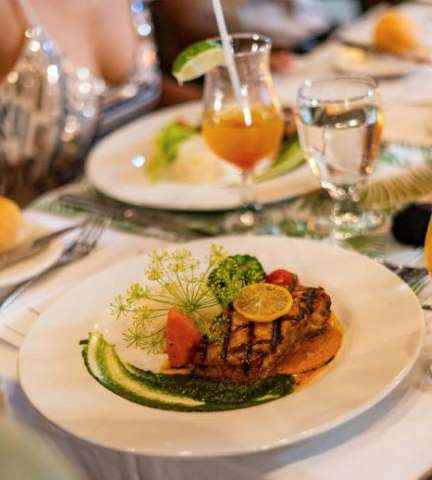 The dinner was a hit—so much so that she has gone on to serve the plant-based conch salad at Angela Bassett and Courtney B. Vance's anniversary dinner, and a couple who tried it at Pineapple Beach Club have requested it for their wedding meal. Today, guests at Pineapple Beach Club can enjoy Chef Ameera's Sunset Dinner Menu by special request, and she plans to return this summer to create more unforgettable, immersive dining experiences.
"As the travel industry changes, people are more mindful of where they're spending their time, money and energy, as well as what they're putting into their bodies," she says. "My focus for 2023 is the Caribbean and West Africa. I will be traveling to West Africa to experience more of the culture and food rituals and bring that back to the Caribbean, because I really want to tell the story of how we're connected through food; food just brings us all together."
For more information about special occasion dining, visit www.pineapplebeachclub.com.