In the years past, December used to be a busy month for Prague. Adding to the usual holiday shopping fever, the Czech capital has been a popular stop for visitors wishing to experience bustling Christmas markets complete with a picture-perfect backdrop of Gothic towers, softly glowing gas lamps, and the scent of mulled wine permeating frosty air. Not so this year; due to Covid, international tourism to Prague has slowed to a trickle, but there's an unexpected, if perhaps temporary upside to it all: a much more low-key, authentic holiday season.
As Prague tiptoes into December, the city has just emerged from the second Covid soft lockdown, the first one having taken place in the spring. On December 3, shops, cafés, restaurants, and salons opened their doors again after six weeks of forced closure to the joy of weary Praguers, a fresh dusting of the season's first snow adding a festive touch to the occasion. So, aside from the absence of tourists, what's different this year?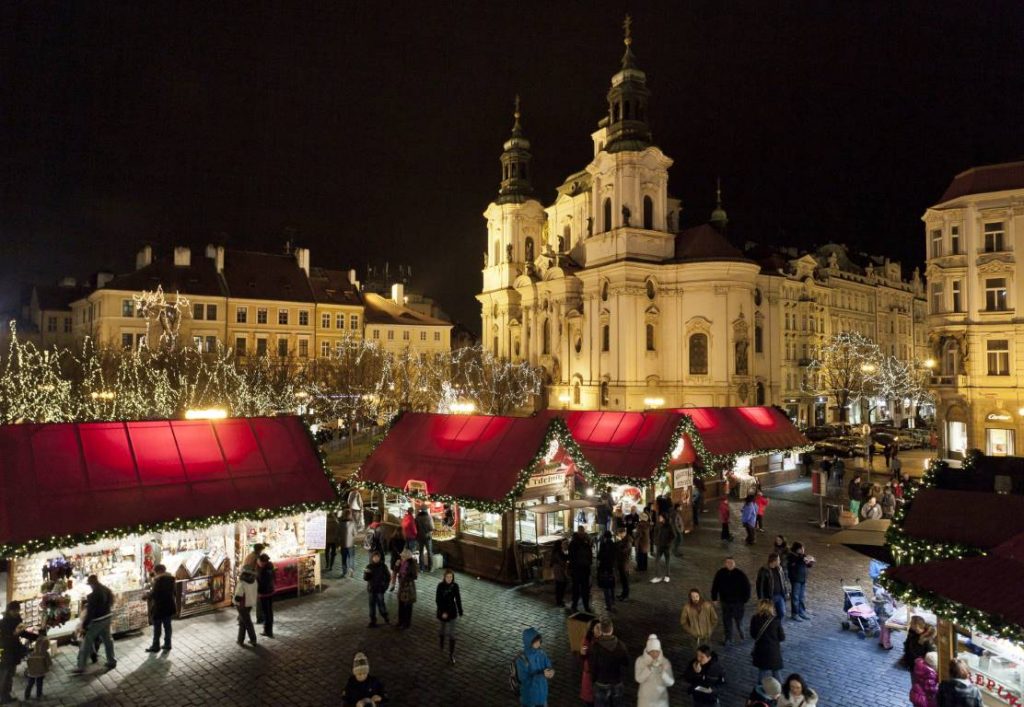 Most visibly, the city decided to forego the famous Christmas market in Old Town Square due to their Covid-spreading potential. However, the historic square still looks stunning with its imposing Christmas tree, decorated this year in the national colors of white, red and blue. Another notable vertical presence in the square is an old-new monument, the Marian column. This 50-ft-tall sandstone pillar topped by a sculpture of the Virgin Mary is a faithful replica of a Baroque original which graced the very same spot from 1650 until 1918, when it was destroyed. The column was re-erected in the square in August of 2020, adding undeniable visual appeal to the historic space.
Despite the absence of large Christmas markets, other themed markets, farmers' markets and single stalls are open, providing a less showy but more locally appealing alternative. For quality gifts made and sold by local designers and artisans, ranging from jewelry to fashion to homewares and toys, shoppers flock to the popular Dyzajnmarket fair, held over two December weekends at the Výstaviště complex in Prague 7, or the smaller Lemarket Christmas pop-up held this year on the top floor of the Máj department store. Artfully blending the street market and restaurant experience is Manifesto, the stylish outdoor food market located in the Florenc neighborhood. In addition to a globe-trotting variety of freshly made food and drinks, patrons can now enjoy private tents with a wood-burning firepit in the center – the closest to glamping you are likely to get in central Prague.
To lower the risk of spreading Covid, Prague's restaurants and cafés have reduced their seating capacity to half, continuing to sell food from windows and via delivery services, as well. On a winter's day, mulled wine, hot chocolate, cinnamon-scented funnel cake, roasted ham and other street foods are still easily available, despite the absence of market stalls. The undisputed culinary hit of this year's holiday season is a novel dessert created by pâtissier Olga Budnik of the Black Madonna café in the Old Town. The striking dessert, a chocolate globe covered with the telltale spikes of a coronavirus (made of white chocolate and dried raspberries), is fittingly named Virus, and has been a runaway success with locals and visitors alike.
As for local holiday traditions, they are perhaps even more warmly embraced this year than ever before. On the evening of December 5th, St. Nicholas, resplendent in bishop's robes and accompanied by a devil and angel make the rounds, distributing fruit, sweets, and the odd piece of coal to young children. This is but a preview of Christmas proper, celebrated on December 24-26. The evening of December 24 is the main event, with a festive family meal followed by gathering around the Christmas tree, unwrapping presents, and consuming copious amounts of Christmas sweets.
As any visitor will testify, Czechs are somewhat obsessed with Christmas cookies and spend much of December busily baking and decorating (or, increasingly, shopping for) the perfect vanilla crescents, bear paws, linzer cookies, gingerbread, and many more. Following another culinary tradition, the week before Christmas sees locals line up in front of vats filled with live carp, brought in from the countryside, to purchase a fresh fish to cook for Christmas dinner. Locally bred carp have been on the Czech Christmas menu for more than a century, and while many urban Czechs are making the switch to more exotic (and less bony) fish or skipping it altogether, fried carp with a rich, flavorful potato salad remains the iconic Czech Christmas meal.
But man does not live by bread (or carp) alone; the soul needs nurturing too. While performing art venues weren't yet allowed to welcome audiences back on December 3, Prague's monuments, museums and galleries are open, albeit at reduced capacity. Of dozens, two exhibitions merit special note. Rembrandt: Portrait of a Man, at the Kinský Palace branch of the National Gallery, is a fascinating probe into Rembrandt's portrait art, with many loans from the world's most prestigious public and private collections. The Kings of the Sun, at the National Museum, is a large-scale international exhibition showcasing the spectacular finds from Abusir, the burial site of the Egyptian rulers' 5th dynasty (ca. 2435–2306 B.C.) Finally, with few tourists in the city and no lines, the last few weeks of 2020 present a rare opportunity to enjoy Prague's best-known sites in an unhurried, leisurely way, as befits the true meaning of the season.