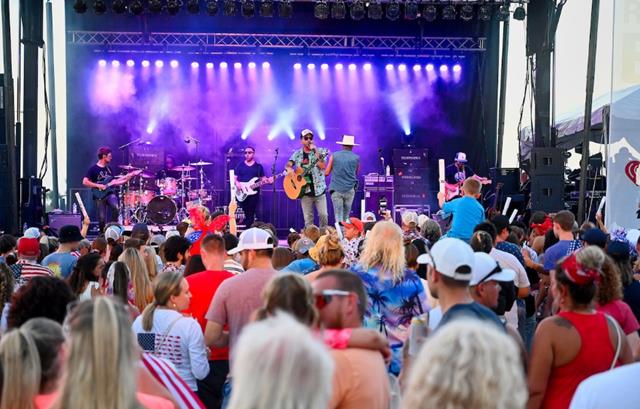 The award-winning 10-day festival highlights the creative talent behind some of country music's biggest hits.
Modeled initially on Key West's Songwriters Festival held in May, Island Hopper has now become an international festival – providing guests and artists with three unique locations to enjoy the festival.
The three locations include Captiva Island (Sept. 16-18), Downtown Fort Myers (Sept. 19-22), and wrapping up on Fort Myers Beach (Sept. 23-25).
The shows allow fans to interact with the musicians in an intimate setting, permitting an up close and personal experience. Since 2014, Island Hopper has welcomed musicians and fans to the area to celebrate the genre in a laid-back, tropical setting.
This year's Island Hopper Songwriter Festival promises to be one of the best. Presented by BMI, Fort Myers – Islands, Beaches & Neighborhoods, and iHeart Media.
Gary LeVox of Rascal Flatts will headline the Island Hopper Songwriter Festival. LeVox, known for being the front man of Rascal Flatts, is scheduled to close the festival at Pink Shell Beach Resort & Marina on Fort Myers Beach on Sunday, September 25th, at 5 pm.
Kat Higgins, a Vancouver native, is scheduled to perform on Captiva Island. The BMG-published songwriter recently celebrated her first number-one song on Country radio with Kenny Chesney's "Knowing You," nominated for ACM Song of the Year.
The Island Hopper Deals page on island-hopperfest.visitfortmyers.com offers exclusive deals and discounts at participating properties – from intimate inns to luxury resorts – catering to single travelers, families, couples, and wellness enthusiasts, and more. Room service, all-inclusive options, family-focused programs, spa treatments, and breakfast/dining deals are just a few of the amenities offered from September 16 – 25, 2022.
Festival goers can download the Island Hopper app for a chance to win a two-night stay at the Pink Shell Beach Resort with tickets to LeVox's performance and a $200 gift card.
WestJet and Air Canada airline carriers offer direct flights from Toronto Pearson International Airport (YYZ) to Fort Myers Airport (RSW). Air Canada provides (3) weekly direct flights on Mon/Thurs/Sun, and WestJet offers (2) weekly direct flights on Thurs/Sun.
Among the acts scheduled to perform are:
Aaron Barker- Hall of Fame songwriter who wrote multiple #1 Country Songs for George Strait, Trace Adkins, Willie Nelson, and others
Brooke Eden- heralded by Billboard as a fiery country star in the making
Dave Pahanish- Wrote the No. 1 Billboard Country music singles, "Do you Believe Me Now," "American Ride," and "Without You"
Frank Myers- a multi-award-winning artist, wrote You and I for Eddie Rabbit and Crystal Gayle and is a 2022 nominee to the Songwriters Hall of Fame.
Kayley Bishop, Keith Urban describes as a "gumbo of Celine Dion, Natalie Maines, and Jewel."
Kristian Bush – Multi-Platinum selling and two-time Grammy award winner of the record-breaking Country duo Sugarland.
Sheena Brook and Brian Sutherland, both natives of Fort Myers
Wynn Varble- a Nashville Songwriters Association's Songwriter of the Year in 2009
Newcomers include Adam Ezra, Autumn Nicholas, Bryan Ruby, and more!