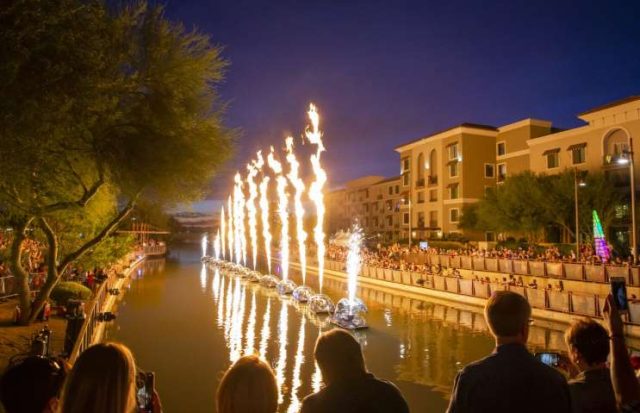 While fall foliage might look a little different in the Sonoran Desert, there is no better place to celebrate the change of seasons. As temperatures drop in Scottsdale, the destination invites visitors and locals to celebrate fall with festivals highlighting Scottsdale's unique culinary and artistic flair, inventive cuisine, awe-inspiring public art installations and architectural wonders. Curious travelers and art-lovers can enjoy an unexpected autumnal getaway with myriad resort accommodations backdropped by the destination's breathtaking sunsets and one-of-a-kind desert scenery.
Fall Festivals
Those who travel to Scottsdale can fully immerse themselves in the effervescence of the desert, permeated with a sense of inspiration so vibrant, it has beckoned artists like the legendary Fritz Scholder, and formidable architects such as Frank Lloyd Wright, Frank Henry and Paolo Soleri. Scottsdale has also solidified itself as a culinary hotspot with award-winning restaurants and chefs taking residence in the destination. The below highlights the highly anticipated art and culinary happenings taking place in the heart of Scottsdale this season:
Scottsdale Dia De Los Muertos – Oct. 22 – Nov. 2, 2022
Scottsdale's Dia de Los Muertos celebration is a collaboration of local, southwest and international artists, community, and businesses honoring diversity, culture and tradition.
This year's 2022 Art Installation Experience will be held on the grounds of the historic Old Adobe Mission with towering sculptures, art installations, and altars filling the area with beauty, remembrance, and honor for the dearly departed. 
Canal Convergence – Nov. 4-13, 2022
Celebrating its 10th anniversary, Scottsdale's free, large-scale public art festival returns to the Scottsdale Waterfront. The festival will light up the night with larger-than-life art pieces, including a new featured artwork, "Sun Drops," designed by Scottsdale-based artist Jeff Zischke.
To commemorate the milestone anniversary, this year's theme is, "Celebrating 10 Years of Water + Art + Light" and will present light-based public art and programming that embodies themes from the past and present. During the 10-day event, visitors can immerse themselves in interactive art, augmented reality, music, dance, and the return of fire shows on the historic Arizona Canal.
Nirvana Food and Wine  – Nov. 17-20, 2022
Scottsdale's premier food festival, Nirvana Food and Wine will showcase national and international chefs, winemakers, and spirit makers. The event has continued to grow in popularity and become critically renowned among locals and culinary enthusiasts from across the country. Ideated by acclaimed Chef Beau MacMillan, the event will welcome an all-star celebrity lineup in a four-day epicurean extravaganza. From ultra-exclusive sit down dinners with some of the world's best winemakers and chefs, to uniquely themed events celebrating the hottest trends and culinary tastemakers set across the spectacular backdrop of the desert mountains, Nirvana Food and Wine is every foodie's dream.
Arizona Native Edible Experience – Nov. 19, 2022
Native Arizona will take center stage at this culinary/cocktail tasting event showcasing traditional and contemporary Native cuisine and arts. The event will include a silent auction, curated films, and live performances, blending traditional and contemporary elements that highlight and celebrate the beauty and important contributions of Native Peoples to Arizona culture.
Native Chefs will delight with curated tasting stations, demonstrations, and interactive conversations. Tasting stations featuring traditional and fusion foods and cocktails crafted by some of Arizona's most noted Native American chefs will take attendees on a journey of Arizona Indian Country via their senses. The event will be held 6-9 p.m. at the Western Spirit: Scottsdale's Museum of the West in Old Town Scottsdale.
Art & Culinary Happenings
Furthering Scottsdale's grand celebrations of the arts, visitors can enjoy several unique art activations and epicurean offerings from the destination's 800+ restaurants. Scottsdale's mild fall temperatures are ideal for al fresco dining with spacious, sun-soaked patios.