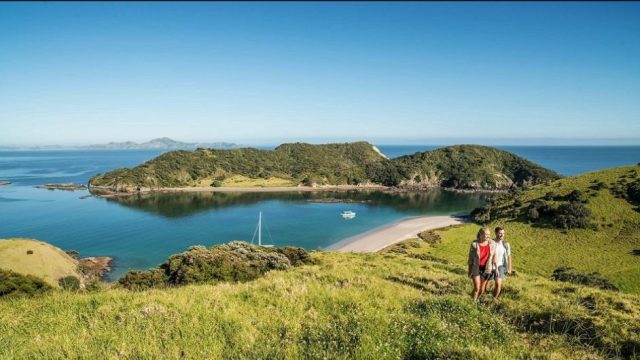 Heritage Expeditions is excited to announce two new voyages exploring the intricate coastlines of New Zealand's three main islands (North Island, South Island and Stewart Island) aboard new expedition vessel Heritage Adventurer.
Commercial Director Aaron Russ said New Zealand was the perfect destination for expedition cruising and the New Zealand-based company, having spent more than 35 years exploring its furthest shores, has created two unforgettable itineraries showcasing the best the country has to offer.
"With the world's ninth longest coastline, dramatic geography from fiords to volcanoes, astounding wildlife, pristine wilderness, and fascinating natural and rich cultural histories an expedition cruise of New Zealand makes for an unparalleled adventure," he said.
The new voyages include 11-day 'New Zealand Coastal Odyssey: The Ultimate Expedition Cruise of the New Zealand Coast' and the 15-day adventure 'The Best of New Zealand: An Intimate Exploration Cruise of New Zealand's Islands'.
New Zealand Coastal Odyssey, starting in Auckland on 14 November 2022, includes the geothermal wonderland of Rotorua, Dunedin's avant garde fashion labels and the adventure playground of Queenstown before discovering the primordial wonders of Stewart Island and Fiordland.
The Best of New Zealand, starting in Queenstown on 6 March 2023, includes the 'World's Coolest Little Capital' (Wellington), the unrestrained beauty of Fiordland and Stewart Island, Art Deco glamour of Napier and the golden beaches and island conservation sanctuaries of the upper North Island.
Travel is aboard 140-guest expedition Heritage Adventurer, built in Finland shes brings an impressive history of Polar exploration having held records for the most northern and southern Arctic and Antarctic navigations. Guests on board will still enjoy the intimate and experiential expedition voyages synonymous with Heritage Expeditions, which have been foremost in planning, albeit now in more spacious, stylish and comfortable surrounds, while a fleet of 14 Zodiacs ensures the maximum expedition adventure. Guests aboard this luxury vessel will also enjoy all-suite cabins with private facilities and an Observation Deck with 360-degree views.