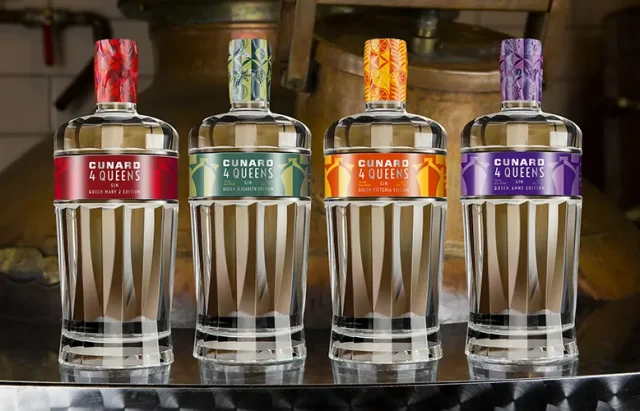 With less than six months to go until the launch of its new ship, Cunard has revealed it will raise a glass to Queen Anne in May by unveiling an exclusive new gin.
The Queen Anne Edition, which will celebrate the finest botanicals from across the British Isles, will feature as part of the new Cunard 4 Queens gin collection – completing the brand's flavor profile and reflecting its global reach.
As these pictures illustrate, Cunard teamed up with the UK's favorite bartender, TV star Merlin Griffiths, to showcase the perfect pour for the Queen Anne Edition.
An award-winning cocktail-making champion, Merlin was able to match the uniquely British botanicals – which blend woody milk thistle, heather, and zesty sea buckthorn together with the sweetness of Queen Anne rose petals and blackcurrant leaf – for a smooth and elegant finish.
The Queen Anne Edition joins the Queen Mary 2 Edition (celebrating the Americas infused with crisp apple, warm cinnamon, and juicy cherry notes), the Queen Victoria Edition (a taste of the Mediterranean with blood orange, fragrant lemon myrtle, and olive leaf), and the Queen Elizabeth Edition (steeped with Oriental influences such as Lotus Root, Star Anise, and Kaffir Lime Leaf).
The artisanal London Dry gin, created exclusively for Cunard, uses a recipe based on an original Bombay family recipe dating from July 17, 1947, and re-establishes Cunard's partnership with Summerhall Distillery.
Based in Edinburgh, the distillery was founded in 2013, and its co-founder Marcus Pickering, has a personal tie to the luxury cruise line. His great-uncle, George Gibbons, sailed as Captain of Cunard White Star liners from 1909 to 1944.
The Queen Anne Edition will be served in all bars and restaurants on board Queen Anne and will also feature in a new – yet to be revealed – cocktail for guests travelling in style on Cunard's newest ship.
Katie McAlister, President of Cunard said: "We are absolutely thrilled to be launching the Queen Anne Edition of our new Cunard 4 Queens gin collection, which neatly demonstrates our commitment to providing refined and contemporary experiences for our guests. It's been really special to have Merlin Griffiths bring the product to life and showcase how guests can make Queen Anne inspired cocktails at home, but this new gin is more than just an exciting tipple, it is a celebration of the British Isles and its unique charm. At Cunard, we are very proud of our British heritage and always strive to reflect our legacy in new and elevated propositions for the modern traveler."