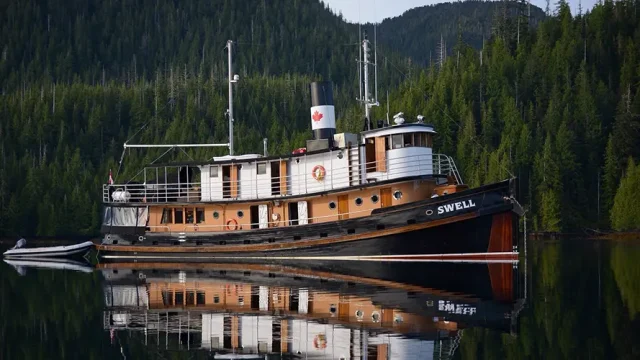 As more and more thoughtful travellers seek expedition-style trips to explore our planet's natural wonders – from walking safaris to Arctic odysseys – they seek a local connection that does good from their trip. On North America's northwest coast, Maple Leaf Adventures' boutique-sized expedition cruises provide an answer.
Today, the 37-year-old company announced their 2024 scheduled sailings. From 9-day Haida Gwaii archipelago and Great Bear Rainforest trips, to 12-day odysseys off the beaten track in Alaska, to 5-day safaris in southern British Columbia, these award-winning regenerative trips are created by locals with a love for their coastal home.
"We know people want to get away from heat, away from overcrowded areas," said Maureen Gordon, co-owner of Maple Leaf Adventures. "We encourage people to look at these adventures, that can be combined with a city stay in Vancouver or Victoria, but are in a place that feels like another world."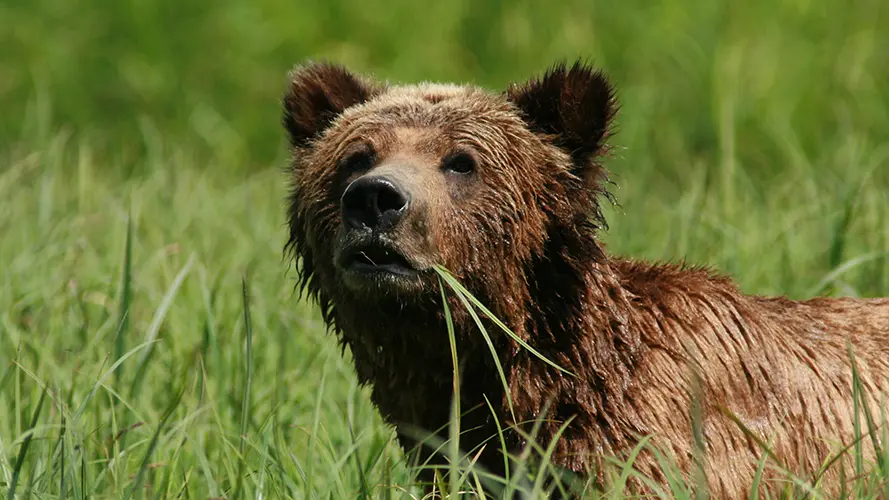 Smaller Than You Think!
Think "small ship" means 200 guests? Not here! Each Maple Leaf Adventures trip takes a maximum of 8, 12 or 24 guests to explore the rainforest, fjords, wildlife and islands of Canada's west coast and Alaska. This means each guest feels like a personal friend of the experts who are taking them to explore by boat – no crowd control, no ticket numbers, no line-ups.
Unscripted Adventures
While guides have a trip plan and key highlights targeted, as experts, they are able to organize events to get the best from weather, tides, wildlife behaviour, and special opportunities.
Crafted and Led by Locals
This is a locally grown company with a wide reputation. Crew and guides all hold a passion for the coast they live on – even the engineer and the steward have much to share with guests, in addition to the trip's naturalists, cultural guides and expedition leaders.
The company has played an active role in both the fights to protect the land and sea in the region, as well as the co-creation of a tourism economy based on conservation. As a result, guests benefit from the work of scientists and other leaders involved in these big efforts with Maple Leaf, who now contribute to the guest program.
Special Wildlife Access
Hallmarks of such small group trips are personalized attention, trips that feel unrehearsed because each is unique, and access to special, off-limits sites to view bears or visit cultural monuments. For example, Maple Leaf Adventures holds an exclusive permit for bear viewing at Pack Creek in Alaska, and several other similar areas in the Great Bear Rainforest.
What's New in 2024
Maple Leaf Adventures is company with exploration in its genes, creating new itineraries with the best, off-the-beaten-track experiences. So you may not have heard of many of their trips, with the exception of their classic Great Bear Rainforest, Haida Gwaii and Alaska itineraries.
In addition to obscure-sounding, now-staple adventures like sailing around the glacial refugium, beaches and seabird colonies off northwestern Vancouver Island (an itinerary in summer called "Vancouver Island's Wild Side"), the company added some new elements for 2024:
BBC Planet Earth III: A chance to explore with the researchers whose work on humpback whale behaviours so fascinating, they are featured in BBC's upcoming Planet Earth III. Conduct science, explore with the researchers and likely witness this behaviour yourself on our October Desolation Sound & Fjords of BC trip.
Regeneration: Participate (voluntary!) in a legendary movement to remove marine debris from the wild beaches of Haida Gwaii and the Great Bear Rainforest. This addition to select trips has been driven by both guests and crew. After hearing a presentation by crew who were part of our industry-saving 2020 and 2021 marine debris expeditions, guests asked to do their part!
For all itineraries, from wildlife to culinary adventures, see below.
The Expedition Yachts: Coastal Characters
Each of Maple Leaf Adventures three expedition yachts is a unique coastal character. Lovingly maintained by the company and their crew, they contain coastal materials, coastal history and the craftmanship of coastal artisans'.
Cascadia – a 138-foot, expedition catamaran, she is a bright adventure yacht and the most upscale vessel. Designed specifically for boutique-scale tourism, with landing craft tenders for each beach access. 24 guests in 12 spacious private ensuite cabins.
Maple Leaf – a 92-foot, classic schooner with a 119-year history on the coast of British Columbia, she is the flagship of Maple Leaf Adventures. 8 guests in shared double accommodations.
Swell – a 90-foot, classic tugboat, with a 111-year history on the coast of Alaska, British Columbia and Washington, she is a beloved ship along the coast. 12 guests in 6 cozy, private ensuite cabins.
Haida Gwaii– Archipelago along the continental shelf, south of Alaska. Marine life, Haida culture, rainforest, travel with Haida storyteller. May, June, July
The Great Bear Rainforest– 6.4 million hectares of largely protected ancient rainforest, home to grizzly bears, the rare white spirit bear, coastal (marine) wolves, and whales. Also cutting edge conservation research and Indigenous cultural experiences. May, June, July, August, September, October
Slow Travel in Alaska– The natural and cultural wonders of Alaska without the crowds on 12-day supervoyages: glaciers, whales and bears, rainforest, and more. July, August
Summer Adventures on BC's Rainforest Coast– Discover summer wildlife, beaches, islands and rainforest far from crowds and tourist traps with these 5- to 9-day expeditions along the coast in summer. July, August
Desolation Sound & Salish Sea– Easy access from Vancouver and Victoria, and yet feeling so far away. These beautiful areas of islands and fjords feature shorter getaways you can drive to, yet still experience wildlife and natural wonders. April, May, October
BC's First Grape Safari by Expedition Yacht– Embark on a wine tasting tour like no other. Away from the heat of summer, the crowds, and the travel disruption that comes with it. This is a 5-day tasting odyssey into Cowichan and the Gulf Islands' emerging wine regions and the pioneering winemakers behind them. And while wine tasting provides the purpose of the trip, it's about much more: an exploration of the nature and culture of the Salish Sea, that inspires the wines we make.