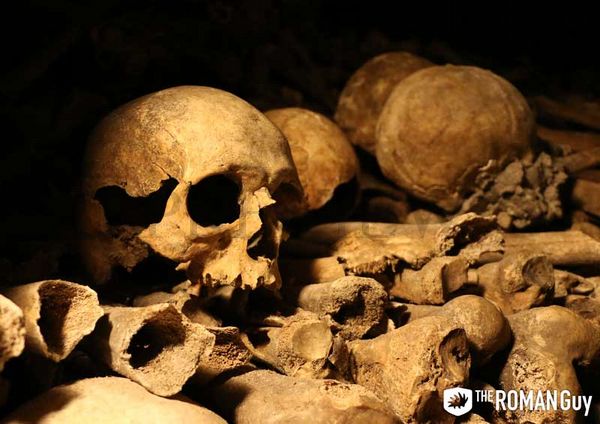 Descend beneath the streets of The Eternal City with The Roman Guy's new bone-chilling Rome Catacombs Tour, which includes access to the Capuchin Crypts, containing the skeletal remains and bones of 3,700 bodies. The Capuchin Crypts are a work of art with five rooms of carefully placed human bones into biblical portrayals created by the Monks themselves.
This thriller three-hour tour includes luxury, climate controlled transportation, a brief walk across the Ancient Appian Way, and guided tours of the Christian Catacombs of Domitilla and the Capuchin Crypts.
Capuchin Crypts
The underground crypt contains the skeletal remains of 3,700 bodies and is divided into five chapels; Crypt of the Resurrection, Crypt of the Skulls, Crypt of the Pelvises, Crypt of the Leg Bones and Thigh Bones and Crypt of the Three Skeletons. Lit only by dim natural light seeping in through cracks and small fluorescent lamps, this is the perfect adventure for thrill seekers and a chance to escape the scorching temperatures. The crypt walls are elaborately decorated with skeletal remains, making this crypt a macabre work of art.
The Domitilla Catacombs
The Domitilla Catacombs offer the most spine-chilling catacomb tour experience in Rome. There is an elaborate underground maze of tunnels, which provides a rare glimpse into the earliest practice of Christianity in Rome. These are some of the most extensive catacombs in Rome, containing the remains of roughly 150,000 bodies. Highlights of the Domitilla Catacombs include a second-century fresco of The Last Supper.
The Appian Way and Aurelian Walls
Emperor Aurelian built a defensive wall around Rome during the third century to defend the city against invading barbarians. This tour offers the ability to pass the
Aurelian Walls in a luxury, climate-controlled vehicle and see them up close. In addition, there is small walk across a short stretch of the Ancient Appian Way, one of the most important ancient Roman roads. This is also the location of the crucifixion of 10,000 slaves during the revolt of Spartacus.

More details and booking information can be found at TheRomanGuy.com.