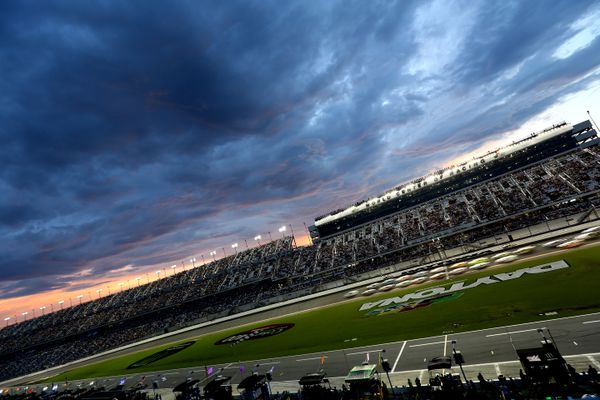 As summer starts to wind down, visitors to the Daytona Beach area will discover there's still plenty to see, do and experience in a visit to the destination. From 23 miles of pristine beaches and 190 mph edge-of-your seat NASCAR racing on the high banks of Daytona International Speedway to concerts and museums, opportunities are heating up for adventures the entire family can enjoy.
Coke Zero 400 Weekend: NASCAR returns to Daytona International Speedway on Aug. 25-26 for their second visit of 2023 with one of the most anticipated events of the season – the Coke Zero 400 Weekend.
The Coke Zero Sugar 400 is a premier event on the NASCAR schedule and this summer classic showcases drivers vying to secure their spot in the final 10-race battle for the NASCAR Cup Series championship on Saturday night, August 26. Kicking off the summer racing doubleheader on Friday night, August 25, will be the Wawa 250 Powered by Coca-Cola for the NASCAR Xfinity Series.
Daytona Tortugas: The Class A affiliate of the Cincinnati Reds, the Daytona Tortugas season runs through Labor Day Weekend at Jackie Robinson Ballpark, one of the oldest parks that is still being used for professional baseball. Relive history in this minor league baseball park where ground-breaking African-American baseball player Jackie Robinson played in the first integrated Major League Baseball spring training game in 1946. The Tortugas conclude the season with a six-game series vs. the Dunedin Blue Jays Aug. 29-Sept. 3.
Ocean Center: Daytona Beach's multi-purpose convention center and entertainment complex will be busy with a wide variety of events through the Labor Day Weekend.
World Marital Arts Games on July 29-31, which will bring together competitors in under belt and black belt/youth and adult divisions.
Jurassic Quest, scheduled for Aug. 4-6, is the largest traveling dinosaur experience in North America.
The 34th annual National Reptile Breeders' Expo on Aug. 19-20 is the largest reptile meeting in the world.
Comedy legend and Emmy® award-winning actor Katt Williams will perform on Aug. 25 as part of his 2023 and Me Tour. Coming off the success of his "World War III" tour, the comedic powerhouse will deliver an all-new show.
Unfolding The Universe: The James Webb Space Telescope: Go deep into the universe with NASA's newest space-based observatory, the James Webb Space Telescope, at the Museum of Arts & Sciences. Unfolding The Universe: The James Webb Space Telescope runs through Oct. 1 at the Smithsonian-affiliated museum and provides tremendous insights and imagery of stars, planets in and out of our Solar System, star-forming nebula, massive galaxies and some of the most distant objects ever observed.
Daytona Beach Bandshell: The summer concert series continues at the historic Daytona Beach Bandshell every Friday (through Sept. 1) and Saturday night (through Sept. 30) starting at 7:15 p.m. The concerts are free and reserved VIP tickets can be purchased for $15. Fireworks take place after the Saturday night concerts beginning at 9:45 p.m.
Among the tribute bands schedule to perform include Rocket Man – Elton John Tribute, Livin' on a Prayer – Bon Jovi Tribute, Fast Forward – Kenny Chesney Tribute and Nuthin' Fancy – Lynyrd Skynyrd Tribute.
National Lighthouse Day at Ponce Inlet Lighthouse: Visitors to the Ponce Inlet Lighthouse and Museum on Saturday, Aug. 5 can celebrate the founding of the US Light-House Establishment as part of National Lighthouse Day. From climbing 175 feet to the top of Florida's tallest lighthouse to touring the world-famous lighthouse museum, guests will discover 250 years of American lighthouse history at one of the nation's largest and most authentic light stations. Family-oriented activities including living history interpretations, hands-on workshops, and kids crafts will also be available to guests. All special activities are provided free of charge with regular admission from 10:30 a.m. until 2:30 p.m.
P1 AquaX USA: P1 AquaX USA will celebrate its 10th anniversary season with their traditional stop in Daytona Beach on Aug. 18-20 for the Daytona Beach SBGT AquaX Grand Prix. Event activities will take place in the beautiful waters of the Atlantic Ocean located in front of the Hard Rock Hotel Daytona Beach.
P1 AquaX USA gives competitors an opportunity to open up their throttles on their powerful jet skis in a safe and controlled environment. With ever-changing conditions in the ocean, a riders' skill prevails over horsepower to create a level playing field for all racers.
The format offers two divisions of racing – Enduro and Sprint with both a pro and amateur class. Main events will take place on Saturday, Aug. 19 and Sunday, Aug. 20 with 80 competitors expected from throughout the United States and internationally. There's no cost for spectators to attend the event.
To view all the events happening in the Daytona Beach Area during the summer season, visit www.DaytonaBeach.com